Maly Drama Theatre Weaves a Tale of Love and Intrigue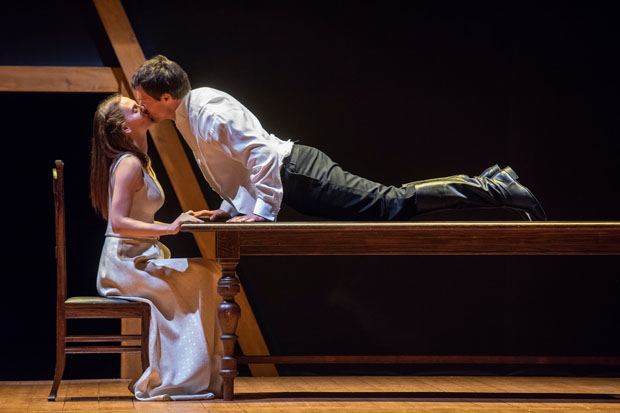 When the Maly Drama Theatre of St. Petersburg comes to town, you really ought to see them. As Russia's most exciting company, Maly is creating some of the best theater on earth. Visionary director Lev Dodin leads a troupe of fearless actors, habitually resulting in memorable performances: The image of Danila Kozlovsky jubilantly dancing up and down the stairs of BAM's Harvey Theater in The Cherry Orchard is permanently seared into my memory. That's why it's such a letdown that Dodin's droopy Russian-language adaptation of Friedrich Schiller's Love and Intrigue is neither lovely nor intriguing.
This isn't for lack of compelling source material. Schiller's play has been banned in jurisdictions across the world (including his native Württemberg) since its 1784 debut. Its challenge to unaccountable authority puts it right up there with The Marriage of Figaro and Les Liaisons Dangereuses — works that provoke outrage and foment revolution.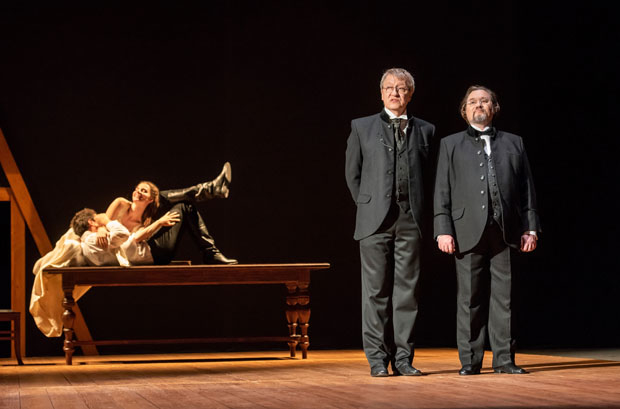 It takes place in a small German duchy and tells the story of young nobleman Ferdinand (Kozlovsky) and his love for Luise Miller (Elizaveta Boyarskaya), the daughter of a middle-class musician (Sergey Kuryshev) and his wife (Tatiana Shestakova). Ferdinand's father, President Von Walter (Igor Chernevich), is happy for Ferdinand to engage in a little fling, but his political ambitions depend on his son marrying the Duke's English mistress, Lady Milford (Ksenya Rappoport). He doesn't anticipate that Ferdinand will threaten to expose the crimes his father committed to claw his way to the presidency. Von Walter conspires with his secretary, Wurm (Oleg Dmitriev), to stealthily get his way. Letters and poison feature in the remaining plot, which pits the inextricable pull of class against the irrational exuberance of love at first sight — with neither emerging unscathed in our hearts and minds.
Dodin's adaptation makes an auspicious start, cutting through the exposition while curtailing Schiller's more extravagantly purple prose. Dodin also cleverly folds the character of Marshal Von Kalb into Wurm. Sometimes his cuts go too far: The removal of a scene in which Lady Milford listens in horror as a valet describes the conscription of his sons to serve as mercenaries in America not only eliminates an opportunity to deepen her character, but jettisons a subplot with huge resonance, especially as little green men creep across the Donbass.
Unfortunately, the tightness Dodin achieves early in the play quickly goes limp. We should feel the tension of belts on gears, the oppressive grind of a machine that tolerates no slack. But the only thing oppressive about Maly's Love and Intrigue is the lethargy of a production that doesn't really get exciting until the last 10 minutes of an intermissionless two hours, 20 minutes.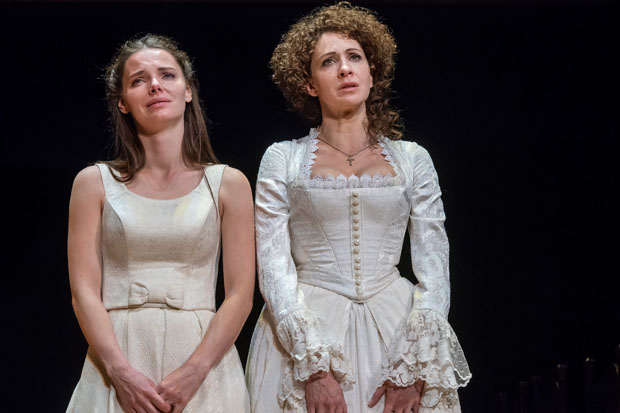 This is despite some revelatory performances. Positively Putinesque, Chernevich masterfully conveys a menacing Russian tranquility. Kozlovsky's evil Prince Charming routine betrays the sexism at the heart of romantic notions of love, as he regularly refers to Luise as his "possession." In response to their lack of agency under the patriarchy of both the father and the son, Boyarskaya emits incredulous laughter, while Rappoport dances as fast as she can with exaggerated feminine wiles. Some of the most exciting performances come from the all-male ensemble of presidential guards in white dinner jackets. As they march across the stage in formation, they embody a violent state disguised behind a veneer of gentility.
Perhaps in an effort to evoke the rigidity of this world, Dodin has the actors move in straight lines across Alexander Borovsky's angular set. Frustratingly, this undermines the basics of good blocking, with the Miller family disappearing behind one another while seated on one side of a table placed perpendicular to the proscenium. Dodin still makes some striking stage pictures, like when the black-and-white mise-en-scène is invaded by blood red wine decanters and pitchers of lemonade on a symmetrical banquet table. Alas, it takes a long time for the ensemble to assemble this obsessive-compulsive nightmare and we lose patience as the scant remaining tension completely evaporates. Rarely has a minimalist production felt so indulgent.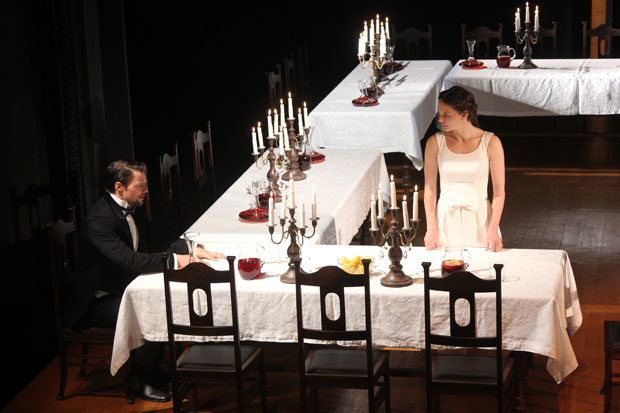 It's too bad because Love and Intrigue has a lot to say to contemporary audiences, and Dodin knows it. Schiller wrote his play in the twilight of the Holy Roman Empire, and it's not a purely aesthetic choice that Borovsky costumes the actors to evoke the early 20th century, when the aristocracy was performing its last dance in both Russia and a second German Reich. Love and Intrigue makes it clear that a society based entirely on tribal duty and privilege is unsustainable, but also questions if one based on pure individualism is any better. As Western society seems on the verge of another fundamental change, we're about to find out.