King Kong Offers Plenty of Monkey Business on Broadway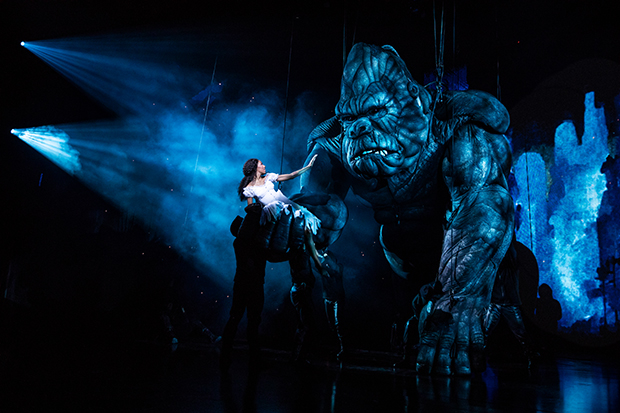 Whatever happened to Fay Wray? That delicate satin-draped frame packed an impressive scream, but not much else when she starred in the iconic 1933 film King Kong. The female lead of the 2018 Broadway musical, King Kong, is different: She's a modern woman who doesn't scream helplessly, but roars ferociously. That's one of the sillier and more cynical pretensions of this $35 million stage spectacle with puppets and dancers and lasers (oh my). Say what you will about King Kong, but it's nonstop entertainment, even when it's campier than a giant gorilla at a rave.
It's actually impressive how book writer Jack Thorne (Harry Potter) managed to take an already ridiculous story and make it goofier through halfhearted feints at social relevance. The show opens with farm girl Ann Darrow (Christiani Pitts) newly arrived in New York City. She's determined to make it as an actress, but it's the Depression and jobs are scarce. One day when she's camping out in a diner, she meets filmmaker Carl Denham (Eric William Morris as a transparent baddie). He thinks she'd be perfect for his new picture. She's suspicious of his motives, but once he buys her a sandwich, she agrees to hop on a ship with him to Skull Island. That's the home of King Kong, a giant gorilla who takes a liking to Ann. Denham sees an opportunity to rake in the cash with a Broadway show, moving Kong back to New York.
Audiences partake in a casserole of music to supplement the thin broth of the plot, and that's because King Kong actually has two composers: Marius de Vries provides the cinematic underscoring, which occasionally devolves into the kind of generic techno you might hear during the 16th hour of a circuit party. Eddie Perfect wrote the songs, which range from ersatz Jazz Age ditties to Eurovision-ready power ballads that offer rousing if forgettable settings for faux feminism.
"I won't scream for the money," Ann scream-sings at us, ensuring that the irony is not lost on the back row. With wild-eyed abandon, Pitts throws herself into every implausible beat and cringe-inducing line. That includes when Ann threatens to blow up the ship in order to end a mutiny on the way to her star turn on Skull Island. Oh no, this isn't a damsel in distress, but a strong, independent woman who knows what she wants and isn't afraid to resort to terrorism by curling iron to get it. Her scenes with Kong, which feel an awful lot like couples counseling, are even stranger. Jon Hoche voices Kong's growls and coos from backstage, helping to create a vivid emotional landscape for the big ape.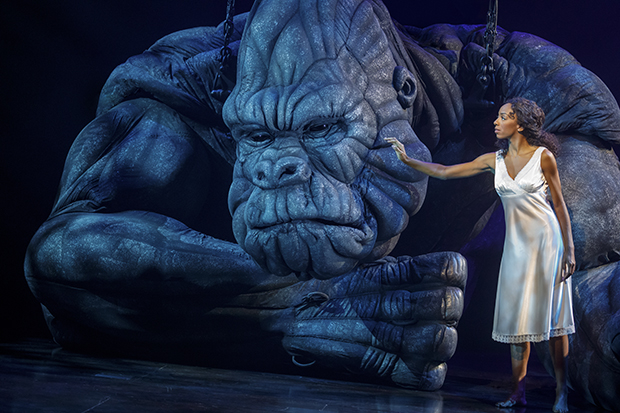 The real star of the show is Kong himself. Designed by Sonny Tilders, this 2,000-pound puppet is remarkable in size and complexity. Over the course of the show, the massive marionette seems to express rage, curiosity, compassion, depression, and disappointment, all wordlessly. Gavin Robins has masterfully directed an immediate team of 10 puppeteers who surround Kong and occasionally act as extensions of his personality. They push, pull, and leap off the giant puppet in order to manipulate his movements. In a story devoid of heroes, these fearless performers come the closest.
Director and choreographer Drew McOnie places them in an unrelentingly frenetic staging, with the giant cast of dancers performing extensions and lifts seemingly every second. It's a busy stage picture, made busier by Peter England's moving scaffold set and Imax-like projections from Artists in Motion. The cinematic qualities of King Kong extend to Peter Hylenski's jarring sound design, which you can feel in your chest. Peter Mumford's dramatic lighting provides for an exciting reveal of Kong, as he lurks in the shadows upstage with only his teeth visible. Roger Kirk costumes an army of performers in movement-friendly period garb. Bizarrely, his cartoon villain look for Denham makes him look more like Willy Wonka than a Broadway producer.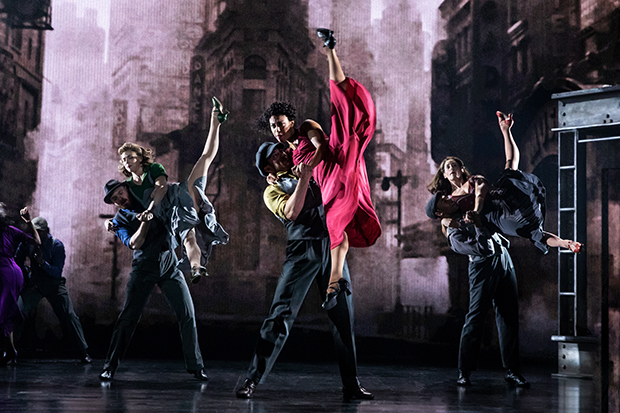 "I'm a producer with power," Denham says, laying his cards on the table. "All I got to do is tell people, 'She's lost her mind,' and no one will ever employ you again." With their obligatory hat tip to the pre-#MeToo era out of the way, Thorne and company get back to doing what this show does best: supersize simian action set to cheesy music.
You can tell that the producers of King Kong wanted to send their audiences off on an upbeat note, and they've got it in the positively psychotic number "The Wonder," written by a committee of de Vries, Perfect, Ian Dench, and Amanda Ghost. Ann Darrow sings this closer with a smile plastered on her face, New York City sufficiently ruined and (85-year-old SPOILER) King Kong plummeted to his death. Sure, several of her coworkers have been eaten, but she's gotten to really grow as a person and experience so much wonder. In their effort to write a strong female protagonist, the team behind King Kong has created a monster significantly more terrifying than the title character.