Explore Shows from this Story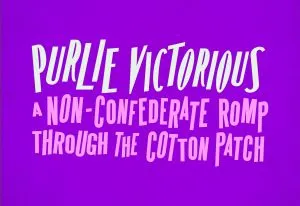 Final performance: February 4, 2024
Interview: The Unexpected Kinship of Purlie Victorious Stars Billy Eugene Jones and Jay O. Sanders
Billy Eugene Jones and Jay O. Sanders didn't know each other. Two stalwarts of the New York theater scene — Jones most recently in Fat Ham and On Sugarland, Sanders in Girl From the North Country and the sprawling Rhinebeck Panorama play series — they had probably admired each other from afar, but hadn't met until they sat next to each other on the first day of rehearsal for Purlie Victorious.
Sparking a relationship was crucial. In Ossie Davis's 1961 satire — being now revived on Broadway for the very first time by director Kenny Leon — the two actors go head-to-head in a comedic/dramatic double-act as blowhard plantation owner Ol' Cap'n Cotchipee (Sanders) and the code-switching Gitlow Judson (Jones), Cotchipee's beloved longtime sharecropper whom he has deemed "Deputy-for-the-Colored." Together, the pair threaten to steal the show right out from under co-stars Leslie Odom Jr., Kara Young, and others — while finding humanity along the way.
Even more impressive is hearing how they pulled it off.
This conversation has been condensed and edited for clarity.
This is one of those productions that feels like a privilege to see — mostly because it's great, but also because it's a title that's so rarely produced.
Jay O. Sanders: I feel privileged to get to do it, and to come to know it. Through the process of doing this, we've come to absorb it, to question it, to doubt it, to believe in it. And then, to feel what it's like not just among us but with an audience. Part of the magic of theater is that you don't ever fully know until you get there. You can read a play and go, "Well, it seems good, but I wonder how this would play." We certainly had our questions, as many people have, reading it on the page. But that has all been dispelled by hearing the interaction with regular audiences and with each other.
Billy Eugene Jones: It's a testament to how great the cast is. I have to be honest, I thought we would run two weeks. I thought that we would open this play and people would think it was a corny relic like I did. I had my own experiences with it in school, and when they approached me about it, I thought, "You know what? There's an actors strike, it's good to be employed." I just didn't know if audiences would respond. Kenny invited people into the room as we were rehearsing, which was so smart of him, because then we got an idea of how audiences in general would respond. It was a seed that he planted in that room and it just grew and grew, and it's still growing today.
Billy, how have your expectations of the piece changed in the years since you played Purlie as a student?
Billy: Well, they hadn't changed until I did this production. I always thought that it was fun, kind of cartoonish, nothing really deep about it. I'm embarrassed to say that now. I'm embarrassed for myself that I thought that about the play and Ossie, and that it was not as meaningful to me as it should have been. I'm embarrassed that it took me getting into a room with Jay O. Sanders and Leslie Odom and Kara and Heather and Vanessa and Noah Robbins and Noah Pyzik and Bill. When you sat us all around the table, it dawned on me that it's all about getting the right people at the right time in the right place and we took off.
Jay: It's also about depth with the right people. Somebody who skims the surface is very different than somebody who dives deep into it and then comes up and then dives back down. We have a group of divers here, people respecting the darkness underneath and then laughing as we come out dripping wet, because it's a romp. And that's what Ossie gave us. He reportedly had the same conversation with Ruby Dee when she read it. She went, "This is just a bunch of stereotypes." I was scared of that same thing. Not scared that we couldn't make something of it, but when somebody asks an individual to do it, you go, "Maybe I'll do it like this, but what about the guy who's playing Gitlow? What about the guy who's playing my son?" Nobody does this by themselves. The play is all of us together.
Billy: I remember the first day of rehearsal. We were sitting next to each other and you said, "Hey man, we need to get to know each other, because we're gonna spend a lot of time together trying to figure this out." I can't imagine having a better partner than you in this. It fills my heart every time I cross the stage and I get the chance to see you. I know that you got me and that I got you. And that fills me up.
Jay: Me, too.
Tell me about getting comfortable with each other as actors and people to pull this off as well as you do.
Billy: I knew Jay just from seeing him on Law and Order. I think if I had known him [in life] before we did this, there would have been some artifice that may not have been as real as it was to meet a complete stranger and start from zero together. If I was doing this with my friend, it would be good and safe, but I didn't know what Jay's process would be. Kenny would look at us some days and say, "Alright, that's never gonna work, because it's dangerous." So we had to find out a way in as strangers, and then as co-workers, and now as friends. I will never forget this relationship. It's just as meaningful to me offstage as it is onstage.
Jay: You know, the men who did this before us in the original production, Sorrell Booke and Godfrey Cambridge, also became close friends. I learned that because I recently met the daughter of Sorrell, the man who played my role. His daughter was one year old when he did this show. She came and she said, "I can't tell you what an emotional experience this was. I've heard these lines my entire life, but I never saw the show." Her dad and Godfrey, who played Gitlow, were close friends and they would echo this stuff and laugh about it. They both died young. Godfrey died at 43 and Sorrell died in his early 60s, and it was one of the most important things they did in their lives. She's sitting there in the audience and she'd hear line after line and it was a revelation. She said her brother will not come because it's so emotional for him that he can't bear it.
How did you end up discovering the right tone between hilarious and serious?
Jay: My wife found the filmed version of the play on YouTube and I saw some bits of it. I didn't want to watch too much because I didn't want to be thrown off by seeing someone else do it. Sorrell was the smallest guy onstage and he's 32 years old, waving his cane around, grabbing his son, played by Alan Alda, who was much bigger than he was, by the throat. And Godfrey was doing that whole rolling his eyes vaudeville circuit thing. I don't think that would work now.
What Billy has found is completely singular to him, and it's about being human with me. He satisfies those moments and he'll go overboard with me, but he's not telling the audience that this guy is stupid. He's being enthusiastic with me and then he shares a moment with the audience — a look on his face after he completely commits to me. The audience sees who it is. They see how intelligent he is, but I'm not seeing that because I'm completely listening to myself. They have a relationship that allows him to take in the bullshit and let it go out the back. Of course, what it is, is terrible systemic oppression and the things I say are reflective of that, and yet, there is love between these two people in the midst of that. That's the magic. It's very accomplished theater-making in how you achieve all those levels at once.
Billy: It's not lost on me that I'm in a play and I get to go home at the end of the night and that this is something I get to do for a living. I think of the people who had to do this who were not in a play, who did this to survive and live another day. There's a poem by Paul Laurence Dunbar called "We Wear the Mask," and it's just who Gitlow is. We smile, we wear the mask, and that's what Gitlow has to do. He has to wear the mask with the captain, and when the captain is not there, I get a chance to actually be a man. Kenny worked it out that when he's at home, he can be himself. In previous productions, Gitlow is Gitlow, even at home. But at home, I can actually be the man of the house and be my own man.
Jay: And the love with you and Missy is so important.
Billy: Yeah. Because these characters can be tropes and not really have any kind of sexuality. I adore what Kenny was trying to do and what he accomplished. He said, "You guys are together and we have to show that there's love. There is love between all of you and let's not shy away from that."
Billy, did it change your view on the play?
Billy: It makes me want to go back to go back and read other older plays that I had ideas about, that I think, perhaps, I was ashamed of. I want to revisit some of those plays again. I feel like this can't be the only play that was lost on me as a young actor. This has been the experience of a lifetime, honestly.
Featured In This Story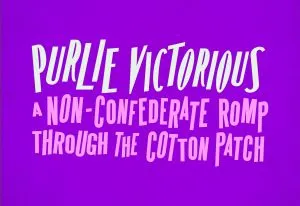 Final performance: February 4, 2024