Homos, or Everyone in America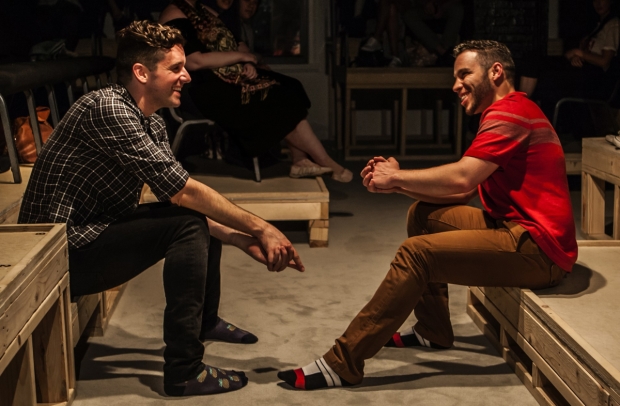 Two nameless gay men laugh, fight, love, and sometimes do all three simultaneously in Jordan Seavey's Homos, or Everyone in America, now making its world premiere with Labyrinth Theater Company at the Bank Street Theater. This fascinating and fearless new play brims with universally recognizable emotions, even if they are dressed up in very culturally specific drag.
The play tracks the relationship between the Writer (Michael Urie) and the Academic (Robin De Jesús), from their highly intoxicated first date through a terrible hate crime that leaves everyone shaken. They negotiate professional anxiety, cohabitation, and Dan (Aaron Costa Ganis), a strapping coworker who becomes intimately involved in their lives. With an eye for nuance and an ear for urban vernacular, Seavey explores the dynamics of modern gay life: a pas de trois of sex, love, and friendship that precludes exclusive categories, because there just aren't enough of us for that.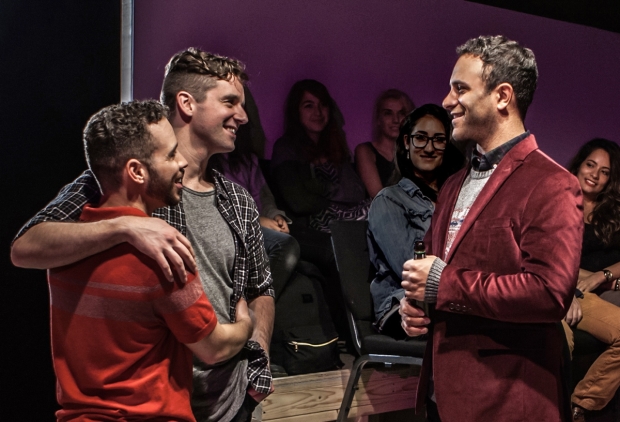 Seavey (whose work has mostly been with the off-off-Broadway troupe CollaborationTown) presents his story through disjointed fragments, with short scenes jolting back and forth over a period spanning 2006-2011. Plot twists hit us like a freight train: Wearing a guarded smile, De Jesús summarizes an entire two years of his character's life in just one sentence, causing some in the audience to gasp. The proximity of exposition to climax also allows for some rather cruel foreshadowing. It's a bold formal choice that we suspect cannot possibly be sustained over one hour and 45 minutes.
Remarkably, and thanks to airtight staging by director Mike Donahue, the play keeps it up until the very end. Like homosexual puzzle enthusiasts, we become actively engaged in piecing the fragments together. Only in the final moments does the full picture become clear. Daniel Kluger and Lee Kinney's well-curated period sound design (remember Mika?) guides us through the mists of time. It also helps that Seavey dots his play with well-placed road signs in the form of political events and the Friendster-MySpace-Facebook continuum. Even if we get lost, we always find our way back to the primary thoroughfare of the story.
While ripping apart the chronology, Seavey also smartly deconstructs the nebbish-boy-meets-manic-pixie-dream-girl narrative that has become so ingrained in our culture: Both men are free-spirited and repressed in their own special ways, making their relationship feel very real. Like many overeducated New Yorkers, their banal arguments are fueled by academic buzzwords and the sex advice of Dan Savage.
Urie (Buyer & Cellar) and De Jesús (In the Heights) are particularly skilled at delivering this banter, hitting the conversation back and forth like tennis players on speed. Portraying a writer who edits his language as it leaves his mouth, Urie sounds completely natural stopping and restarting a sentence mid-thought (Seavey writes in a free verse that completely eschews punctuation). His character knows that language is a weapon and uses it as such. Unsurprisingly, the Academic's language is far more guarded. Still, De Jesús is able to bring out the raw sexual energy and emotional vulnerability that lurks just beneath his carefully selected words.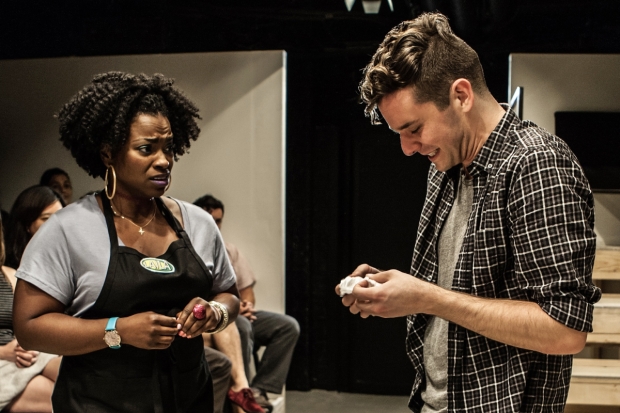 The two other cast members give us a sense of the forces beyond their tête-à-tête: As Dan, Costas is indeed strapping and slightly intimidating, someone who outwardly appears to have it all figured out. In a brief but touching performance as a bath store sales associate, Stacey Sergeant reminds us of the huge difference little acts of kindness can make, especially when living in such tight quarters.
Dane Laffrey's cozy set brings us up close and personal: The bulk of the audience is positioned in traverse, with small clusters of four to six chairs placed all around the room. The result is a stage of narrow carpeted pathways that never allow the performers to be more than a few feet from the audience, which is a pretty spot-on rendering of the feeling of living in New York, a city in which privacy is the greatest luxury. We act as voyeurs, laughing and cringing along as they argue about poppers, the drawbacks of marriage equality, and how seemingly de rigueur non-monogamy is in gay life.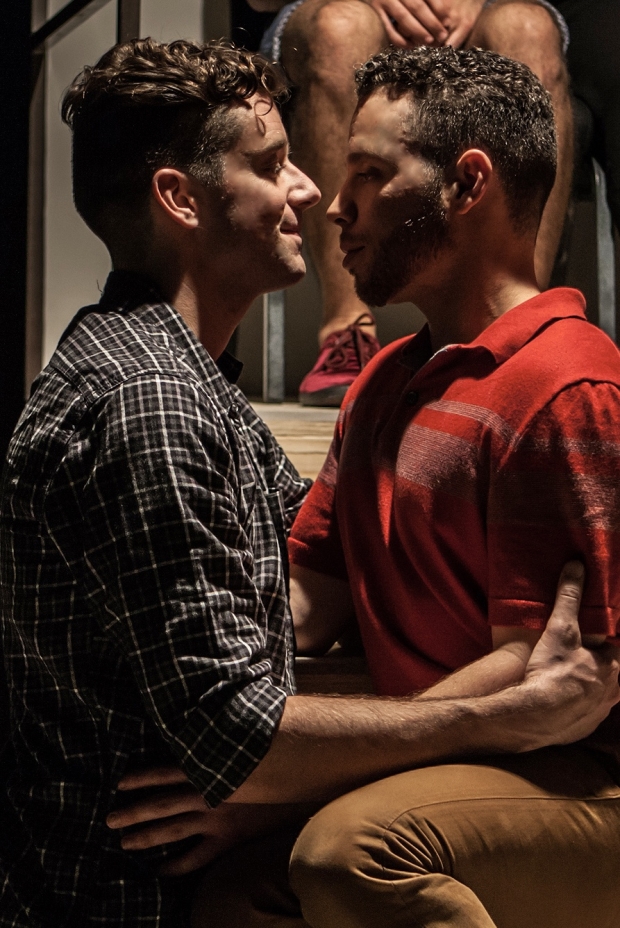 So is this play really about everyone in America, or just homos? Rather than serving as a Human Rights Campaign equal sign, the "or" of the title might alternately be read as an exclusive disjunction: You can be a homo or you can be everyone in America, but you cannot be both — not now, perhaps not ever. The cultural and political differences are just too great. And really, why should we strive to make those differences vanish in an act of assimilation? But even if we are undeniably different, aren't we included in the catchall "everyone"? That debate will certainly rage on, but Seavey adds his voice with unflinching clarity: He asserts the universal need for love, protection, and real intimacy, especially among gay men. Even if you find yourself occasionally mystified by the secret world of Homos, that's something we can all relate to.