Eden Espinosa and Carmen Cusack Belt About Art and Love in Lempicka
After years of development, Carson Kreitzer and Matt Gould's biographical musical
Lempicka
is making its long-awaited world premiere at Williamstown Theatre Festival (July 19-August 1). Eden Espinosa takes on the title character — Tamara de Lempicka — a Polish painter who rose to the top of the art world in Paris between the World Wars and who leaned into a life of hedonism during this era of political turmoil. Much of that hedonism is wrapped up in Tony nominee Carmen Cusack, who plays Tamara's freewheeling lover Rafaela, a Parisian prostitute who becomes her artistic muse and brings new colors to her work.
It's no coincidence that Lempicka recruits from the pool of Wicked veterans (both Cusack and Espinosa have played the high-belting Elphaba and are joined in the cast by a third Elphaba, Rachel Tucker). "Rangy" and "challenging" are the words Espinosa and Cusack used most to describe Gould's score before a day of rehearsal in the mountains of Massachusetts. But the words "delicious" and "poetic" weren't far behind.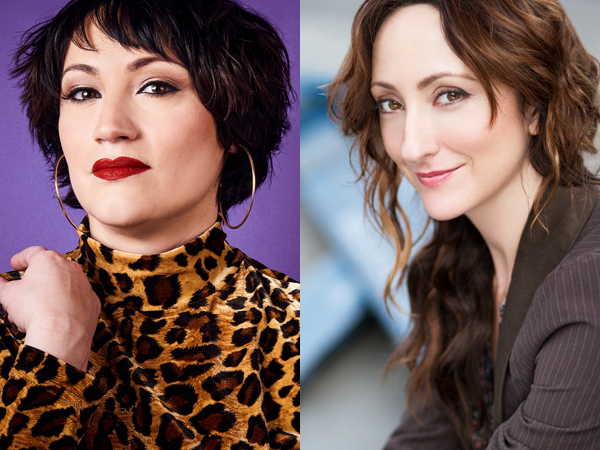 How much did each of you know about Tamara de Lempicka before this musical? And how much of Carson Kreitzer's book is faithful to her true story?
Eden Espinosa: I was aware of her art, but I didn't know her story till now. I think Carson has a pretty good handle on all things Lempicka, and the parts that we don't know are the parts she filled in. We know that she was married to Tadeusz and we know she had a lover who she painted, Rafaela, but all the ins and outs of those relationships we don't know.
Carmen Cusack: No one even knew her age. She liked to keep mystery about herself to some degree.
Eden: In my research of her, there seems to be a consensus that she lied a lot and manipulated in order to serve herself and to get ahead. Her daughter even says things like, "I don't know for sure, but this is what she said."
Does that mean she's not painted as the traditional hero in the show?
Eden: Yeah, it's a lot more complicated than that. As human beings, we don't want to admit that we have those sides of ourselves: the ambitious sides. But I actually really do enjoy the fact that they haven't made her a complete heroine — none of the characters. They're just real people, and I think audiences are hungry for that.
Carmen: Tamara is not the hero, she's not the villain, she's a survivor. In those times, it was hard as a woman to get things accomplished in your own life with your own creativity. To just be able to survive that, to keep your family intact, and to then go on and become successful in something creative — to me, that's a hero.
How is Rafaela depicted in the show and how does she factor into Tamara's story?
Carmen: She's a free spirit. One hundred percent bohemian. She's got the key to what's missing and that's to just be free and happy and to make the most of your situations however they come about.
Eden: I think towards Tamara, she unlocks something in her that inspires this creativity and this new way of painting. Carmen is perfectly cast in this role because she, like Rafaela in the show, walks into a room and the energy shifts. It's this force of life. And I think it's something that strikes Tamara and she wants to capture it in a painting. In that exploration of this new way of expressing herself, she falls in love.
How are you enjoying playing such a free spirit, Carmen?
Carmen: Oh my gosh, it's so fun! It's very liberating. I really can get away with anything, and I do. Everyone just thinks it's really cute. I'll just get in somebody's face and start sniffing their ear and it's OK because that's how crazy and fun she is. I'm loving it.
The Broadway community was introduced to your director, Rachel Chavkin, through Natasha, Pierre & the Great Comet of 1812, which was an intricate and immersive experience that Broadway doesn't see very often. What kind of stamp is she putting on Lempicka?
Eden: She is a force herself and she really does craft a universe for her actors and for the characters. I think a woman at the helm of this piece is incredibly important, and I think her intellect and her humanity is as much of a character in this piece as any of us are. Having both been a part of the show and also just a fan of it for the past few years, it's never been in better form or in better hands than hers.
Carmen: Rachel Chavkin is so chill and so smart. Sometimes what she says, I have to take it in and then take it in again and again because there are so many different angles. I love that kind of direction, because it's not black and white. It's something very much in between and that gives you the freedom to interpret.
Your cast is filled with past Elphabas (the two of you plus Rachel Tucker). Does that mean Matt Gould's score requires Elphaba-level voices?
Eden: These songs are like if Elphaba and Evita had a baby. Matt Gould — I think the theater world better watch out.
Carmen: Everyone's gonna know his name soon enough.
Eden: It's a gift to have a man write these songs for a woman that are challenging but just so delicious. But it's hard, I'm not gonna lie about that [laughs].
Carmen: I can't tell you how many times a day the interns working at Williamstown Theatre walk up to me and say, "I can't wait until the soundtrack is available." It's just that beautiful. You're going to walk away haunted by the music. And on top of that you have these lyrics that are poetry. And this really interesting woman that I don't think people really know about, and they need to know about her.
Eden: It's important to have stories about women who are strong and also about the complications of love and art. I think people are going to leave with much more than they anticipated.