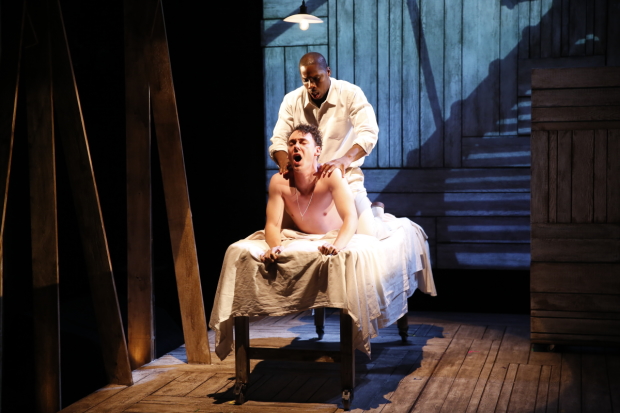 Women on the verge of a nervous breakdown, fragile Southern gentility, and gays behaving badly: We have entered the Tennessee Williams Zone. The Acting Company invites you to linger there for roughly two and a half hours with Desire, a compilation of six one-acts based on short stories by Williams. The Pulitzer Prize-winning author of plays like Cat on a Hot Tin Roof and A Streetcar Named Desire also penned a fair number of short stories that have mostly languished in the shadow of his towering works of drama. Desire seems to be an attempt to give them their due by placing them onstage. As with most evenings of one-acts, the results are hit-and-miss.
The evening starts with the most autobiographical of the stories, "The Resemblance Between a Violin Case and a Coffin," which takes place in a mythic old South of memory. Beth Henley (The Jacksonian) adapts this tale of Tom (Mickey Theis) and older sister Roe (Juliet Brett). The play opens with the siblings reenacting the St. Veronica story from the gospels, a favorite activity — that is, until violinist Richard Miles (Brian Cross) comes around to rehearse a duet with Roe, whose delicate nerves and schoolgirl crush threaten to ruin their recital. Brett reaches an appropriately operatic pitch while director Michael Wilson succeeds in maintaining an ethereal quality throughout.
Elizabeth Egloff's adaptation of "Tent Worms" is less charming. Clara (Liv Rooth) and Billy (Derek Smith) are a middle-aged couple on holiday in Provincetown, Massachusetts. He's obsessed with using his leaf blower to remove tent worms from the porch area. The worms are an extended metaphor for the cruel decay of age. The most tragic thing about Tent Worms is the play's attempts to elicit pity for a couple that summers in Cape Cod.
John Guare (Six Degrees of Separation) has the most fun with the expanded Tennessee Williams universe in "You Lied to Me About Centralia", which is based on "Portrait of a Girl in Glass" (the basis of the play The Glass Menagerie). It imagines a train station encounter between Jim (Theis, playing, with confused swagger, the working-class gentleman caller from Menagerie) and Betty (Megan Bartle, deliciously portraying the fiancée whom Laura Wingfield is made to envy). Betty is a sad Missouri woman, maudlin and tormented by the sassy and furtive gay men all around her. You'll laugh at her banal insecurities even if you've never seen a Williams play; fans will be left howling.
Marcus Gardley's "Desire Quenched by Touch" (based on the controversial "Desire and the Black Masseur") is the darkest of the bunch. It is framed as an interview between Detective Bacon (Smith) and the appropriately named cellist-cum-masseur Grand (a sassy and self-confident Yaegel T. Welch) about his most eccentric client, a wealthy mortician named Burns (a morose and inscrutable John Skelley). Gruesome and sensational, the play has a decidedly stomach-churning finale.
David Grimm's "Oriflamme" is somewhat tamer. Anna (Rooth) is a Blanche DuBois-esque Southern belle, wearing a red evening gown, who has wandered up to the highest point of a public park in St. Louis. That's where she meets Rodney (Smith), a booze-toting deliveryman who is something less than Prince Charming. Rooth and Smith perform the scene like a master class on playing Williams, even though the actual play feels more like a subtle parody of the playwright's work.
Rebecca Gilman's "The Field of Blue Children" takes the most liberties with setting, moving the story up to the new South of the 21st century. Layley (Bartle) is a sorority girl in a long-term relationship with Grant (Cross). Secretly, however, she longs to escape the preppy Alabama society she seems destined to enter. She finds an outlet for that escape in artsy poet Dylan (Skelley), who has his own relationship with mean hipster Meaghan (a necessarily acidic Kristen Adele). Bartle and Skelley have perfectly delightful chemistry in this modern interpretation that really works.
John Gromada's dreamy original music serves as the connective tissue for the six plays. His choice of underscoring for the scenes (an effusive Chopin Nocturne for "Violin Case," lonely and elegant Bach cello suites for "Quenched") is always pitch-perfect, sure to raise goose bumps. Russell H. Champa's lighting is similarly otherworldly, helping transport us to the worlds that exist only in the author's imagination. Director Wilson exhibits a remarkable range with these six plays that are tonally distinct yet clearly from the same mind.
Love him or hate him, one has to admit that Williams knew how to spin a good yarn. Desire offers fresh evidence of that.