Christian Borle and Laura Michelle Kelly to Lead Cast of Me and My Girl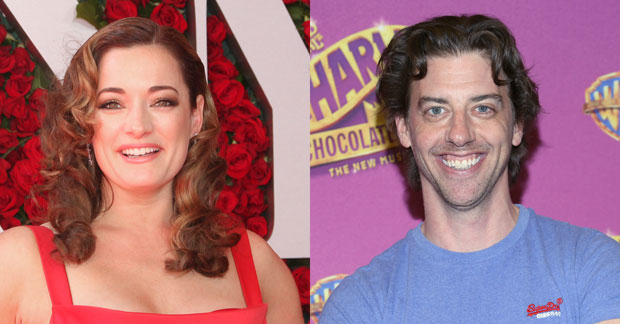 Encores! artistic director Jack Viertel has announced casting for Me and My Girl, the final production of the Encores! at 25 season at New York City Center. The show will run for seven performances from May 9-13.
Two-time Tony winner Christian Borle (Charlie and the Chocolate Factory) and Laura Michelle Kelly (Finding Neverland) will lead the cast alongside featured performers Suzzanne Douglas, Mark Evans, Harriet Harris, Edward Hibbert, John Horton, Simon Jones, Lisa O'Hare, Ken Page, and Don Stephenson. The ensemble includes Alex Aquilino, Maddy Apple, Philip Attmore, Florrie Bagel, Sam Bolen, Abby Church, Jake Corcoran, Christine DiGiallonardo, Jordan Grubb, Brittany Rose Hammond, Jared Howelton, Lizzie Klemperer, Eloise Kropp, Cory Lingner, David Scott Purdy, Mariah Reshea Reives, Price Waldman, Jessica Wockenfuss, and Chaz Wolcott.
The toast of the 1937 London season, Me and My Girl is a delightfully old-fashioned musical about Cockney everyman Bill Snibson (Christian Borle) who, after being unexpectedly elevated to the lofty position of Earl of Hareford, wreaks havoc on high society and risks losing his girl, Sally Smith (Laura Michelle Kelly). Part music hall frolic, part class-warfare comedy, Me and My Girl features a score by Noel Gay, which includes popular songs like "Leaning on a Lamp Post" and "The Lambeth Walk" — the famous first act finale that launched a worldwide dance craze.
A newly revised version of the show opened in London in 1984, followed by a Broadway run at the Marquis Theatre that began on August 10, 1986, and ran for 1,420 performances. L. Arthur Rose and Douglas Furber penned the original book and lyrics, and the new production includes a revised book by Stephen Fry, with contributions by Mike Ockrent.
Directed and choreographed by Tony winner Warren Carlyle, the Encores! production will feature music direction by Rob Berman.