Broadway's Amy Morton on Acting and Directing in Chicago's World of Ensemble Theater
Chicago native Amy Morton joined Steppenwolf Theatre Company in 1997 and has since taken three of its critically acclaimed productions to Broadway, earning Tony nominations for her performances in August: Osage County and last season's revival of Who's Afraid of Virginia Woolf? She has returned to her Midwestern homestead to assume the director's chair for the theater's upcoming world premiere of Mona Mansour's distinctly American play, The Way West, a family drama connecting the days of pioneer crossings with today's atmosphere of economic crisis. Morton chatted with TheaterMania about the production while reflecting on her dual career as both actor and director. She also offered an insider's perspective on the Chicago theater scene and its unique ensemble culture, which she describes as both wonderfully collaborative and something akin to "herding cattle."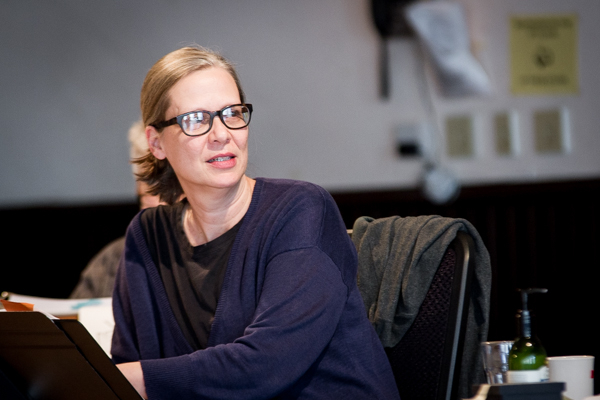 You've been both directing and acting at Steppenwolf for years. Do you feel more comfortable in one role over the other?
I started out as an actor and I didn't start directing until I was into my late thirties so acting is the thing I'm used to more, but I couldn't imagine myself without both. I do think acting makes me a better director and directing makes me a smarter actor.
What inspired you to start directing in the first place?
I was with a different theater company many, many years ago called Remains Theatre here in Chicago and they had gotten the rights to a play that I was very excited about and I just assumed I would be in it. We had wanted very much for Bob Falls to direct it and he couldn't because of scheduling and he said to me, "You should do it. You're the one who got the rights, you're the one [who's] so keen on it, you're the one [who] should direct it." And I thought, Well, what the heck.
Then when I became a member of Steppenwolf, my first directing job here was by default because the director who was chosen for a particular play had to drop out three weeks before rehearsals started, so our artistic director just turned to me and said, "You do it." It's not something I planned on. It fell in my lap.
What drew you to directing The Way West?
It's a very American theme. It's also incredibly funny. That's the thing I responded to first. I always pay attention if something makes me actually laugh out loud. I was doing a lot of that when I read it. It's a really interesting take on the American situation we find ourselves in regarding our country going bust and the financial crisis. It's all told through this story of a family that's going bankrupt but it's also been juxtaposed with the story of the pioneers moving west, so it's a really interesting interplay between the American dream, the pioneering spirit, and the reality of where the country is today.
Chicago is said to have a very unique theatrical culture. In your experience, what are the biggest differences between the Chicago and New York theater scenes?
For so long, Chicago was left alone in terms of its quote-unquote cultural scene. Nobody really paid attention to Chicago until the mid-eighties and then nationally we started getting a whole lot of interest, but in that time that nobody was paying attention, we just sort of did things our way by ourselves because we had to figure out how to do it somehow. What's happened here is there's a gigantic culture of ensemble, which I've actually found to be unique in the world. I've been lucky enough to work in Europe and Australia and all the actors that I've ever met said this phenomenon doesn't exist in their countries. At one point there was something like thirty theater companies — and that's just the ensembles. There's a strong ethic of collaboration and you mix that with the really intense, sometimes-weird Midwestern work ethic of we're all in this together and nobody's better than anybody — that creates this culture of intense work.
How so?
You don't become rich or famous here so all there is is the work. You don't have any distractions. I think that's what makes it a little different. New York is harder. It's more competition and it's so much more expensive, so it's harder to open a show. You can flop here and still work the next day. Your show can fold and your theater company will stay alive. That's not necessarily the case in New York. In New York, if things aren't received well, it can really crush a play. Here, you can get a crappy review and your show can keep running because people are talking about it.
For people who know nothing about the ensemble experience, what is it like?
The great thing about it is you have an artistic home, so you feel like you have a buffer. You're not completely out there in the artistic world alone hoping and praying somebody hires you. You have an artistic family. The downside is you have a family. It's still a collective of egos and eccentricities, and we're all artists so it's hard. Sometimes I look at our artistic director and I go, God, I am so glad I don't have your job, because it's like herding cattle. [laughs]
Most of your actors for this show are not ensemble members. How is it bringing in people from outside the company?
It's great because it's fresh blood! Most of them are Chicago except for [Deirdre] O'Connell who's from New York. But Zoe Perry is the daughter of two company members (Laurie Metcalf and Jeff Perry) and Caroline Neff has worked here quite a few times, so it's people [whom] we're very familiar with. It's a very smooth fit.