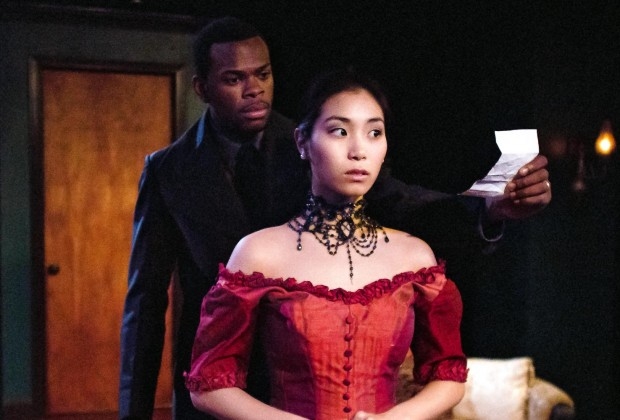 Over the past 23 years, Michael Halberstam has transformed a back-of-a-bookstore space smaller than many walk-in closets into a nationally acclaimed theater with a subscription base of thousands and a new, multimillion dollar facility slated to open this winter. This summer, the founder and artistic director for Writers' Theatre branches into playwriting with a streamlined, 90-minute adaptation of Henrik Ibsen's A Doll's House, now running at the Berger Park Cultural Center.
The budget for Definition Theatre's staging of Halberstam's taut take on the feminist classic probably wouldn't cover a single costume in your average Writers' production. But big-budget production values aren't needed here. Stripped to bare essentials, Halberstam's adaptation packs a punch. In directing his own work, Halberstam avoids the pitfalls that often come when the playwright and director are one and the same. There's no self-indulgence in this lean, mean staging, just an intensely paced drama that keeps you invested from start to finish.
Featuring Definition's ethnically diverse ensemble, the six-member cast has plenty of heart and heat, enough to keep the momentum moving forward right up to the final door slam. However, the young cast doesn't quite have the maturity to fully embody the emotions that drive the story toward Ibsen's famous, show-closing exclamation point.
Set in late-19th-century Sweden, Ibsen's plot centers on Nora (Miriam Lee), the pampered wife of Torvald (Tyrone Phillips), a rising young banker who expects little from his spouse beyond her dressing nicely and dancing a pretty tarantella. Nora has grown up being little more than an object of ornamentation, swaddled in the protective keeping of her father before being handed off to the care of her husband. Once married, however, Nora awakens to the fact that she's locked in a gilt cage, living a life of outward luxury, but little inner fulfilment.
Lee instills Nora with a whiff of "let them eat cake" cluelessness that nicely conveys the entitlement that comes from a life of sheltered privilege. A visit from an old school friend left in dire straits after the death of her husband sparks Nora's consciousness raising. Mrs. Linde (Carmen Molina) has fallen on hard times, and beseeches Nora to help her get a job at Torvald's bank. Molina is marvelous, deftly portraying a woman whose perfect manners and ladylike gentility can't quite mask the chronic exhaustion that comes from poverty or the rising desperation she experiences as a woman with frighteningly few options. There's panic and anger lurking below Mrs. Linde's perfect composure, and Molina makes both layers evident.
As the women converse, Lee gradually reveals the simmering anger and frustration bubbling below Nora's fizzy, childish demeanour. Nora's perfect life isn't quite as it seems. Torvald has been ill, and paying for his treatment left Nora no choice but to become a criminal by the standards of 1870s Swedish law. Because she's a woman, Nora could not legally borrow money, so she had to forge her father's signature in order to procure a loan. Should anyone discover her "crime," she'd be branded as irredeemably corrupt, unsuited to raise her children, and cast out from respectable society. The plot is propelled by Nora's dawning awareness that society's despicable patriarchy should be condemned.
Lee does an adequate job showing Nora's awakening to the sanctimonious hypocrisy that surrounds her. Though you wish she would go deeper into Nora's anger and frustration, this young actress' work reveals the spark of a major talent.
As Nora's husband, Phillips seems more like a callow college kid than a rising young businessman, and he doesn't convey the gravitas needed to embody the patriarchy that's stifling Nora. But like Lee, his presence is intriguing. The strongest member of the cast is Yaw Agyeman as Nora's longtime friend Dr. Rank. Agyeman captures an entire character with gesture, a fussy swipe at his spectacles conveying as much about the good doctor as any monologue. And as Nora's predatory lender Krogstad, Ryan Hallahan oozes desperation and the dangerous impulsiveness that comes when one is cornered and trapped without respectable means of escape.
Dominated by a plushly upholstered settee, scenic designer Eli Grove's one-room set effectively conveys the bones of a posh sitting room. Kristy Lee Hall's period costumes are sumptuous and detailed, particularly Nora's gorgeously restrictive gowns.
The Definition Theatre does well wrapping their "season of ambition" with A Doll's House. Here's hoping their 2015-16 season takes that ambition to new heights.