5 Questions With Kinky Boots Star Mark Ballas
Mark Ballas has traded in his tailored suits for high-heeled boots as Broadway's latest shoe mogul, Charlie Price. An Emmy-nominated dancer, choreographer, actor, and singer (best known for his 10 years on Dancing With the Stars ), Ballas made his Broadway debut in 2016 as Frankie Valli in Jersey Boys, and now moves on to lead the cast of another Tony-winning musical, Kinky Boots, at the Al Hirschfeld Theatre.
Through November 18, Ballas gets to inhabit Cyndi Lauper's pop score and Jerry Mitchell's fierce choreography as Charlie, a young man tasked with saving his late father's failing shoe business in partnership with a spirited drag queen named Lola (J. Harrison Ghee). Ballas, so far, has had about a month to break in the heels and the role, so we asked him how he's been finding his stride.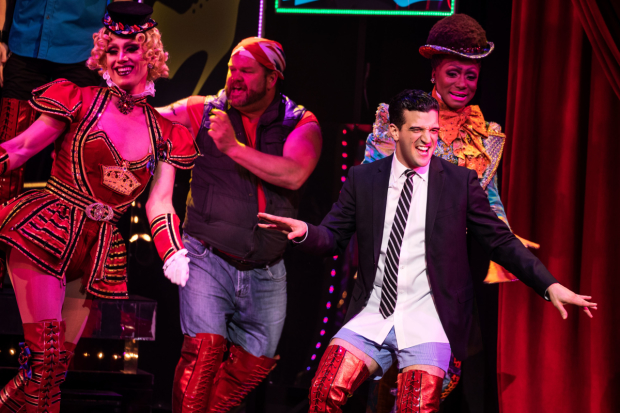 1. When you first saw the show, what were you most excited to perform and what were you most intimidated to perform?
I'd say I was most excited to perform "Everybody Say Yeah." Charlie really hits his groove here and comes out of his shell so it's a lot of fun to finally cut loose, especially opposite J. [Harrison Ghee]. We have a blast.
I'd say I was most intimidated about dancing/moving in the heels. I already respected women for dancing in heels and that respect went up even more.
2. What is the biggest affect putting on Charlie's heels has on your performance?
Probably my calf muscles are the most affected. LOL. Honestly, it's a great moment in the show because Charlie is forced to really step out of his comfort zone and stand alone as he thinks everyone has left him high and dry, which he deserves at that moment in time. So it's rewarding to play that moment, as in the beginning of the play you wouldn't catch Charlie dead in woman's boots.
3. Father-son relationships play a significant role in Kinky Boots. How are you and your father most alike and how are you most dissimilar?
My dad and I are very similar and get along more like brothers/friends. We are very close, we like the same music, have the same passion and work ethic. I'd say the thing that's most dissimilar is that he is a master of all things tech and computer, Mac and PC. I'm OK, but he takes it to a whole new level with the gadgets and tech stuff.
4. What are your favorite aspects of Jerry Mitchell's direction and choreography?
The light and shade, the colorfulness, the energy and the passion — every moment is full out and fun and memorable. Being able to make choreography stick in your head like a chorus to a great song does is a gift, and Jerry has that gift.
5. In the spirit of Charlie's family shoe factory, what business empire would you be most excited to inherit?
Probably Apple Inc. I know my dad would be thrilled.