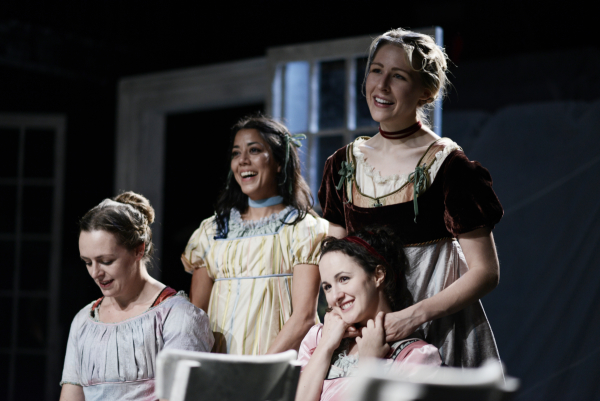 Anyone familiar with Jane Austen's novels knows that the author of Emma and Pride and Prejudice always had her tongue firmly in cheek while casting an ironic eye on every social convention and laughable pretension that crossed her path. Her first published novel was no exception, and the Bedlam theater company has remained true to Austen's spirit in Kate Hamill's marvelous adaptation of Sense and Sensibility, now running in rep at the Sheen Center with a new version of Anton Chekhov's The Seagull. Directed by Bedlam cofounder Eric Tucker, this hysterical, endlessly inventive production captures Austen's penchant for satire while inducing laughs with an ever-changing set and 10 brilliant actors who never seem to stop moving. It's one of the funniest, most engaging productions now running off-Broadway.
Recently widowed Mrs. Dashwood (Samantha Steinmetz), a late-18th-century English mother of three, finds herself nearly penniless because of a primogeniture law that compelled her late husband to leave his fortune to his son John (John Russell), a child from a previous marriage. John's greedy wife, Fanny (Laura Baranik), convinces him that Mrs. Dashwood and her daughters — common-sense Elinor (Andrus Nichols), romantic-minded Marianne (Kate Hamill), and chirpy, young Margaret (Vaishnavi Sharma) — will be just fine without additional financial support. So the Dashwoods move away to more modest lodgings in Devonshire, where Elinor and Marianne attract the attention of several bachelors, each of whom has secrets. Impetuous Marianne falls for the dashing John Willoughby (also Russell) while spurning the love of the older but honorable Colonel Brandon (Nigel Gore). Elinor has eyes for Edward Ferrars (Jason O'Connell), but a chance encounter with Lucy Steele (also Baranik) makes clear that Elinor isn't the only woman on Edward's mind. Parlor intrigue and neighborhood gossip add to the romantic entanglements until revelations both amusing and shocking teach the sisters the importance of using one's head in matters of the heart.
Bedlam has brought its signature inventiveness to this new production. Set designer John McDermott and director Tucker, who also hilariously portrays, in drag, the big-boned, unfailingly comical busybody Mrs. Jennings, keeps this action-packed comedy of manners moving, quite literally, with wheels: on the chairs that shoot Elinor and Lucy Steele across the stage for a tête-à-tête, on the spinning tables where the sisters and their beaux sit for dinner, on the settee that shuttles petulant Marianne to her bedroom, on the tall window panes through which the local gossips peer. And the audience, seated around the stage, comes into close contact with all these actors as they whiz about. A staid, static theatrical production about polite tea parties this most certainly is not.
Which makes it all the more amazing that Bedlam's 10 actors each turn out such unflaggingly energetic, well-developed performances. They not only look their parts in Angela Huff's well-designed period costumes, but through their movements onstage they make the world of Austen's novel feel modern and familiar while staying true to the story (Austen's own words figure largely in the dialogue). Hamill, who wrote the loose adaptation, gives a delightfully passionate Marianne, a pitch-perfect foil to Nichols' level-headed, silently suffering Elinor. Sharma adeptly and convincingly becomes the 13-year-old Margaret. And Steinmetz transforms from the quiet Mrs. Dashwood to the garrulous Anne Steele (Lucy's older sister) in a blink, garnering major laughs in the second role. Stephan Wolfert deserves a shout-out for the deliciously exaggerated Britishness of his toothy, perma-smiling Sir John Middleton, the Dashwoods' cousin.
Austen's story opens up all sorts of conversations about the status of women in society and the importance of money and social position in the marriage game. Bedlam doesn't sweep these issues under the rug, but it takes primary joy in celebrating Austen's insights into human foibles and idiosyncrasies. It's hard not to lose one's senses in this kind of theatrical stage magic.