5 Things Hugh Jackman Wants You to Know About His One-Man Show Tour
In 2019, Hugh Jackman will embark on an ambitious world tour of his new solo show The Man. The Music. The Show. Kicking off May 13 in Hamburg, Germany, the tour will send Jackman across Europe and North America, with stops ranging from Amsterdam and Zurich, to London and Paris, and Tampa and St. Paul. (He comes through New York City — at Madison Square Garden — June 28 and 29.)
Modeled after his 2011 Broadway concert Hugh Jackman, Back on Broadway, the new tour will feature hits from The Greatest Showman, Les Misérables, The Boy From Oz, and maybe even some Wolverine thrown in. And though the venues may be large, expect it to be a completely intimate experience. "I want people to feel like this is only happening that night, like a little secret that we have between the 30,000 of us."
Here are five things to expect.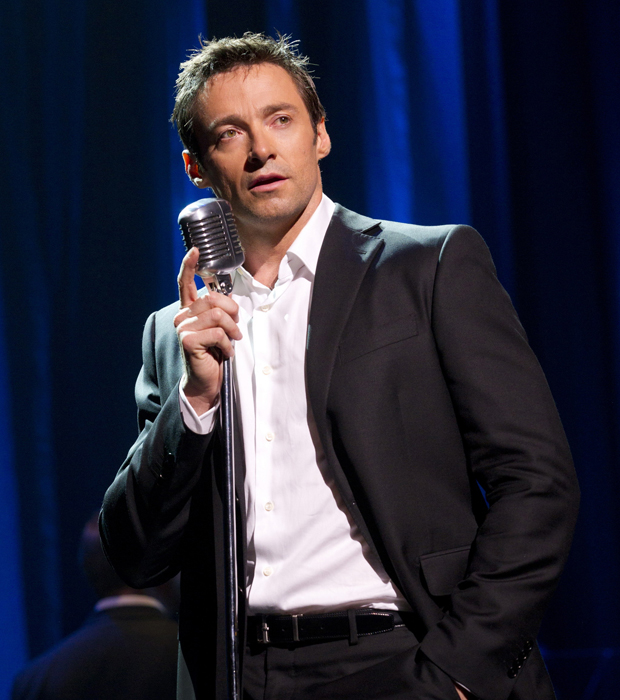 1. The set list will include a lot of showtunes — especially from musicals that Jackman wouldn't necessarily do eight times a week. And if he gets tired of a particular song, he'll cut it instantly.
"There's some stuff that I really want to sing, like Dear Evan Hansen, but I would never get cast as Evan Hansen, no matter how good I think I am," Jackman says with a laugh. "That's gonna be a really sad 50-year-old, still in high school." And if he loses his passion for any of the material he has to perform, "I'll put it away for a while. I'm a big believer that as a performer, the way you feel is how the audience is going to feel. If you feel like the luckiest guy on the planet to be singing that song, it's going to be special for the audience."
2. Look out for special guest stars.
Among the performers he'd love to sing with at some point during his run: Kristin Chenoweth, Sutton Foster, Laura Benanti, and Audra McDonald, who he did Carousel with in 2002, which was the first time he ever sang in America. His Greatest Showman costar Keala Settle is expected to do several shows. "I want to ask Sting," Jackman continues. "I just texted James Corden to come do the Hollywood Bowl with me. I'd love if P!nk and her daughter came on and sang 'A Million Dreams' one night, or Kelly Clarkson. And I'm about to call Ryan Reynolds, because I do think it would be quite cool if Ryan made an appearance as Deadpool somewhere along the way."
3. After the success of The Greatest Showman, he knows the audience will be different now than it was when he first did Hugh Jackman, Back on Broadway in 2011. And he's adjusted the new show accordingly.
"My very unscientific way of measuring the success of films is the 'being stopped on the street' method," he notes, "and I can tell you I am being stopped on the street so many more times by young kids and their parents after The Greatest Showman than any other thing I've ever done. My daughter does dance, and I go watch her. But after Greatest Showman, I had 60 young girls in their tutus coming up to me, and my daughter says, 'You are not coming to dance again.'"
What Jackman loves most of all is the idea that while the younger generation will get to hear songs they all know, they'll also be able to experience standards from the likes of Irving Berlin, Fred Astaire, and Gene Kelly, perhaps for the first time.
4. He wants to do the original choreography…if he's allowed…and if he still can.
When Jackman starred in Oklahoma! at London's National Theatre in 1998, choreographer Susan Stroman helped him make history. "I think I was the first Curly in history to dance the Dream Ballet," Jackman notes. "My director is Warren Carlyle, who was the dance captain of Oklahoma!, and I said, 'Warren, what if one night Josefina Gabrielle [who played Laurey] and I did the Dream Ballet?' And he goes, 'That'll be great…But can you still do it?' For me, that's like a red rag to a bull. I'm just hoping my ambition is not at complete odds with my age."
5. Broadway is beckoning once again.
Jackman wants to come back to Broadway, and sooner rather than later. "I'm actively thinking about it right now," he says. "It's been so great having something like a one-man show to be able to dip in and out of in between movies, because it's difficult to find 18 months of your life to go to Broadway. But I'm ready."
While he does have a particular show in mind, when asked what it is…all he does is smile from ear to ear.