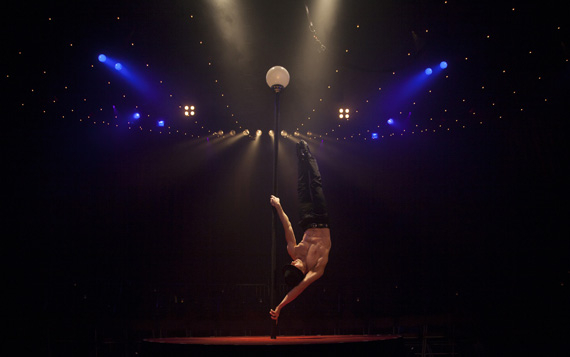 Magic is soooooo much more impressive when performed in the nude. (There's practically nowhere to hide anything.) This is one of the many revelations in La Soirée, the sexy, silly, downright spectacular adult circus now inhabiting The Union Square Theatre. Having toured the world (London, Sydney, Paris), La Soirée now lands in New York for a limited time. Cabaret and burlesque fans might recognize some of the acts from the show's earlier incarnation, Absinthe. Several of these acts have appeared under the banner of La Clique, a perennial favorite at the Edinburgh Fringe Festival. This new and improved show has everything: aerial tricks, amazing feats of strength, and lots of laughs.
Upon entering the theater, still sans fixed seating following Murder Ballad, you are likely to be greeted by creative producer Brett Haylock, a man who clearly takes an active hand in the show's operation. Decked out in pinstripes and a fedora, this Australian impresario looks like the happiest mobster in town. A spring in his step, Haylock gleefully seats audience members in the ring of folding chairs that surround the tiny round stage in the center of the room. This is where the literal and figurative magic happens.
A rare assortment of skilled performers takes the stage. There's the English Gents (Denis Lock and Hamish McCann), who perform extraordinary feats of upper body strength while reading The Financial Times. First they wear three-piece suits…then they wear considerably less. Miss Behave confounds the audience with a series of choreographed gross-out acts, including plenty of knife swallowing. "With me it's not so much 'wow,'" she responds to our applause, "but 'why?"' Stephen Williams' bathtub act is a showstopper: Clad only in a pair of wet jeans, this perfectly sculpted aerialist plunges in and out of a porcelain tub by pulling himself up on a pair of ropes. Ushers hand out protective plastic sheets to audience members in the front row for this one, but if you're like me, you probably won't mind getting a little wet.
There's also Ursula Martinez, who magically makes a red hanky disappear while wearing nothing at all. Jess Love dazzles with her USO-inspired Hula-Hoop act. Chanteuse Meow Meow sings us some inappropriate and sultry songs of Weimar Germany. Mario, Queen of the Circus, a randy Freddie Mercury lookalike, impressively juggles while lip-syncing to Queen's "Another One Bites the Dust." Mooky Cornish will have you rolling in the aisles with Gloria Rivard, a starlet-in-the-making who invites one lucky audience member onstage to perform in a scene.
Perhaps the most unique aspect of La Soirée is the level of interaction between audience and entertainer. Even seemingly dangerous stunts are open to participation, like when Mario unicycles with an audience member on his shoulders. If you sit in the front row, you're very likely to have an up-close and personal experience with one of these insanely talented and attractive performers. As Mario reminds us before the bathtub act, "Everyone in La Soirée is available for casual sex encounters." Yahtzee!