Your Mother's Copy of the Kama Sutra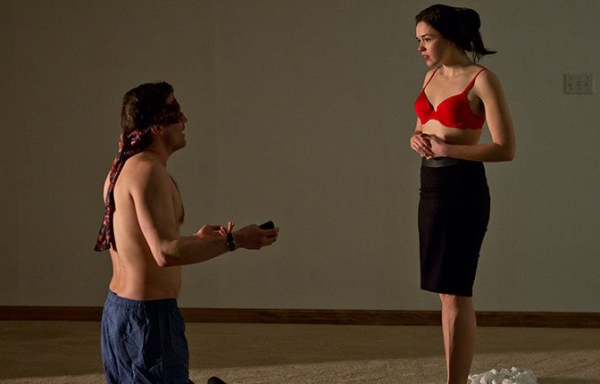 Somewhere between the eras of Victorian modesty and social-media self-indulgence, the concept of privacy fell out of favor. We broadcast our most unflattering moments, offer the world our every thought and feeling (no matter how inflammatory), and do everything we can to facilitate an opportunity to pull out our "I don't care what you think" badges — all in the name of self-expression. Though playwright Kirk Lynn of Austin, Texas' Rude Mechs theater collective is staying out of this technological sandbox, he has infused its consequential "more is more" mentality into his new play, Your Mother's Copy of the Kama Sutra, now playing at Playwrights Horizons' Peter Jay Sharp Theater.
We meet our central couple, Reggie (Chris Stack) and Carla (Zoë Sophia Garcia), in the mid-1990s in a vast, shadow-filled room (sparse scenic and lighting design by Laura Jellinek and Ben Stanton) in the middle of a rather kinky sexual encounter. A half-naked Reggie has been blindfolded and is mercilessly taunted by the siren call of his fully clothed female puppeteer. While this may not strike most folks as the ideal romantic setting for a marriage proposal, Reggie takes the plunge in this most compromising of situations, to which Carla responds with a proposal of her own. In order for their lives to truly knit together in a permanent marital bond, she requests that they each delve into their sexual archives and perform the most significant of these experiences with and on each other.
Sexual transparency is the key to intimacy according to Carla, whose domineering first impression, crafted jointly by Garcia and director Anne Kauffman, makes us question both her motivations and the genuine value to be found in such an exercise. Our distaste for her grows as she rejects Reggie's choice for his close friend and ex-girlfriend Tony (Rebecca Henderson) as the "Best Man" at their wedding. Yet Reggie unquestioningly goes along with all of Carla's demands, even probing into his painful past of sexual abuse, which the pair all too graphically reenacts onstage. Despite his desperate plea for one shred of sexual privacy, she insists their union depends on the absence of any and all barriers that separate one from the other.
Though Act 1 leaves us with many questions about Carla and her dogmatic philosophy — as it should — Act 2 assumes that during intermission we had ample time to answer them all, and with resounding support for her boundaryless approach to relationships. Without a doubt, it is fair to assess that sexual history speaks volumes about a person's internal life, and tearing down the walls that deny others access to these internal lives increases intimacy. Lynn, however, lays the foundation of his entire play on the supposition that the goal of a relationship (at the very least, a marital relationship) is infinite intimacy — an all-absorbing closeness that makes one romantic partner indistinguishable from the other. As Reggie and Tony (who inexplicably rebounds from the wedding debacle to become one of Carla's best friends) speak of her messianic influence on their emotional openness, you find yourself forced into philosophical conclusions to which you're not quite prepared to commit.
This world of adult sexuality collides with the even messier world of adolescent sexuality, which, introduced in the first act, is centered around a party in a time close to present day. A nervous Sean (Maxx Brewer) hopes to find romance with an attractive though troubled girl named Bernie (Ismenia Mendes), who, as we soon discover, is Reggie and Carla's future teenage daughter. Will Pullen, meanwhile, plays a paradigmatic predator as Sean's beer-guzzling friend Cole, who facilitates the sexual events that add the first file to both Sean and Bernie's own sexual archives.
Despite its shaky structure, several moments in Lynn's dialogue allow the talents of his cast to shine. Henderson in particular stands out among the group as the aptly named Tony, who wears her masculine sexuality like a coat of arms over her severe business outfits (designed by Emily Rebholz) and shock of bleach-blonde hair, which clings to her scalp as firmly as she clings to her own self-preservation. She opens Act 2 with a speech (brought on by circumstances I will not disclose), during which her own walls begin to break down in a beautiful pool of vulnerability and humor. The monologue both illuminates her exaggerated character's yet-unseen nuances and affords Henderson the opportunity to display her capacity for both comic and emotional depth.
Mendes and Stack achieve a believable father-daughter dynamic, as well, though the conventionality of their angst-ridden rapport contradicts the unconventional sexual openness that defines their unorthodox relationship. Kauffman, however, cranks up the volume on Mendes' brooding teenage persona, which allows for several emotionally charged moments, but ultimately distracts from what could have been a far more subtle performance by the clearly gifted young actress.
As all of these characters come together in a union of personal thoughts, private experiences, and solitary processes, which are discarded in favor of a blanket policy of transparency, the concept of personal boundaries becomes just as unfairly vilified as the stigmas that used to be (and often still are) associated with sexual freedom. As Lynn's characters fight to tear down the walls that keep them apart, he disregards the innate and crucial need for individuals to save some of themselves for themselves alone. Without this personal shell to hold our shape, we sacrifice the personal identity we want so passionately to share with the ones we love.