Peter Scolari and Tracy Shayne on the Legacy of the New York Yankees and Bronx Bombers on Broadway
This past June, when Peter Scolari was appearing on Broadway in Nora Ephron's Lucky Guy, he and his longtime lady love, Chicago and Phantom of the Opera veteran Tracy Shayne, decided to tie the knot after eight and a half years. For their first outing as husband and wife, Scolari and Shayne will take the stage of the Circle In The Square Theatre this January as another husband-and-wife duo, Yogi and Carmen Berra in the upcoming Broadway mounting of Eric Simonson's New York Yankees-themed Bronx Bombers.
In anticipation of the show's main-stem premiere, TheaterMania chatted with Scolari, who's currently in tech for A.R. Gurney's Family Furniture at The Flea Theater, and Shayne about their wedding, their baseball fandom, and the opportunity to star opposite each other onstage.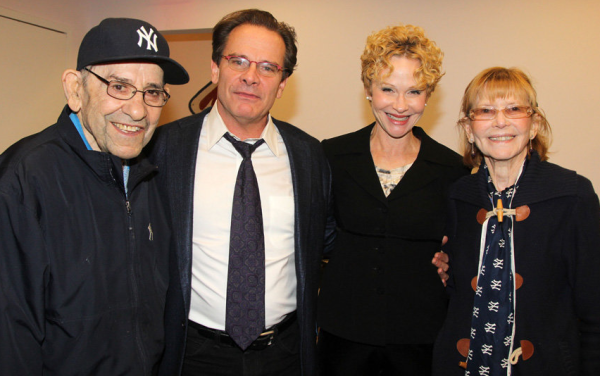 I understand you recently got married. I had always thought you were married already.
Peter Scolari: We look that way. We've had married couples gravitate to us and say, "When did you guys get married?" And we were always saying, "Well, we're not, actually."
Tracy Shayne: After we got married, people seemed underwhelmed when we told them. [laughs]
Tell me about the wedding.
Tracy Shayne: We actually wanted to go down to City Hall and just get married, but we have family and we wanted to get married with our families. A friend of mine had a loft downtown. My cousin, who is a family-court judge, married us. It was very small and intimate and lovely. The best part about all of it is the actually being married. We've been together for almost nine years.
Peter Scolari: But it feels like ten. [a beat] I'm just joking.
Will this be your first time acting opposite each other?
Peter Scolari: In a wholly public venue. We've done a couple of readings. We have a friend who's a playwright who also owns a jazz club uptown.
Tracy Shayne: He wrote a two-character play that we did a reading of in his club once, very early on in our relationship. We did something for Naked Angels a few years ago. Nothing like this full-fledged production, opposite each other, playing husband and wife.
I'm presuming you're both Yankees fans, too.
Tracy Shayne: I like baseball, but I'm a dancer and an actor and a singer and a woman. I'm not a huge sports person. But now that I'm doing this play…I used to go to games with my dad, who was a huge Yankees fan. Now that we met Yogi and Carmen, which was an incredible evening, I am really into it. There's a lot of similarity of being on a team to being in a ballet company.
Peter Scolari: You grew up in Houston.
Tracy Shayne: So we would go to the Astrodome and watch the Astros lose.
Peter Scolari: I grew up just twelve miles from Yankee Stadium, in New Rochelle. My dad, we believe, it's family legend that he did legal work for Elston Howard and some other sports figures. We were huge Yankees fans. It was in our living room. We made trips to the stadium. I saw Mantle and Maris smoking cigarettes, one foot out of the dugout.
There's so much written about that era of baseball, and the era in which Bronx Bombers is set.
Peter Scolari: It was a really electrifying time. I was working off-Broadway from '74 to '79, and on opening day we'd pool our money and get our name on the scoreboard: "Welcome to the Collonades Theater." We lived and breathed and died for that era [of the Yankees].
Was meeting Yogi and Carmen in the flesh everything you wanted it to be?
Tracy Shayne: Oh, my God. [Producer] Tony Ponturo drove us out to the Yogi and Carmen Berra Museum. It was just spectacular.
Peter Scolari: The most amazing thing was the love letters Yogi wrote to Carmen.
Tracy Shayne: First, Carmen came out. I know this is going to sound ridiculous, but we instantly bonded. She is just adorable and a spitfire. She said, "You remind me of me, fifty years younger." We were by each other's side the whole evening.
Peter Scolari: The two of them, right away — you could feel it.
Tracy Shayne: Here's the thing that was so sweet. She walked us back into where the offices are and Yogi was sitting, his back to us, and all we saw was the back of his head, and his ears sticking out, and we both welled up.
Peter Scolari: I loved it.
Tracy Shayne: [Peter] started crying. It was the most adorable thing.
Peter Scolari: When an icon becomes suddenly real to you, not the Yogi everyone laughs about, the man who loves life, on a night when he's got all these folks who were paying to be in the museum to watch the World Series with Yogi and Carmen…Once we were in their presence, we were guests in their home.
What are you most looking forward to about the experience of Bronx Bombers?
Tracy Shayne: There's so much. For me, obviously, to work with my husband. I cannot wait to play opposite him. That's number one. Because he makes me a better actor. The other thing is just the chance to work with these other wonderful actors. I know a couple of them myself through Peter. To bring something to life is something I live for…I've done a lot of Broadway shows but I've never created a role on Broadway; I've always replaced. I am so beside myself with excitement.
Peter Scolari: I'm just gonna repeat what she said. I'd only add that it can be a real challenge to play real-life folks, particularly these guys. I'm so glad that they're still with us. I really want to do right by Yogi and Carmen. That's really in the forefront of my thinking.