NYMF 2018: '68: A New American Musical; An American Hero: A World War II Musical; Peter, Who?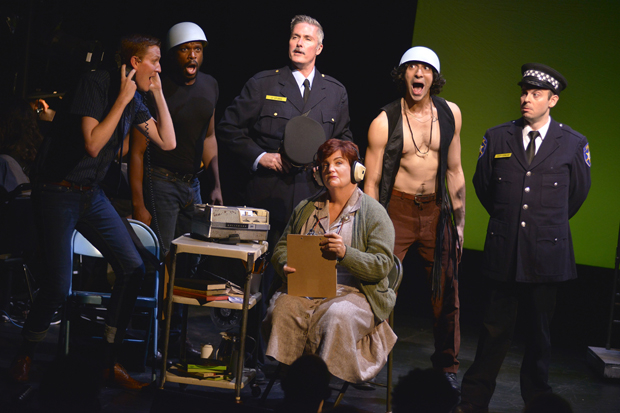 By Zachary Stewart
Donald Trump's road to the White House began in 1968. That was the year of the contentious Democratic Convention that shattered the old FDR coalition and ushered Richard Nixon into the White House. In '68: A New American Musical, writers Paul Leschen (music) and Jamie Leo (book and lyrics) make a compelling case that the culture war of today is merely the culmination of a rift that opened that hot Chicago summer 50 years ago.
The divide was primarily between labor-allied machine bosses (as represented by Chicago Mayor Richard Daley and his police force) and the socially progressive "yippies" (as represented by counterculture figures like Abbie Hoffman). Leo and Leschen smartly steer clear of such bold print names, opting instead to highlight the stories of average conventioneers, protesters, and cops as collected by librarian Charlene (a commanding Mary Callanan) and her assistant, Gary (a mildly sinister Jeremy Konopka).
These stories arrive in a tuneful pastiche score: The bus introduction number "Where Are You From?" is especially beautiful (and beautifully sung by the cast). The magnetic Joe Joseph emcees a pseudo-Brechtian recreation of the Yippie "Festival of Life" in Lincoln Park, through which the composers use a variety of musical styles to depict the balkanization of the Left. Wearing black pajamas and a Vietnamese nón lá (evocative costumes by Gwen Miller), Delphi Borich sings the haunting "Chickens," which we suspect isn't actually about a bunch of fat chickens roosting contentedly in a hen house.
Director Joey Murray maintains an artful balance between clarity and chaos to lucidly tell the story of an event around which the fog of war still hasn't fully lifted. Skirting the edge of incoherence though jaunty song, '68 often feels a lot like Hair, but with the franchise expanded to include the police instead of just the bourgeois hippie students calling them "pigs."
One story particularly sticks out: As told by Lt. Stubig of the Chicago PD (a brusque Bob Gaynor), Democrats sympathetic to the protestors threw glass ashtrays onto the police from the windows of their rooms at the Hilton (this anecdote was not just invented for this musical, but has appeared in many historical accounts). The next time you hear someone question why the white working class so often votes against the Democratic Party, think of those luxury projectiles.
---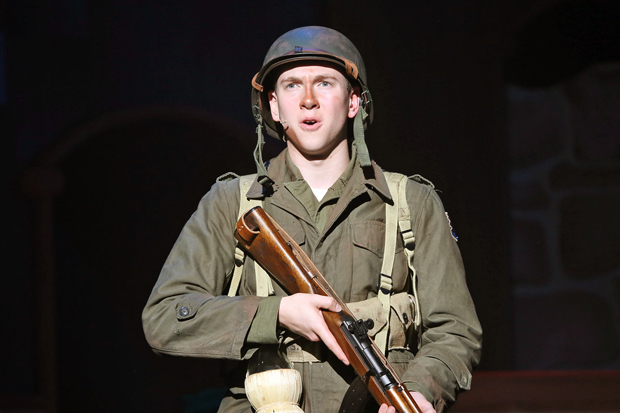 An American Hero: A World War II Musical
By Dan Stahl
An American Hero: A World War II Musical, with a score by Cody Cole and book by Kenneth L. Stilson, is a more complicated work than its title suggests. No bland nostalgia piece, it dive-bombs into the messy reality of fighting in the Second World War, though it doesn't always depict the home front with the same nuance.
In this case, the home front is the United States, specifically an Irish neighborhood in the Bronx where Paddy and Thomas O'Brien, two brothers who have immigrated from Dublin, decide to join the US Army. Their choice draws flak from some of their fellow immigrants, who can't understand why they'd support England, "a country that held us hostage fer 300 years." (Throughout World War II, Ireland remained neutral, and Irishmen who joined the Allied forces were blacklisted and barred from employment when they returned home.)
Thomas finds one staunch supporter, though, and that's Mary Wallace, a Smith College senior he meets at a bar the night of his 21st birthday, which also happens to be her 21st birthday. The mechanics of the plot are grinding to get these two together, so no surprise that she drops out of school, joins a munitions factory, and marries him. Much of the musical alternates between scenes of her and coworkers on the factory floor, and scenes of Thomas and other soldiers on the front in France.
This back-and-forth gives An American Hero an episodic feel; some of the vignettes work better than others. The most startling is a scene in which American soldiers bully and hurl ethnic slurs at one of their own, who happens to be Jewish. Seeing such anti-Semitism among men ostensibly at war to stop it calls into question the notion of American heroism — what were some soldiers really fighting for?
Providing a throughline is the development of Thomas, who goes from bubbly 21-year-old to embittered veteran. Adam Schween doesn't play him subtly, freezing his face in a pout upon his return from the war, but such concentrated acting ultimately benefits his performance, carrying him to a climactic agony in which he rejects the Medal of Honor and the appellation of "hero" foisted on him by society.
An American Hero may not be polished, but like a good soldier, it has guts.
---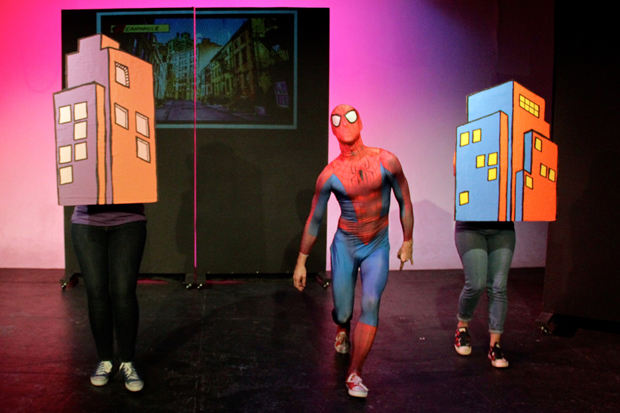 By David Gordon
Remember Spider-Man: Turn Off the Dark? How could we forget this history-making blip on Broadway's radar, which played the longest period of previews ever, injured several cast members, and cost as much money to create (by 2011 standards) as buying two private islands in the Bahamas?
Back seven years ago when the masked crusader was in his Broadway heyday, writers Justin Moran, Jon Roufaeal, Adam Podd, and Doug Katsaros set themselves the challenge of creating a rival musical about Spider-Man in under 30 days and with a budget of $0. Opening at the Peoples Improv Theater in March 2011, The Spidey Project ran for one performance and sold out in seconds, beating its Broadway-sized competitor to the punch of opening first.
After several years of revisions and a 2017 run at the LA Fringe Festival, The Spidey Project is back, and now titled Peter, Who? An origin story of how the nerdy Peter Parker (Travis Nilan) was bitten by a radioactive spider and given superpowers, Peter, Who? takes itself way less seriously than the other Spider-Man musical did. That turns out to be both good and bad.
Watching Peter, Who?, which is directed with its tongue firmly implanted in its cheek by John Treacy Egan and Moran, you can tell that the show has its roots in improv. The humor is sophomoric (Moran and Roufaeal penned the book and lyrics), the music (by Katsaros and Podd) is simple and twinkly, and the gestures, winks, and facial expressions are exaggerated to the highest power.
To their credit, the eight-member cast (including Roufaeal himself) is completely in tune with the go-for-broke style of the production, but it still feels more along the lines of a late-night improv show than a traditional musical. While it does earn its fair share of laughs, you're likely to have a hard time finding the emotional attachment we need to care about whether Peter Parker actually saves the day.