NYMF 2016: Dust Can't Kill Me; The Gold; Ludo's Broken Bride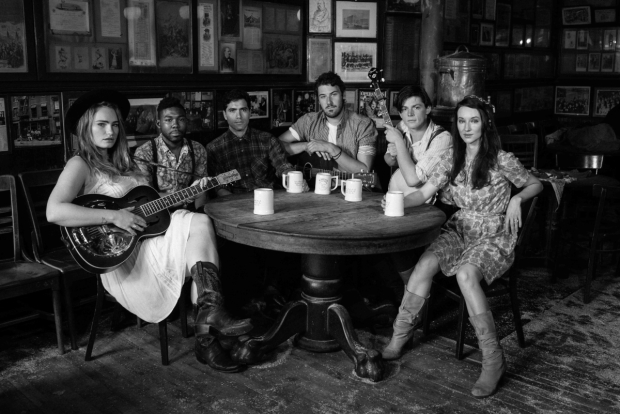 The creators of Dust Can't Kill Me push against boundaries before their show even begins: As we enter the theater, we see the actors onstage, laughing and singing. This pre-show hootenanny is interrupted by NYMF's pre-recorded curtain speech, leaving the actors to awkwardly stare out at the audience. It is an apt beginning for a show about folks who don't quite fit in.
The show begins in Rolla, Kansas at the height of the dust bowl. Angelina (a fragile but determined Elizabeth A. Davis) is pregnant, but the father refuses to recognize the child as his. Lily (Kathryn Gallagher with gargantuan soul) shoots him and blames Everett (Richard Crandle), correctly assuming that the townsfolk will never question the guilt of a black man. Meanwhile, secret lovers Birch (Michael Castillejos) and Abraham (Adrian Blake Enscoe) watch their farm go up in flames and worry that they've been found out. Abigail Carney's dreamy sketch of a book feels a lot like if John Steinbeck were to write Brokeback Mountain, but with an added mythological twist: A deep-voiced preacher (Paul Hinkes) leads these lost souls out of Kansas to a tree in the desert, laden with poisonous fruit. Like the serpent in the Garden of Eden, he implores them to acknowledge their sins and take a bite.
Recent Yale graduate Elliah Heifetz has given this historical fantasy an all-American sound with his rousing folk score. One naturally approaches the phenomenon of a Yalie writing about swigging moonshine and working on the railroad with skepticism, but this stellar cast delivers every number with commitment and heart, leading us to gladly suspend our disbelief.
Director Srda Vasiljevic employs them as actor-musicians in the style of John Doyle, making this not just the most talented cast of the festival, but also the best band. Just try not to get goosebumps during the chilling first-act song "I Ain't No Man." This is a sound that should be heard in the theater more often.
---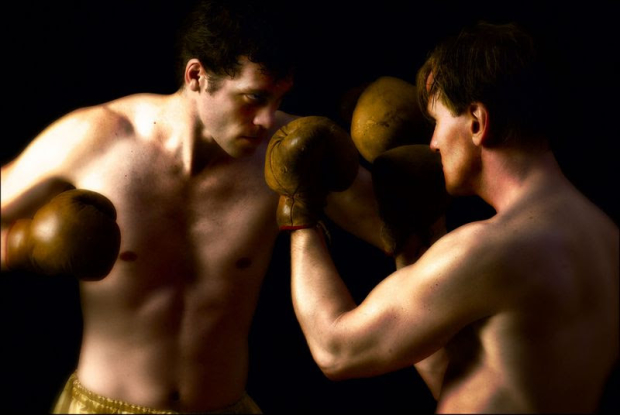 Set designer Meganne George's almost Brechtian backdrop for The Gold gives us a good idea of where we are headed over the next two and a half hours: "Germany, 1935," "Palestine, 1945," "Yad Vashem, 1955." We know instantly that we're not in for an evening of light musical comedy.
The story follows Jewish boxer Joseph Cohen (Josh Davis), who competes against his friend, Karl (Steven Grant Douglas), for a spot on Germany's Olympic team and for the heart of Sarah Aaronson (Karis Danish). Joseph gets the girl, enraging Karl, who colludes with the Nazis to deny Joseph his shot at Olympic gold. But when Joseph and Sarah are taken away to Dachau, Karl's sister, Gabrielle (Jenn Malenke), shelters their young son, Aaron (Graydon Peter Yosowitz). Jumping across continents and decades, The Gold feels like a musical mashup of Golden Boy and Sophie's Choice.
The score is the creation of part-time composer (and full-time plastic surgeon) Philip Yosowitz, who collaborated on the serviceable book with Andrea Lepcio. Yosowitz can write a syrupy ballad like nobody's business, but he tends to make more baffling choices with his up-tempos. For instance, the Nazi production number "Germany's Changing" is less a cruel and irresistible anthem (think "Tomorrow Belongs to Me" from Cabaret) as it is a bouncy British music hall ditty. Forced lyrics like, "I opened an atlas to see where you are / I marked out the spot with a six-pointed star," land with a thud.
Still, a very talented cast (under the clear and efficient direction of Spiro Velpoudos) delivers moving and memorable performances: Danish plays a warm and sympathetic Sarah, the rich-voiced Adam Maggio gives us a second leading man as an adult Aaron, and no one plays a musical Nazi with the same level of unapologetic malice as Ryan Speakman. With the gravity of Jean Valjean, Davis leads the entire cast in the show's stirring and unforgettable finale, "Never Again," which you will be singing out the door of the theater.
---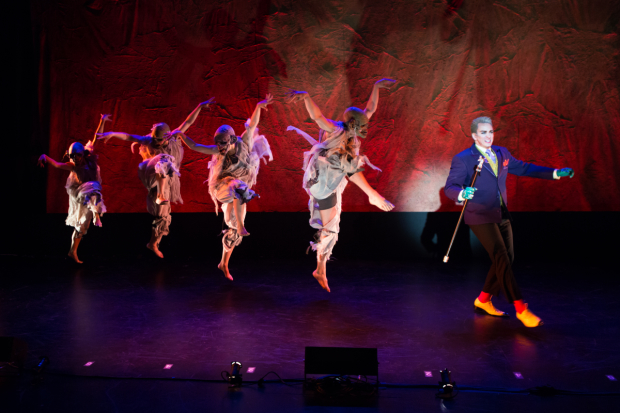 Dinosaurs, time travel, the end of days…it's just a laundry list of musical-theater clichés, right? Actually, Ludo's Broken Bride (based on the 2005 concept album by the alt. rock band) is one of the more imaginative works of musical theater I've ever witnessed. Its grand scope and inventive stagecraft is a treat unto itself, and that doesn't even account for the surging rock score.
Creatively adapted for the stage by Stacey Weingarten, Broken Bride is about Thomas (Carson Higgins), a physicist who travels back in time to save his lost love, Oriel (Gabrielle McClinton), who died tragically in 1989. He miscalculates and ends up in pre-history, where he meets a cute rodent friend (the Hensonesque Brendan Malafronte) and some less-cute velociraptors. During his stay in the Cretaceous, he unwittingly lays the groundwork for the apocalypse: He goes back to the future to find a wasteland ruled over by King Simius, a kind of necromancing Liberace (fabulous costumes by Bree Perry).
Brian Charles Rooney is electrifying as that glittering spawn of Satan, effortlessly embodying one of the shadiest musical villains in years. Michael Jayne Walker also strikes the correct (angsty, ever-so-whiny) notes as a young Tom. Meanwhile, Larry Hamilton rocks out in Vulcan drag as the Archangel Raguel, whose role is never fully explained.
Unfortunately, the production suffers from sound-balance issues that render the lyrically dense opening number practically unintelligible, robbing us of important exposition. Originally conceived as rock songs, the numbers are not always conducive to plot development, leaving it up to the performer to hold our attention through repetitive choruses. Not every cast member can cope with the challenging score, either, so emotive singing regularly crosses the border into shrieking.
The good outweighs the bad, though: This is an action-packed high fantasy of angels and demons, time travel and rock. If only more musicals took such risks with story and form.