National Yiddish Theatre Folksbiene to Revive Lost Yiddish Operetta The Sorceress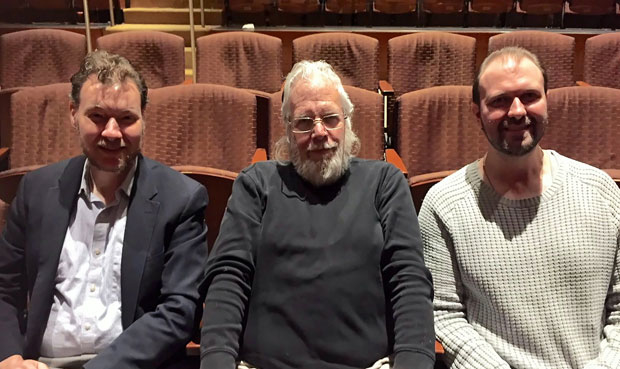 Inspired by last season's revival of Joseph Rumshinky's 1923 operetta The Golden Bride, the National Yiddish Theatre Folksbiene (NYTF) will present a limited engagement of another lost operetta of the Yiddish Theatre canon, The Sorceress. Performed in Yiddish with English and Russian translation supertitles, The Sorceress, a work in development, will play five performances only, running from December 25-January 1, 2018, at the Museum of Jewish Heritage. Casting will be announced soon.
The Sorceress conjures up a fairy-tale-like world starring an innocent young heroine and her dashing fiancé, and populated with a cast of unforgettable characters including a deviously wicked stepmother, a humorous itinerant peddler, and feared but rather inept spellcaster.
Written in 1879 by Abraham Goldfaden, known as "the father of Yiddish theater," The Sorceress was the first Yiddish Theatre production ever produced in the United States. Its U.S. premiere, presented in 1882, was conceived and directed by a then 14-year-old Boris Thomashefsky, who went on to become one of the preeminent names of the Yiddish theater. The NYTF production will be the first time in over 80 years that The Sorceress will be presented in a workshop form with its fully-restored text and music, as well as costumes, lighting design, and projections.
It will also be the first piece brought to life in an in-development workshop form under NYTF's new Global Yiddish Theatre Restoration Project. Orchestral arrangements, dating to the late 19th century, were located in the archives of YIVO's Vilna Collection, which was saved from Nazi and Soviet destruction in the Vilna Ghetto by the famed Paper Brigade. These early orchestrations served as the starting point for NYTF's newly revived musical arrangements.
This past September, NYTF presented a concert version of The Sorceress for an invited audience of scholars, artists, and supporters as part of the show's restoration development. A month later, NYTF traveled to Bucharest, Romania for a copresentation with the State Jewish Theater, Goldfaden's artistic home, in celebration of their theater's second International Yiddish Theatre Festival.
The operetta will be helmed by associate artistic director Motl Didner, with music direction by artistic director Zalmen Mlotek, and musical staging by Merete Muenter. C.E.O. Christopher Massimine will serve as producer with casting by Jamibeth Margolis, C.S.A. The production will feature a company of 17 actors and a 10-piece orchestra.