Conquest of the Universe or When Queens Collide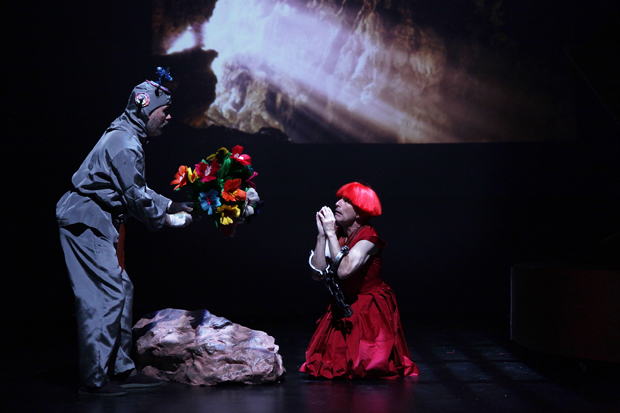 An important piece of theater history is being restaged right now at La MaMa E.T.C. Ellen Stewart Theatre for its 50th anniversary: Charles Ludlam's 1967 Conquest of the Universe or When Queens Collide, one of the legendary boundary-pushing playwright's earliest works and the opening salvo of his Ridiculous Theatrical Company. This is hardly a show that inspires hushed reverence, however. The show's first 15 minutes quickly establish its comically go-for-broke nature with, among other sights, beer being treated as a character's Kryptonite and a simulated orgy featuring one male character sporting a rubber phallus. Certainly the last thing anyone would call Ludlam's cosmic tragicomedy is polite, timid, or well-mannered.
What Conquest of the Universe does now seems dated. That isn't necessarily intended as criticism. Ludlam was reacting to staid theatrical norms and a society that condemned homosexuality, and he surely had no idea that artists like filmmaker John Waters and Rocky Horror Show scribe Richard O'Brien would later adopt his sensibility and, at least to some degree, bring it into the mainstream. But one does sit through director Everett Quinton's remounting acutely conscious of the atom-bomb impact it must have had back in the 1960s, when its style was fresher and more transgressive than it is now.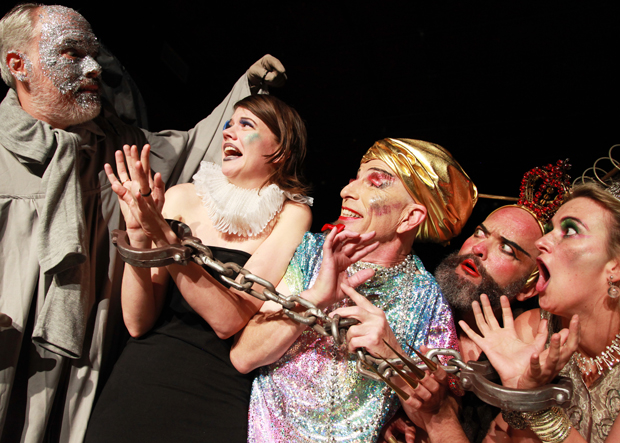 And yet, Conquest of the Universe still packs an exhilaratingly off-the-wall wallop if you're able to get onto its deliriously campy wavelength (especially with Quinton and the rest of his cast pushing the limits of broadness in their performances). Ludlam based his play on Christopher Marlowe's Tamburlaine the Great, transposing the Scythian shepherd-turned-emperor's conquests across Asia to outer space. But he merely uses elements from Marlowe's 16th-century, two-part historical epic as a springboard for a collage that tosses references to everything from Shakespeare, Verdi, Leonardo da Vinci, Looney Tunes, and more into a high-energy stew that uncovers seemingly limitless opportunities for whimsical invention and parodic humor. Ludlam turns the dogs of war into two literal beings on leashes, one named Hunger, the other named Pestilence; Alice (Brian Belovitch, channeling the drag queen Divine), First Lady of Earth, alongside Tamberlaine (Grant Neale), randomly breaks out into a ballad in order to express her feelings of neglect; characters throw red ribbons across the stage to signify splashes of blood.
Nothing is off limits in Conquest of the Universe, with bits of high-art eloquence coexisting with instances of low vulgarity. Ludlam's wide-ranging brand of insanity is housed in a production that taps into a similarly voracious spirit, as colorful as the neon hues of the giant planetary orbs on the ceiling of Robert Savina's set. Ramona Ponce's costumes range from Tamberlaine's lo-fi suit of armor made out of CDs to the glamorously frilly green-and-white dress of Venus (Géraldine Dulex). Though Christopher Weston's lighting is mostly functional, he does come up with one beautifully expressive effect: a cell-like crosshatched shadow projected onto Tamberlaine during a moment of anguished introspection. On the more disreputable end of the spectrum, prop designer Cricket Epstein taps into the show's parodic spirit with her deliberately amateurish use of baby dolls, toy guns, and ribbons to put us all in an appropriately playful frame of mind.
One could dig deep enough and glean the bare bones of social commentary in Conquest of the Universe, which presents yet another example of a power-hungry ruler who aims to capture the world for no other reason than because he can. Even more than its gestures toward thematic substance, though, it's the show's anarchic spirit — the sense of liberation it exudes in breaking down barriers of style and taste — that makes it as enlivening as ever. There's a beauty to the madness of Conquest of the Universe: the beauty of a pure, unhinged id given free rein. As this new production proves, such an experience has the power to transcend time and history.