Woody Sez to Have Limited Run at Westport Country Playhouse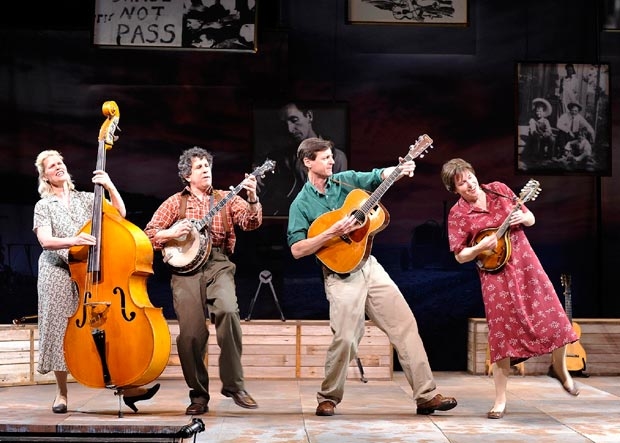 Woody Sez: The Life and Music of Woody Guthrie, which enjoyed an extended off-Broadway run this past summer at the Irish Repertory Theatre, will have a limited engagement at Westport Country Playhouse, from January 9-20, 2018.
A celebration of one of the giants of American music, Woody Sez is a story of struggle, activism, patriotism, and commitment. The show is told using Guthrie's own words and over two dozen of his songs, including "This Land Is Your Land," "Union Maid," "Deportee," and "This Train Is Bound for Glory." This musical portrait was first produced at the Edinburgh Festival Fringe in 2007, and has since played London's West End (2011 Evening Standard Best Musical nominee), and over 60 cities in the U.K., the U.S., across Europe, the Middle East, and China.
The four actors in the cast play more than two dozen acoustic instruments, including guitar, fiddle, banjo, mandolin, jaw harp, harmonica, and dulcimer. Featured in the title role is the show's deviser David M. Lutken, along with David Finch, Katie Barton, and Leenya Rideout. Lutken's co-deviser Nick Corley directs.
The Rock and Roll Hall of Fame calls Guthrie "the original folk hero; a man who, in the thirties and forties, transformed the folk ballad into a vehicle for social protest and observation and in so doing, paved the way for Bob Dylan, Bruce Springsteen, his son Arlo Guthrie, and a host of other folk and rock songwriters who have been moved by conscience to share experiences and voice opinions in a forthright manner. Fueled by a boundless curiosity about the world, the colorful life he led became as legendary as the songs he wrote."