Under New Tony Rules, Hedwig's Creators Would Have Won an Award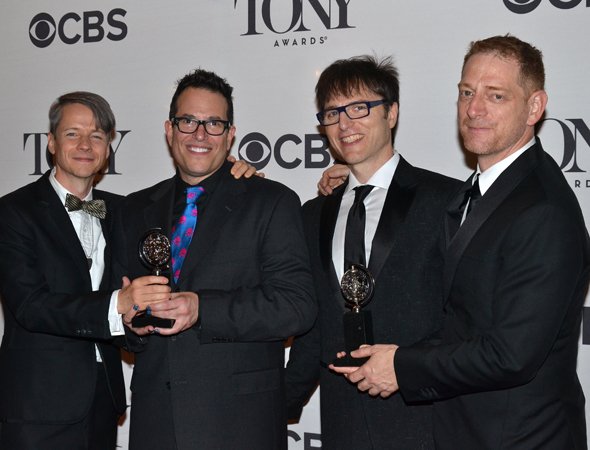 It's a new dawn for the Tony Awards. Along with the fresh roster of nominators for the 2014-15 season, an onslaught of changes and altered policies will be implemented for the upcoming year on Broadway.
According to a story published by The New York Times, Tony nominators and voters would be well advised clear some space for the shower of Broadway tchotchkes coming their way. Limits on the promotional items producers can send to the individuals determining their shows' Tony fates have now been suspended, allowing for a broader spectrum of gifts beyond the basic script, souvenir booklets, audio or video recordings, and selected reviews to which the packages were previously restricted.
Producers can now determine their own gift-giving boundaries, with the threat of the previous restrictions (originally applied during the 2005-06 season) being reapplied if they were to stretch them too far. "The current rules for what may or may not be distributed have been suspended for one year," said a statement released by Charlotte St. Martin and Heather Hitchens, respective executive directors of the Broadway League and the American Theater Wing, the two organizations that oversee the Tony Awards. "It is the feeling of the committee that the producers have been acting responsibly and that they will continue to do so without such restrictive language. It is felt that the voters also act responsibly and that such things as souvenirs, edited reviews and small gifts, etc. have no bearing on the voters' selections."
The committee overseeing Tony Award proceedings has also voted to eliminate the two sound design categories from the awards ceremony — categories won this past year by Steve Canyon Kennedy for Lady Day at Emerson's Bar & Grill and Brian Ronan for Beautiful — The Carole King Musical — with the possibility of a special Tony being awarded in the future if a production features extraordinary sound design.
The last of the committee's major revamps now allows authors of plays and musicals in the revival categories to receive Tony Awards, as opposed to these awards going to the shows' producers. This stipulation will apply to productions such as this year's Best Revival of a Musical winner Hedwig and the Angry Inch, whose producers took home the trophy, rather than the show's creators, John Cameron Mitchell and Stephen Trask. This condition will affect only the authors of shows in the popular repertoire as opposed to classic works, so contemporary playwrights can breathe easy: William Shakespeare will not be eligible for any Tony Awards in the coming seasons.