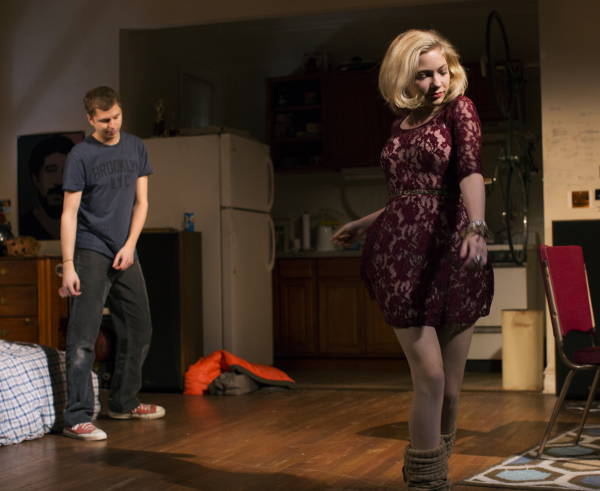 Spoken aloud, the title of Kenneth Lonergan's grungy coming-of-age dramedy This Is Our Youth leaves much more to the speaker's imagination than its blunt construction implies. With exclamation, we see a celebratory embrace of a carefree childhood, while a stoic delivery transforms it into a defeated, shoulder-shrugging admittance of wasted years. So flow the nauseating tides of youth in Lonergan's sharp exploration of Reagan-era post-adolescence, now making its Broadway debut at the Cort Theatre. Though markedly uneventful, Lonergan strikes upon an undeniable well of truth as he holds his three characters hostage on a hamster wheel of slovenly indulgences. Their escapades — some pettier than others — conjure memories of our own, most of which we'd prefer to wipe clean from our mental archives. And yet, a comforting dash of nostalgia makes this stew of regret satisfyingly bittersweet.
Michael Cera and Kieran Culkin are the Didi and Gogo of this pot-smoking Waiting for Godot. Twenty-six-year-old Cera continues his indefatigable run as America's most endearingly awkward adolescent, this time as 19-year-old Warren Straub, who is coming of age in the early 1980s. Late one Saturday night, Warren pops in on his drug-dealer friend Dennis Ziegler, who, at the mature age of 21 (though played by a 31-year-old Culkin), has taken on heroic stature in Warren's impressionable young mind. Warren seeks refuge in Dennis' Upper West Side apartment after a fight with his father leaves him temporarily homeless. Of course it would have been rude to show up empty-handed, so Warren arrives with a few spoils: a briefcase of vintage toys, some really good pot, and $15,000 that he stole from father's bedroom. A domineering entrepreneur by nature, Dennis takes charge of the funds, calculating a way to earn back the portion Warren already spent in time to return the lump sum to Warren's father unnoticed. In the meantime, with cash on hand, they figure they might as well indulge in a few luxuries — because nothing could possibly go wrong.
Cera and Culkin, having performed the play together in past productions at the Sydney Opera House and Chicago's Steppenwolf Theatre (not to mention costarring in the film Scott Pilgrim vs. the World), have settled comfortably into Warren and Dennis' imbalanced relationship. Like a well-worn groove, the rhythm of their rapport is ingrained in the fiber of their mutual existence, making it all the more impactful when these fibers begin to tear. Director Anna D. Shapiro returns to Broadway with the male-bonding expertise she lent to last season's Of Mice and Men. She allows the connection between the young men here to ring true, even as Dennis berates Warren with a series of insults that would likely mark the end of a friendship. While Cera gives us everything we have come to expect from one of his performances — a quavering voice, dry humor, and puppy-dog lovability — Culkin is handed the taller task of the two, and he shines, tackling his challenge with ease. Faced with a character whose despicable actions far outweigh moments of compassion, Culkin's intoxicating charm places us alongside Warren as subjects of his thoroughly hypnotizing manipulation.
As Warren's love interest, however, Tavi Gevinson has yet to fuel a chemistry with Cera as vivid as the one he platonically shares with Culkin. Gevinson, the trio's comparatively inexperienced newcomer and the cast's only true coming-of-ager, makes a concerted effort to find her sea legs in her stage debut. She inaugurates her theatrical career as (appropriately enough) a nervous fashion student whom Warren invites to Dennis' apartment with hopes of getting lucky. Rather than heading straight for romance, they take an argumentative detour that reveals Jessica to be a neurotic intellectual whose idiosyncrasies may just be the perfect fit for Warren. Gevinson's brand of manic pixie dream girl, however, lacks the magnetic charm that draws lost souls like Warren to their flame. While Shapiro's direction of their first scene together offers a clear enough justification for a growing (and adorably clumsy) bond, Gevinson never embodies the potential source of comfort in which Warren begins to place his sincerest hopes.
As life continues to unfold in the confines of this small, underfurnished apartment, the towering New York building surrounding this shoebox on all sides (designed to stunning effect by Todd Rosenthal) offers a looming reminder of the gritty world from which these characters have been both shielded and deprived. While this perspective (in both the literal and figurative sense) bolsters George Bernard Shaw's famous claim that "youth is wasted on the young," Lonergan lets his young characters off the hook. Their lives are deserving of neither celebration nor regret. After all, their lives have not yet been lived — just their youths.