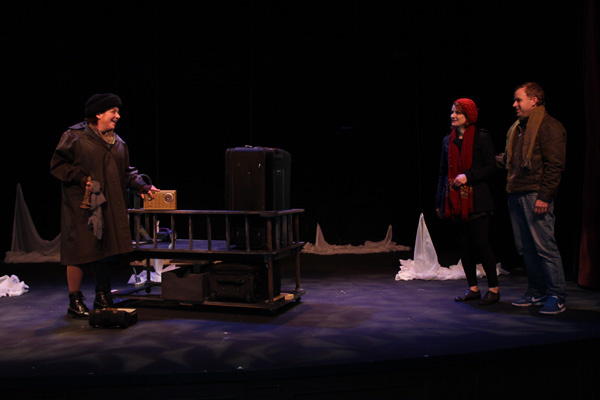 I've got Georgia on my mind, but not the one that comes up at the top of a Google search. Corinne Chateau sets her play The Sun Shines East in the nation of Georgia circa 1996, shortly after that country's bloody civil war. Inspired by Chateau's own struggle to adopt a son from the former Soviet republic, The Sun Shines East is a powerful look at how national politics can dramatically impact one family. It is now making its world premiere at the Marjorie S. Deane Little Theater.
Christine (Amy Staats) is a New York City actress who desperately wants a baby. Unfortunately, she suffered a miscarriage in her last pregnancy and fears she is becoming too old to try again. Christine and her husband, Robert (Bristol Pomeroy), decide to adopt. They fly all the way to Tblisi, Georgia to meet with Dodo (the spot-on authentic Karen Christie-Ward), a pediatrician who is helping to facilitate the adoption. Christine and Robert fall in love with their new daughter, whom they name Claire. Their joy is spoiled when they learn that the Georgian government has put a moratorium on all foreign adoptions. Stuck in limbo and agonizing over every hour Claire spends in an overcrowded and unsafe orphanage, they begin a campaign to get high Georgian government officials to grant them an exception to the adoption ban. But considering that brutal ethnic cleansing in the breakaway region of Abkhazia has robbed the country of tens of thousands of lives, the chances that a couple of American actors will convince the government to part with one more Georgian baby seem pretty slim.
Chateau has written an incredibly honest and provocative play that gives a fair hearing to all sides of this situation, which is not always the case when American writers take on the issue of child custody and foreign governments (see Not Without My Daughter). After Christine walks into the office of the Georgian Minister of Justice (Mary Francina Golden) to plead for her signature on Claire's adoption papers, the minister asks incredulously if an average Georgian citizen would be able to barge into the US Attorney General's office without an appointment and make demands. Not likely.
Yet Christine and Robert's demands aren't unreasonable: They just want to provide a decent home to an unwanted child, and they're willing to crawl through a lot of muck to do it. From the first scene with American adoption agent Angelina (Tara Gadomoski), who sounds like she's selling Christine a Mercedes rather than helping her adopt a child, we understand what a sordid business this is. Under the steady direction of Pat Golden, The Sun Shines East succeeds in shedding light on an important issue in a part of the world with which few Americans are familiar.
James Maloof's set design of sheer hanging curtains offers great versatility for a play that jumps locations at a Shakespearean pace. That is why it is unfortunate that the furniture pieces are so clunky and must be moved by black-clad stage ninjas during extended scene breaks. Bill Toles fills in these gaps with his well-researched sound design, which includes the saccharine sounds of Russian rocker Viktor Tsoi and a speech from Georgian first lady Nanuli Shevardnadze, who championed the adoption ban. Of course, this soundtrack has an aggressive tendency to hang around and underscore the next scene: Bach's Cello Suite No. 1 inexplicably accompanies the aforementioned slimy dialogue between Christine and Angelina.
Still, thanks to Chateau's sensitive writing and a solid ensemble of performers, it is difficult not to personally invest in the story of Christine, Robert, and Claire. Accusations of "American arrogance" be damned: Wouldn't you do the same thing if it meant saving your daughter from a lifetime of poverty and exploitation?