The Madwoman in the Volvo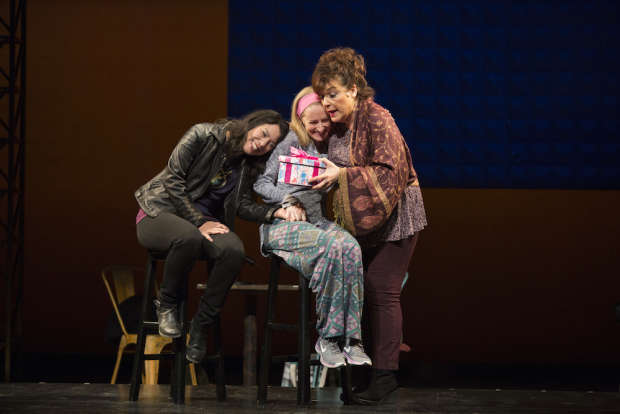 Sandra Tsing Loh has a lot to say about menopause and the suffering and confusion it causes for women. The award-winning essayist's first play, The Madwoman in the Volvo, reveals very personal travails, but does it in a superficial way, so that the audience cannot always identify with her or understand the motives for the major upheavals she makes in her life.
The play's main character, Sandra, has just begun feeling the effects of menopause, even though she feels that at 46, she is too young. Her fears around this life change are grounded in the memories of her German mother, whose menopause caused debilitating depression. Sandra decides that in order to avoid the same fate, she should shake up her life by leaving her husband and two daughters, and following her heart with a man who's been her best friend for 10 years. Sandra quickly discovers that this second life is no more rewarding than the last. The new lover returns to his former wife, leaving Sandra isolated, depressed, and alone in a small condo. Her depression is so debilitating that she finds herself unable to care for her daughters.
As Sandra, Tsing Loh is an observant and witty commentator. Her insights into couple's therapy, divorcée parties, and the health benefits of kale get the audience laughing. Her perceptions on the debilitating effects of violent mood swings and depression will make them shudder.
But the play lacks cohesion. Instead of presenting it as a one-woman monologue, Tsing Loh and director Lisa Petersen include two actresses, Caroline Aaron and Shannon Holt, to play an assortment of supporting roles. Yet the audience never meets the first husband, who is only ever called Mr. X. We know from Sandra's comments that she broke his heart, but we have no real sense of him. Was he a good father? Was he a loving husband? He is a cypher which makes Sandra's actions appear even colder.
The second lover, who is voiced by Aaron, is sketched out only slightly more, so it's hard to understand why she uprooted her life for this man. He's uncommunicative, selfish, and lazy, and though it is presumed that Sandra's actions were directly related to the onset of depression, in the end it's hard to know how to feel about her.
Tsing Loh's writing feels forced when it is attempting to be spontaneous. Scenes in which Tsing Loh breaks character or when the two actresses played by Aaron and Holt are meant to give an unrehearsed, improvised feel, they instead read as planned and stale.
Tsing Loh's performance is charming at times and she knows how to turn a phrase for a laugh, but she also flubbed a number of lines, which felt odd since she wrote and performed the show earlier at South Coast Repertory. It was unclear if she was unfocused on opening night or if those bungles were meant again to imply extemporaneity.
Aaron and Holt are talented actresses, and they change their cadence and voices to enact various characters of different ages and genders. However, they are hindered by the underdeveloped characters they play. Each character services the protagonist, but none of them are fully realized.
Rachel Hauck's scenery is minimal, with several metal towers and a sound-proofing foam board in the back. It's unclear what these items are meant to represent. Geoff Korf's lighting artfully reflects off the back wall to give the scenes a dreamlike atmosphere. Costumer Candace Cain cleverly uses accessories to differentiate characters, like a white headband for Sandra's sister as a child, a caftan for the clueless couple's therapist and a lit-up lei for a drunk divorcée on the make.
The raw nakedness found in Tsing Loh's confessions of a woman's midlife crisis is admirable, but more time needs to be spent on fleshing out the text to make Sandra relatable. The character Sandra's overt self-indulgence makes her unsympathetic. We may recognize the madwoman driving around in the Volvo, but for now, we may not want her to take a 90-minute drive with her.