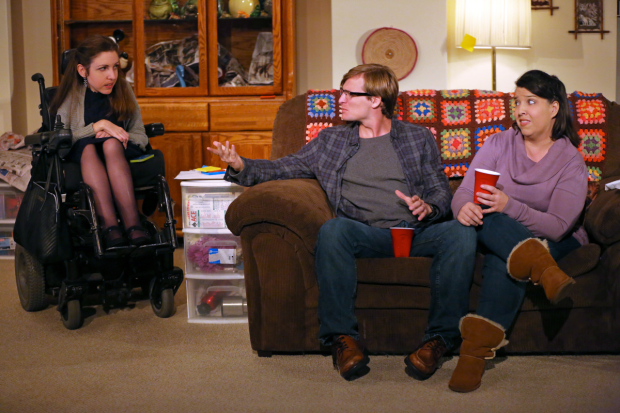 Friends gathering to mourn one of their own is a popular trope in the entertainment industry. Whether it was The Big Chill in 1983 or the recent Antlia Pneumatica at Playwrights Horizons, authors are always looking to bring something new to this dramatic territory. In his arresting new drama The Healing, playwright Samuel D. Hunter does just that, and it elevates the genre to new levels of emotional heights.
The play opens in a small, cluttered ranch house near Idaho Falls, after the funeral of Zoe (Pamela Sabaugh), a woman in her 30s whose death came under questionable circumstances. Twenty-five years ago, Zoe met her group of friends at a Christian Scientist camp, where they were taught that their wide-ranging disabilities could be cured by prayer. Zoe and her friends Sharon (Shannon DeVido), Donald (David Harrell, who radiates warmth), Laura (the delightfully terse Mary Theresa Archbold), and Bonnie (a kindly Jamie Petrone) bond over their disabilities and become a tight-knit group. While most of the group manages to disavow this branch of Christian Science, even getting the camp shut down, Zoe remained devout to the church's teachings.
Hunter's play flashes back between past, as Zoe, at her worst, struggles to maintain some semblance of the prayer-filled life she's used to living, and the present, where her friends gather to clean out her house. As they box up tchotchkes and reminisce, they also open old wounds as they realize the ideological beliefs that led to their pal's demise.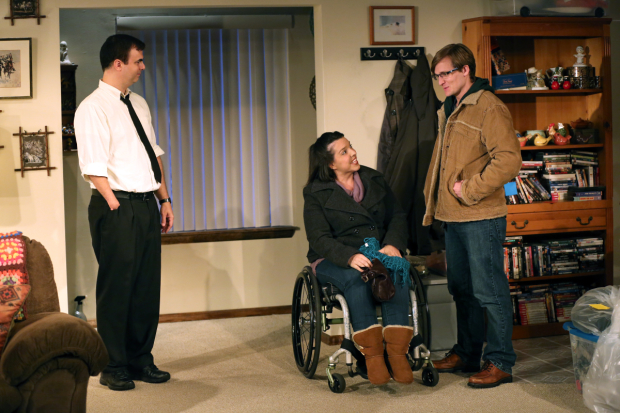 Written for Theater Breaking Through Barriers, an integrated company dedicated to advancing the careers of disabled artists, The Healing has a distinctly lived-in quality that's at once familiar and foreign. Stella Powell-Jones' sensitive production is proof positive that all humans suffer from the same insecurities and fears over life, death, and everything in between. This important organization provides a beautifully authentic staging and helps cut straight to the humanity in this compassionate script.
Similarly, all of the performances feel incredibly well-developed, perhaps owing to the fact that each actor brings a lifetime of knowledge about their specific abilities to the table. In the central role, DeVido is simply mesmerizing, imbuing Sharon with the right amount of guilt. Harrell is affecting as a voice of reason, while Archbold is appropriately sharp. As Zoe, Sabaugh's performance is as convincing as it gets. We know from the very beginning where her character ends up, but her journey is heartbreaking.
Jason Simms' compact living room set adds to the vivid naturalism, dominating the space with a couch that makes it difficult for the wheelchair-bound inhabitants to easily move around. Props designer Charles Bowden fills the house with Mickey Mouse-themed bric-a-brac, while Alejandro Fajardo's shadowy lighting accentuates the time and mood of the day. It's abundantly clear who occupied the space and what her existence was like.
Hunter is the rare playwright who can turn a dialectical argument about religion and human rights into compelling theater, and in typical fashion, The Healing deftly blends humor and sadness. While we might not be well acquainted with the group of people he depicts, by the end, we feel their loss as profoundly as they do.