The Happiest Song Plays Last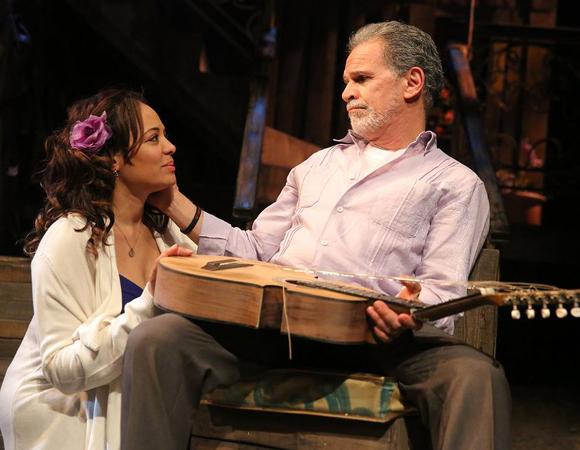 In 2006, the playwright Quiara Alegría Hudes introduced the theater world to Elliot Ortiz, a 19-year-old man whose life changed irrevocably when he joined the marines to fight for his country in the Middle East. We first met him in Elliot, A Soldier's Fugue, a play that opened and closed with little fanfare at the Culture Project and later became a finalist for the Pulitzer Prize for Drama. The first in a theatrical trilogy, Fugue was followed up in 2011 with Water By the Spoonful, a play that opened and closed with similarly modest fanfare at Hartford Stage, but would go on to win the Pulitzer for depicting Elliot's quest to find meaning in his life as a civilian.
Water opened last year at Second Stage Theatre in New York, and now the off-Broadway company has returned to Elliot's story with its current production of The Happiest Song Plays Last, Hudes' final entry into the trilogy, directed by Ruben Santiago-Hudson. Arguably, Happiest Song, which combines two very different story threads and features live music by Grammy nominee Nelson González, is the best of the three, a beautifully written piece that is both compellingly acted and intensely emotional.
You need not know Fugue or Water to be able to follow Happiest Song, which is a standalone, though a passing familiarity with the characters and their past experiences will likely result in a more fulfilling experience. Set in 2011, this one finds Elliot (Armando Riesco) in Jordan, back in the clothing of a marine. This time, however, he's a consultant on a war film, working with a fetching young actress (Annapurna Sriram), an Iraqi refugee (Dariush Kashani), and a tyrannical director (unseen). Back home in North Philly, Elliot's unmarried cousin Yaz (Lauren Vélez) has taken the place of her aunt as a community caretaker (which occurred at the end of the last play). In between feeding the locals (including the homeless Lefty, played by Anthony Chisholm), Yaz suddenly finds herself falling for the two-decades-her-senior Agustín (Tony Plana), a local practitioner of Puerto-Rican Jibaro music.
These two very different storylines are tied together with the idea of community activism and the difficulties within. In the Middle East, Elliot, Shar, and Ali (Kashani) find themselves thrust into the middle of the Egyptian Civil War that leads to the overthrow of President Mubarak. In America, Yaz attempts to organize a city-wide boycott of a local hospital system after a terrible tragedy. Each character struggles throughout to find their true identity, from Shar coming to terms with her Middle Eastern heritage to Elliot himself, who, since returning from the war nearly a decade ago, still hasn't found a home.
Riesco, having played the same role in each original production of this trilogy since 2006, delivers a stunning and deeply moving performance. It's thrilling to see how far he has progressed, both in discovering the character and, as an actor, delivering gut-wrenching work. He has a particular chemistry with Sriram, who brings a fine air of conflict to a character who refuses to discover her true self. Plana and Vélez, both returning to the stage following runs on TV's Ugly Betty and Dexter, are touching as a May-December pair of best friends, with Vélez doing particularly thrilling work, especially in the second act. Completing the company are Kashani, a dignified portrayal, and Chisholm, scarily convincing as a homeless man.
Santiago-Hudson's perfectly calibrated staging is enhanced by González's music, played live by the Puerto-Rican songwriter as well as musicians Nelson Jaime and John Rodriguez on the second level of Michael Carnahan's abstract set. González, a master of the Jibaro style, sings and plays the cuatro, adding an even more lilting feeling to Hudes' lyrical text. Karen Perry's costumes and Rui Rita's lighting appropriately set the scene.
In the last 20 minutes of The Happiest Song Plays Last, Hudes turns the play on its ear and the tone shifts, a bit jarringly, to something far heavier than what's come before. Riesco, in particular, handles this shift with aplomb, but it could use a bit of smoothing on the part of the playwright. The Happiest Song might not have the happiest ending, but it's certainly one that is full of hope.