The Bruises of Blackness in Athol Fugard's Apartheid-Era Boesman and Lena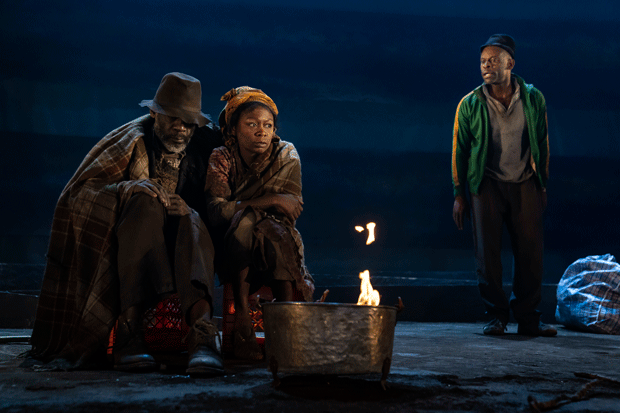 There's a sense of dread in the air when you enter the Griffin Theatre for a performance of Boesman and Lena, Athol Fugard's 1969 masterpiece now running at the Pershing Square Signature Center. Instead of a theater curtain, a large, opaque sheet of white plastic wafts gently onstage in the hazy air, imperfectly hiding the desolate-looking scene behind it.
It's one of director Yaël Farber's haunting theatrical images in this angry, mournful examination of institutionalized racism during South Africa's apartheid era. Audiences may be more familiar with Fugard's 1982 play "Master Harold"…and the Boys, which Fugard himself directed a couple of years ago at Signature in a stunning production. In that play, white supremacy is embodied by the young Master Harold.
Boesman and Lena is far more disturbing, in that the world of this play is permeated by an unseen force called the White Man, who, with godlike power, disrupts the lives of brown and black South Africans and compels them to endure lives of anger, frustration, brutalization, and endless wandering. It's a tough play to watch, and at times, Farber takes things a bit too far (his actors don't come out of character at curtain call). But with its three virtuosic performances and brilliant staging, this two-hour journey is unquestionably worth taking.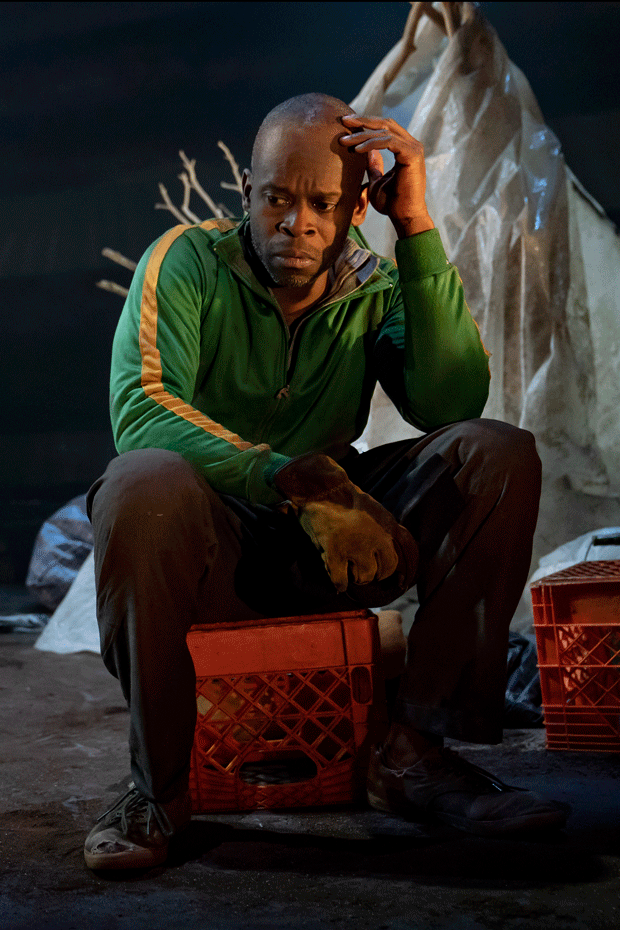 Farber prepares us for confrontation in the first moments. The play follows the seemingly interminable trek of a childless couple: Boesman (Sahr Ngaujah in a ferociously accomplished performance) and his exhausted and abused wife, Lena (a magnificent Zainab Jah as the embodiment of physical endurance), who tries to find meaning in her life by remembering every town they've been to. They walk through the audience carrying all their worldly possessions on their backs as Boesman glares at us — perhaps we are responsible for their homelessness — before tearing down the plastic curtain and dragging it up onstage. The tension is immediately palpable.
A landscape that could have been lifted from Samuel Beckett's ''Waiting for Godot" (Susan Hilferty designed the bleak set) is revealed — a dusty, barren plateau populated only by a small, dead tree. Matt Hubbs's sound design augments the comfortless scene with a solitary chord that rumbles in the background. "Here?" sighs Lena, aching to put down all her things, before she launches into a tirade about Boesman driving them too hard. It's bad enough that he has beaten her again, this time for breaking three valuable bottles, but now he has to walk them to death. We can see from the look on his face that he's heard it all before. This is how they pass the hours as they march from one town to the next, after whites move in and bulldoze their shanties for no apparent reason.
In the hierarchy of the apartheid system, Boesman and Lena are considered "colored" (having African and European ancestry). Into their midst comes a lost elderly man (Thomas Silcott in one of the most understated yet memorable performances I've ever seen), whom Boesman refers to contemptuously with an offensive term for a black African. Being black, not brown, this old, Xhosa-speaking man is considered the lowest of the low, and Boesman never hesitates to show his disdain for him. But Lena takes pity on the fellow wanderer, even though they can't understand each other, and she finds comfort in him. Soon, however, the old man's presence drives a wedge between the husband and wife, one that could force Lena to leave Boesman once and for all.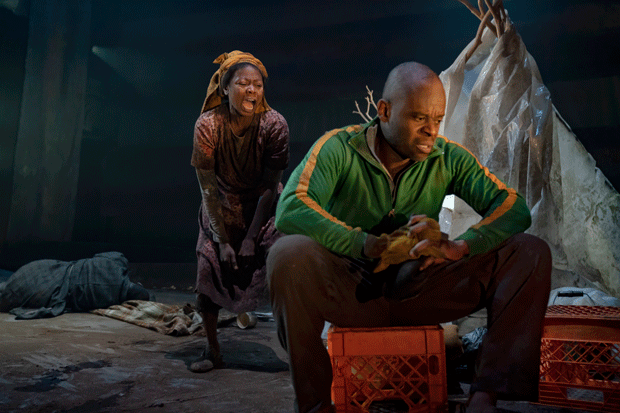 Farber's production captures the appalling injustices and cycles of abuse perpetuated by apartheid. Boesman wears an ironic sweater prominently bearing the green and yellow of the South African flag, as though oppression is a garment he has grown used to wearing (Hilferty also designed the costumes), and the bruises on Lena's body, beaten into her by her volcanic husband, are like markings on a map that show her where she's been. But the old man, telling an uncomprehending Lena in his language that he is lost and dying, is the most memorable in a way. Wearing a hat whose rim always covers his eyes, he is a living shadow (Amith Chandrashaker's ghostly lighting emphasizes this), someone who, because of his dark skin, could never rise to the dubiously more "respectable" status of "colored" or ever entertain the idea of freedom.
Though Boesman and Lena shares some of the existential themes of Godot, it has none of its humor. Lena's brief jokes disappear in an instant like steam from a kettle. Fugard shows us a world of intolerable iniquity with little room for that kind of joy, in which skin color determines rank, respect, opportunity, and, ultimately, the chance for happiness. The play is now 50 years old and takes place in a country that officially abolished its racist system of government in the early '90s. Now, in America, it is all the more startling how familiar these characters seem.