TEDxBroadway Roundup: Building New Theaters and New Audiences One Yes at a Time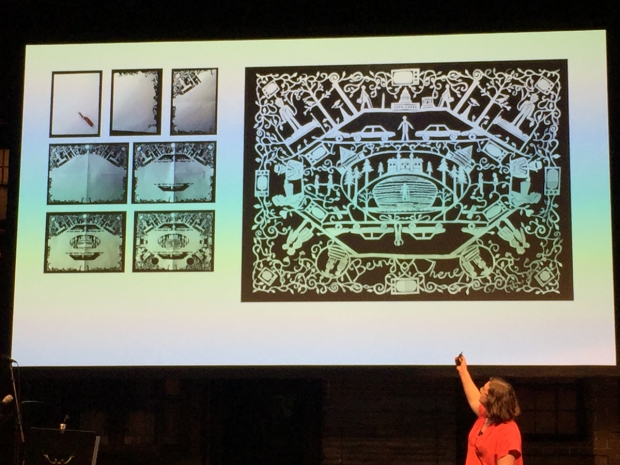 How can we make Broadway the best it can be? is the question posed annually at TEDxBroadway. Hosted by co-organizer Jim McCarthy (CEO of Goldstar), the event celebrated its fifth year yesterday at New World Stages. And in a Broadway season noted for its diversity — On Your Feet!, Allegiance, and Hamilton boasting entirely minority casts and Deaf West's Spring Awakening bringing ASL to the big stage — it was fitting that inclusion was a main topic of conversation among this year's speakers. "Inclusion" was also the day's challenge for artist Hannah Kohl, who was tasked with crafting an elaborate TEDxBroadway-themed paper cutting throughout the event (she also presented a speech on the subject of saying yes, the word that landed her with this daunting project in the first place).
James Lecesne, playwright and star of the solo play The Absolute Brightness of Leonard Pelkey, recapped his inspiration for founding the Trevor Project, a 24-hour suicide hotline for LGBTQ youth. He began his talk with an anecdote from early in his career when he was told he was "too gay" to ever break into show business. Rejecting that nugget of discouragement, in turn, is what has both molded his career and been saving LGBTQ lives since the Trevor Project's founding in 1998.
Deaf West Theatre artistic director David J. Kurs, whose acclaimed production of Spring Awakening recently ended its Broadway run, delivered a thoughtful speech (in sign language and translated by an interpreter) on expanding the opportunities for nontraditional performers. He himself began life with dreams of becoming a space station designer, but squashed the idea because he assumed the opportunity wouldn't be available to a non-hearing person. Fortunately, his path of least resistance has afforded him the opportunity to bridge the lines of communication between hearing and non-hearing performers (and audience members), and subvert the limitations he imposed on himself. By broadening this mindset beyond the deaf community, Spring Awakening achieved another historic milestone — making Ali Stroker the first-ever wheelchair-bound actor to perform on Broadway.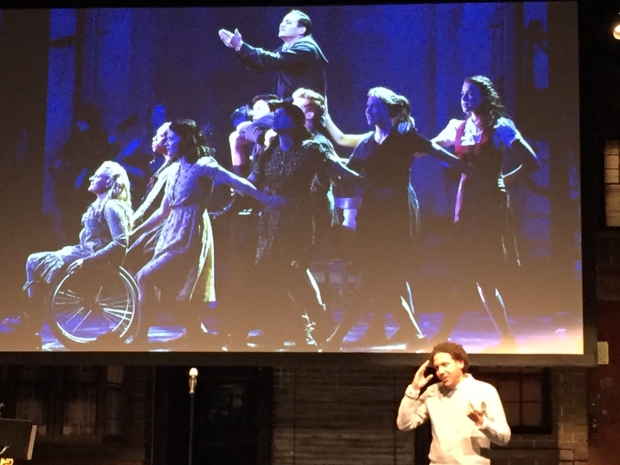 Self-labeled "autism mom" Katie Sweeney, who directly preceded Kurs in the lineup, brought the conversation of accessibility from the stage to the audience — and with the perspective of an industry outsider, whose opinions are rarely heard in such an insider setting. She poignantly spoke about two failed attempts to bring her low-functioning son to see a Broadway show, and the opportunities the Theatre Development Fund's Autism Initiative has since opened up for families like hers.
As one of Broadway's biggest hurdles, audience development of all kinds is a conversation TEDxBroadway revisits each year. The event's co-organizer Damian Bazadona, of Situation Interactive, sits at the helm of his own audience-development initiative, the Situation Project, which offers middle school students from arts-deficient New York Public Schools opportunities to see Broadway shows. As the organization graduates its first class of middle schoolers, Bazadona proudly announced that the Situation Project has created over 10,000 Broadway experiences and has inspired a remarkable 15 of its 100 impending high schoolers to apply to performing arts institutions.
Earlier in the day, theater historian and Feinstein's/54 Below programming director Jennifer Ashley Tepper suggested that investment in real estate may be another significant piece in this audience development puzzle. It's a move that could also redefine the size and shape of a Broadway production. She took the TEDx audience on a walking tour of Broadway venues lost to the slump of the 1980s as well as venues Broadway could potentially reclaim to mount a wider range of shows for audiences of varying tastes — from the one-man comedy Buyer & Cellar to the immersive off-Broadway hit Here Lies Love. Aside from the tangible legacy these historic buildings would contribute to the Broadway community, the economic potential these spaces and their 500-plus seat auditoriums would unlock in New York City is truly astounding.
As Kohl tearfully remarked at the end of the day, presenting her finished paper cutting to the crowd, "theater is for all humans." From any angle, be it sentimental or financially pragmatic, the more humans invited to Broadway, the better Broadway will be.