Steven Skybell Discovers Tevye's Youth in Fiddler on the Roof in Yiddish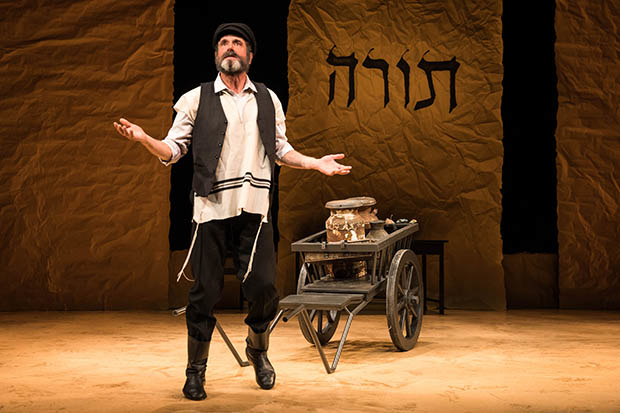 Steven Skybell glows as Tevye in the National Yiddish Theatre Folksbiene's production of Fiddler on the Roof in Yiddish. The musical about tradition and transgression in a Jewish shtetl has long been an important part of the American musical theater: It has been revived on Broadway five times since the original production in 1964. But this off-Broadway revival is unique in that it is performed entirely in Yiddish, the language Tevye and his family would have spoken in 1905. Unexpectedly, this musical with supertitles has become the smash hit of the off-Broadway season.
I met Skybell in his cozy dressing room at Stage 42, which features a somewhat spartan cot. "I take a nap religiously in the middle of two-show days," he says, pointing out a quilt that is easily the most colorful thing in the room. Skybell started quilting when he was playing Doctor Dillamond in Wicked. "I had an hour and 12 minutes offstage every performance, so one of the dressers taught me how to quilt and I just love it."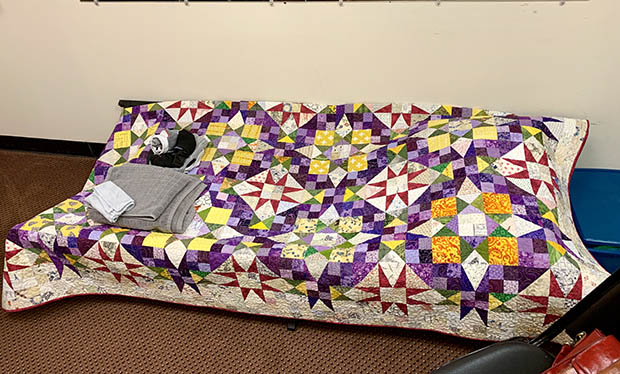 He has little time to quilt these days, between playing the rarely off-stage Tevye and running between awards luncheons: He has already won a Lortel Award, and was just nominated for a Drama Desk. When he opened with the show last summer, he never expected to be performing it a year later, so the awards recognition is all gravy.
But it makes sense that it's happening with Fiddler. The show has played an important role in Skybell's life as an actor: He first played the role of Tevye at the age of 17 at summer camp, and then again at 21 while attending Yale Drama School. Now that's he's finally of an appropriate age to play the father of five, he's developed a whole new appreciation of a character that has followed him throughout his career.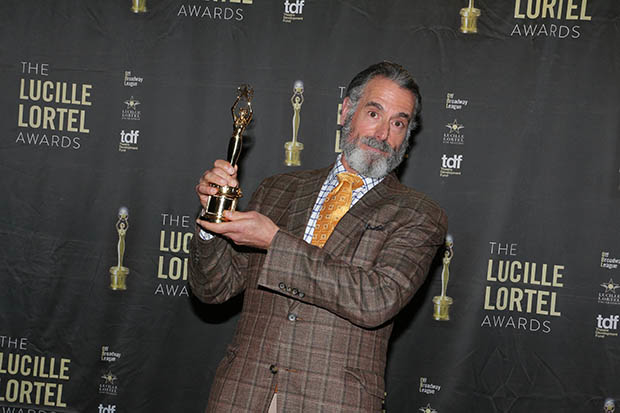 This production of Fiddler opened at the Museum of Jewish Heritage on July 4 last year. Did you think back then that you were still going to be playing Tevye a year later?
No no no. When I heard they were doing a Yiddish Fiddler and Joel Grey was directing, I said, "Well, they're not going to do Fiddler on Broadway again anytime soon, so let's jump on that ship." I remember one of my castmates saying, "It'll be a fun summer gig. It'll be down near the Statue of Liberty, so it'll be great location to do this curious little summer musical." We never anticipated that it would touch something so sensitive for people.
Now you're uptown at stage 42, which is a famously difficult theater.
When we heard we were moving up here, a casting director told me, "That is not the place to go. It's cursed." But it looks like we've broken the curse: The production just announced another block of tickets on sale through January 5, 2020.
You perform this material so naturally. Are you fluent in Yiddish?
I am not fluent in Yiddish, but I've studied it. Years ago, my brother and I tried to learn it with each other over the phone. Then in the summer of 2005 when I started doing Wicked in Chicago, I contacted a professor at Northwestern and asked to audit her Yiddish class. The class didn't happen since the enrollment wasn't large enough, but she offered to teach me privately in her home. So once a week we would schmooze in Yiddish, but that was many years ago. But when I called to find out about this production, I had the chutzpah to ask my agent to tell them that I speak Yiddish — which was not strictly true. I may have an ear for it and the company drilled us in it, but I'm not really a Yiddish speaker.
In the last Broadway revival you played Lazar Wolf, the butcher who wants to marry Tevye's eldest daughter, Tzeitel. Did that experience illuminate anything for you about the relationship between Lazar and Tevye?
Bart Sher is a fantastic director, and he had the perspective that Lazar Wolf shouldn't be written off as just a boor. And Joel Grey picked up the same notion: It's not that Lazar is obviously the wrong man. He's actually the right man from a traditional point of view (and also Tevye's point of view). But he's the wrong man from Tzietel's perspective — which no one was considering until she interjected with it.
Can you think of anything from your life where you have pushed against the expectations of your family the same way that Tevye's daughters do?
I've always really connected to the character of Chava [Tevye's third daughter, who marries outside the Jewish faith]. There was something about growing up Jewish but also gay in a small Texas town that gave me this deep desire not to disappoint and not to be pushed away. Thankfully, I never experienced anti-Semitism in my small town. And my parents embraced me when I came out to them — but that's not always the case. What's distressingly common is what happens in Fiddler, when Tevye pushes Chava away. Joel was adamant that the castigation of Chava should be intense — and that as Tevye, I have to run the risk of losing sympathy from the audience in that moment. But when, in the final moments, he says to her through Tzeitel, "God be with you," you can see a door opening. That is a big step that Tevye makes right there.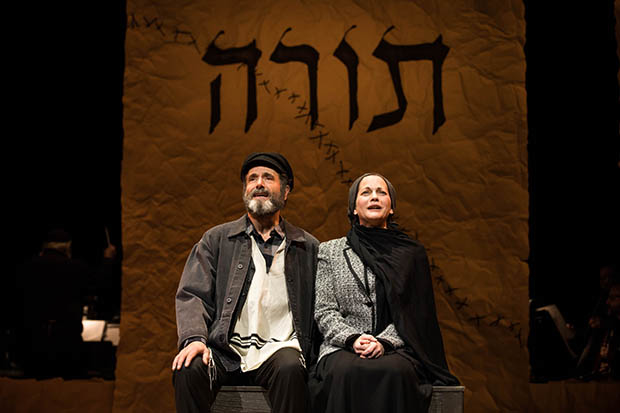 How much of Tevye's struggle is seeing his children make choices that he might have made himself if he knew those options were available to him?
That is what Joel's take on the song "Do You Love Me?" is all about. Golde and Tevye are wondering, ''Can we even consider this word, love, that our kids are bandying about?" It wasn't something they ever thought they could have. I can't overstate how perfect I think this musical is. It's about a father and mother experiencing a massive change of perspective through their children.
You played this role when you were 17 and 21. What do you know now that you didn't know then that has informed this performance?
When I was 17, I played him like an old guy. But the thing I've discovered playing him now is his youthfulness. His innocence and hope almost feels childlike to me now that I've reached an age to play him. Honestly, this role has been important to me since I first saw Fiddler when I was 10 years old. My wish is for every actor to have a role like this.