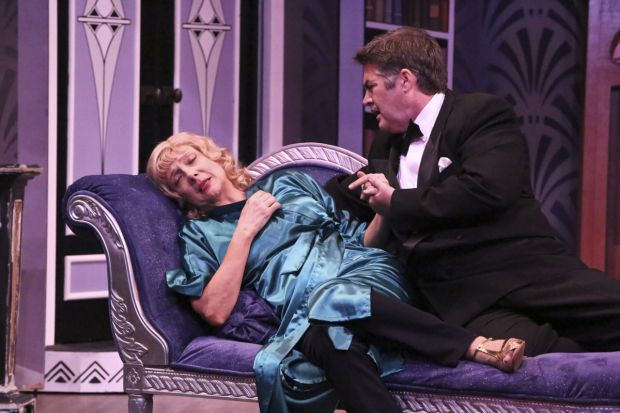 Stage Kiss, now featured at the Geffen Playhouse, offers both belly laughs and belly aches. Many zingers leave audiences gasping for air between chortles, but the play feels empty because of sketchy characterizations and a fuzzy interpretation of Shakespeare's frequently quoted, "All the world is a stage."
An unnamed heroine (Glenne Headly) returns to the theater after many years of raising a family. A long-forgotten, frothy musical comedy from the 1930s forces her to choose between a husband and a former lover. Reality and fantasy crash as she finds herself stuck between her own husband (Stephen Caffrey) and her costar (Barry Del Sherman), an actor she loved and left many years ago. The stage kisses become more passionate between the two actors as they rekindle their past flame.
Similar in concept to Michael Frayn's brilliant comedy Noises Off, the characters in Stage Kiss incompetently perform a lousy play. Much of the humor comes from the characters' ineptitude. But while Noises Off turns the classic farce elements on their side, Stage Kiss is a hodgepodge of ideas that never quite gel. Ruhl treats the characters as archetypes, naming her protagonists She and He. Stage Kiss also double-casts several actors; in Act 1 someone may be an actor performing characters in the musical, in Act 2 the same actor is suddenly a different real person in the protagonists' world.
For example, the actors who play Headly's character's husband and daughter in the musical are her actual husband and daughter in Act 2. This shatters any sense of reality and deflates the empathy the audience may have held for those characters. Ruhl intentionally breaks that wall of authenticity again in Act 2 when She and her husband and He and his girlfriend suddenly break out into song. Because the audience has not been prepared in Act 1 for this whimsical world setting, these flights of fancy break the play's momentum. The metaphor of the kiss is also heavy-handed and the play's ending runs out of steam as Ruhl attempts to reunite the spouses.
The cast pokes fun at the material exploiting the training of hammy, untalented actors. Headly, playing a woman often flummoxed by her childhood sweetheart returning from the grave, is sublimely self-aware. Her character is as inadequate as her costars, stiff in some scenes and stuck with pretentious accents. Only when kissing her costar does her character lose her pretentions. It takes great talent to adeptly play someone so amateurish, something in which Headly excels. Del Sherman perfectly incarnates the emblematic egomaniacal lothario. Tim Bagley, as the musical's hopeless director, hilariously gives aimless advice. Melody Butiu is charming as the clueless girlfriend. Every scene is stolen by Matthew Scott Montgomery as the dimwitted gay understudy whose wide-mouthed attempts at kissing grosses out Headly's character.
Director Bart DeLorenzo is saddled with the play's episodic nature, complete with awkward blackouts, the choppiness of which disrupts any flow DeLorenzo struggles to accomplish. The costumes, however, are another standout. David Kay Mickelsen is given free rein to replicate both the cocktail world of 1930s Philip Barry comedies and the tacky world of 1970s exploitation movies. Keith Mitchell's set of the male protagonist's single apartment captures the squalid, sloppy existence of an impoverished actor.
While audiences will accept the imaginary world of A Midsummer's Night's Dream because Shakespeare has primed them to not take the realm seriously, if Arthur Miller's characters suddenly sprouted wings and flew around the stage, the audience would get frustrated. Sarah Ruhl's Stage Kiss needs to anchor itself in an understandable world or let loose and become a complete lampoon. It endeavors to do both, but sadly ends up doing neither well.