Social Media and Sandwiches: A Chat With Fly by Night Stars Allison Case, Adam Chanler-Berat, and Patti Murin
Three of musical theater's most promising new talents — Allison Case (Hands on a Hardbody), Adam Chanler-Berat (Peter and the Starcatcher), and Patti Murin (Love's Labour's Lost) — are currently entwined in a love triangle. Not one in real life, of course, but onstage in Will Connolly, Michael Mitnick, and Kim Rosenstock's new musical Fly by Night at Playwrights Horizons. Chanler-Berat plays Harold, a lonely sandwich maker who meets and falls for Daphne (Murin), an aspiring actress who just moved to New York City with her stargazing sister Miriam (Case). Brought together in 1964 by a set of fateful circumstances, the musical charts their lives over the course of the next year.
Directed by Carolyn Cantor, Fly by Night is a wholly original new musical, not based on any source material, a rarity these days. Case, Chanler-Berat, and Murin spoke with TheaterMania about that very subject, along with fate, feelings, and connecting in a social media-obsessed world.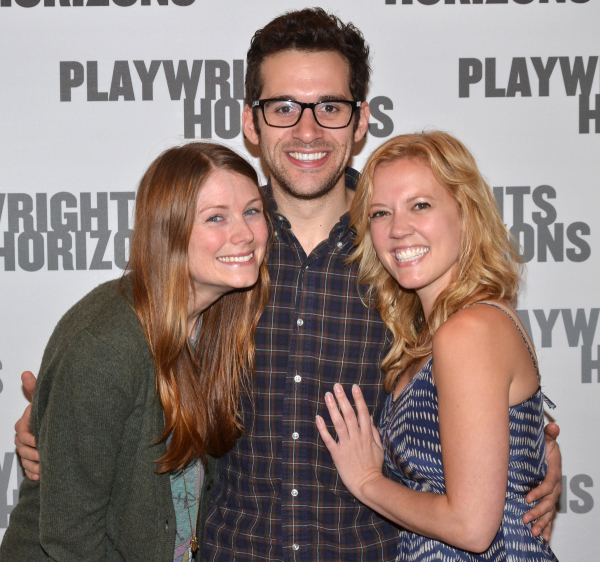 A friend of mine described Fly by Night by saying, "I've never seen a show that makes me so happy and so sad all at once."
Patti Murin: It's got a lot of feelings.
Allison Case: A lot of feels.
Adam Chanler-Berat: You feel all the feels.
Allison Case: And you don't see it coming. Friends will text me at intermission "I'm having so much fun" and I'm like, "sh*t's about to go down."
Patti Murin: The way it's structured, we don't get to fully feel our feelings, because it goes from scene to scene so fast…you don't get to sit and wallow in your emotions. Nobody wants to watch that.
Adam Chanler-Berat: It's been written in such a satisfying way for an audience, I think. It spends a lot of time planting all these seeds in a really enjoyable, vibrant, fun way, and then those seeds pay off.
It was so interesting, in 2014, to see a show about making connections that doesn't utilize any sort of social media.
Patti Murin: Our writers were saying that it's so crazy because there are no cell phones or anything, just a telephone. I realized that this week. In [a] goodbye scene, it's not like, "Goodbye, I'll Facebook you," it's "Goodbye."
Allison Case: "Goodbye, I'll never see you again."
Patti Murin: It's such a different feeling.
Allison Case: I miss that sometimes.
Adam Chanler-Berat: In our play, we talk about connection all the time. There's a whole other way of connecting now than there was in 1965. I feel like if Harold were to exist in contemporary times, he'd be an iPhone junkie.
Patti Murin: Daphne would be the mayor of 87 places on Foursquare, and I don't even know what that means.
Allison Case: Miriam would have the star app that lets you see the constellations.
So much of the show is about believing and trusting. Do you believe in signs?
Allison Case: For me, it's more like synchronicity. I just start realizing things and it brings up something for me. I like to think that it means I'm right where I'm supposed to be.
Patti Murin: For me, it's when I realize why things have happened for a reason and I say, "Okay, this all makes sense." Whether it's a little thing or a big-life event, I totally read into it.
Adam Chanler-Berat: I don't know how I feel about those things. I think that I come from a really practical-minded family. But I don't know. Humans are designed to put meanings to things when they happen or don't happen. If we do that, then that's okay. Maybe we're fooling ourselves, maybe not. But who cares if it's more fun to live that way?
Off-Broadway has always been the hotbed of developing new theater, but especially musicals. Today, it seems like institutions like Playwrights Horizons are even more invaluable, given how quickly things come and go on Broadway. As performers, what have you discovered in your travels?
Adam Chanler-Berat: I love all of the off-Broadway experiences I've had. In this business, we've sort of been trained that the pinnacle of the art form is Broadway. But without these kinds of institutions, without places like Playwrights Horizons and New York Theatre Workshop, where does this new work that needs support go? These [places] are beacons of new work, especially musicals.
Patti Murin: I think the thing that's exciting right now about musical theater and the future of it is that there is this new group of writers and directors and composers coming up, like Alex Timbers and Carolyn Cantor and Michael Friedman, and anyone who worked on Natasha, Pierre & the Great Comet of 1812. They're doing this amazing work off-Broadway…these awesome people are getting recognized so they can be the future of musical theater on Broadway.
Allison Case: The thing I love about doing this show is that every night when we walk out, there are people in the lobby and they are genuinely feeling something from the show. That's always been my goal.
Adam, in the show you play a sandwich maker. If you all were a sandwich, which one would you be?
Allison Case: Peanut butter and jelly. It's a classic and you can't mess it up. With potato chips in it. Ruffles. Stick them in there.
Patti Murin: We were [once] asked our favorite sandwiches, but I don't think I would be a bacon, egg, and cheese. Probably a ham and cheese, with a little bit of brown mustard, but nothing else. No vegetables. On a sensible bread, with no crusts. I just want the ham and the cheese and a little bit of mustard. Don't steal the show. Thank you.
Adam Chanler-Berat: I think I would be a grilled cheese.
Allison Case/Patti Murin: Oooooooh.
Allison Case: Can you tell we're hungry?