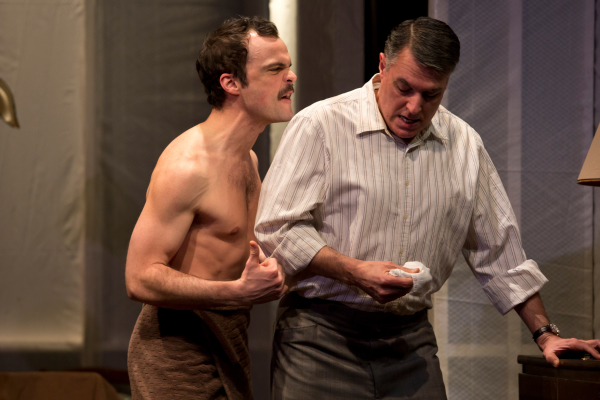 Every family has its problems, but anyone who thinks their own is plowing full speed ahead into oncoming traffic should pay a visit to the Lazarra family to find out what real — or at least theatrical — dysfunction is all about. This troubled clan can be viewed onstage in Miranda Theatre Company's production of Joe Pintauro's Snow Orchid, now playing at the Lion Theatre at Theatre Row. In this staging of an updated version of the play (Peter Boyle, Olympia Dukakis, and Robert LuPone starred in a 1982 Circle Rep production), four incredibly strong actors create a volcanic atmosphere that explodes with bad behavior and psychological instability; but despite the occasional surprising revelation, the play's sound and fury signifies less than expected.
We meet the Lazarras on a day in 1964 when paterfamilias Rocco (Robert Cuccioli) makes his return home from the "crazy house." He's been absent from his Brooklyn residence for a while after having a life-threatening episode in the Holland Tunnel. He was not missed by his elder son, Sebbie (Stephen), or his wife, Sicilian native Filumena (Angelina Fiordellisi), both of whom were frequent victims of Rocco's angry fists. Sebbie has become a kind of surrogate husband to Angelina (she gives him "Hollywood kisses") unbeknownst to Rocco's underachieving son, Blaise (David McElwee).
The welcome-home dinner quickly descends into recriminations and blistering curses, followed by revelations of Rocco's manic-depressive disorder and Sebbie's homosexual relationship with fellow mechanic Vincent Doogan (Timothy Hassler, who makes a late-second-act entrance). As profanity flies and smacks are exchanged, it seems that dad's return has poisoned any chance of future family happiness.
Director Valentina Fratti has done a fair job of creating the play's volatile 1960s atmosphere. Brooke Cohen's costumes are appropriately striped and collared, and Travis McHale's lighting vacillates between angry glow and icy indifference. Patrick Rizzotti's compressed set, which includes closely positioned islands of period furniture to represent rooms within the confines of the small stage, adds to the claustrophobic feel of the Lazarra home. But by the end of the first act, we get the feeling that Pintauro has tossed in all manner of dysfunctional behavior, kitchen-sink style, without concern for where all the anger, regret, and violence might really lead, especially in a 1964 Italian-Catholic household like this one (besides Sebbie, Filumena's other comfort is a small statue of Saint Anthony).
Given that, we'd expect Sebbie's homosexuality to unleash some hellfire and damnation speeches. But mom and dad have other things to worry about, like the little family of three symbolic orchids that Rocco brings home and that Filumena wants to destroy. Though all the elements of a provocative family drama are present, Pintauro's plot feels amorphous and directionless. The second act confirms that suspicion, leading to an ending more predictable than cathartic.
But if this production deserves recommendation, and it does, it's for the full-throttle performances of its four main actors. When Cuccioli's Rocco smiles, we're never for one second in doubt that his former violent self is seething beneath. Fiordellisi plays the perversely affectionate yet unexpectedly vicious and conniving mother to chilling effect. David McElwee adroitly creates the angry and confused Blaise trapped amid warring forces. Stephen Plunkett, however, steals the show with his portrayal of Sebbie as a son consumed by a malicious hatred for his father yet tormented by a not quite extinct flame of love and regret.
If Oedipus Rex and Who's Afraid of Virginia Woolf? were to have a baby, it might look something like Snow Orchid. But Pintauro's play, even though it's grown up some, still seems a bit maladapted.