Review: The Tempest Makes Timid Landfall as the Delacorte's Send-Off Production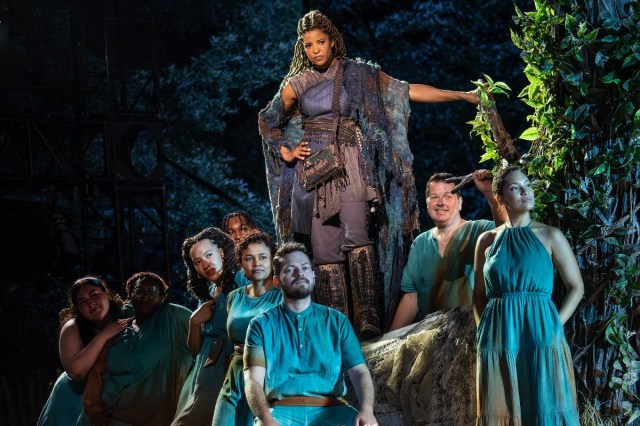 The Public Theater's Public Works program roared in with a Tempest — and is shuffling out (temporarily) with another.
Following a summer of Hamlet, Benjamin Velez's abbreviated musicalized version of Shakespeare's most magical tale sits down at the Delacorte Theater for one week before the open-air venue undergoes an 18-month renovation. It's a see-you-later to New York City's most beloved and enduring free Shakespeare tradition and arguably the favorite stepchild of that institution. Ten years ago, when Lear deBessonet debuted her vision for Public Works, it was a theatrical Shangri-la. Todd Almond's musical iteration of The Tempest was the inaugural offering, and its mass of 200 bodies from different community organizations jointly celebrating the wonder of art and "the greatest city in the world" felt nothing short of transcendent.
Since then, "life-affirming" has remained the best adjective to describe the annual Public Works productions, from Shaina Taub's Edenic As You Like It to Alan Menken's boisterous Hercules. For a decade, it's been a reliable end-of-summer jolt, and as the show tasked with getting us through the next two years, it's all the more disappointing that this Tempest's most appropriate adjective is "fine."
The one exception to that middling descriptor is Renée Elise Goldsberry, who, as the vengeful sorcerer and deposed Duke of Milan Prospero, brings her own stores of magic — and not just with the unshakable voice that won her a Tony as Hamilton's Angelica Schuyler. Infused with a bit of Sondheim's Witch, the classically paternal role now becomes explicitly maternal.
Having fled a coup led by her brother Antonio (Anthony Chatmon II), Prospero and her daughter, Miranda (Naomi Pierre), have lived in isolation on a mystical island for 12 years. And, as in Sondheim's woods, codependency and dreams of revenge do not a full and free life make. Of course, she must torment her shipwrecked persecutors before learning about the magic of forgiveness and letting go — a lesson expedited by the blossoming love between Prospero's impetuous daughter and the traitorous King Alonso's handsome son, Ferdinand (Jordan Best). She also faces her own moral indiscretions, namely her enslavement of "monster" and native islander Caliban (Theo Stockman in a sympathetic and Quasimodo-esque performance), as well as her indentured servitude of the spirit Ariel (given fluid physicality and a punk-rock voice by Jo Lampert).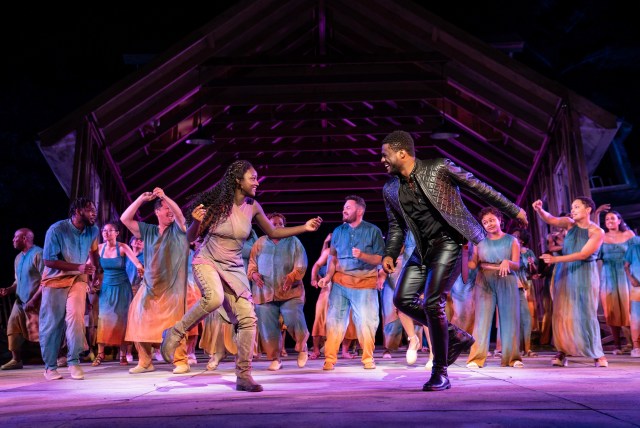 Velez's tunes range from melodious to frothy, but in their quest for humor, they thin out Shakespeare's text rather than enriching it. Miranda and Ferdinand's starry-eyed love song "Vibin' on to You" gives a hard wink to the audience with its Gen-Z patois. A nefarious duet between Antonio and Sebastian (Tristan André) is particularly well-performed, but ends in an applause-baiting kickline (Tiffany Rea-Fisher's choreography is generally underwhelming). The bumbling Stephano (Joel Perez) and Trinculo (regularly played by Sabrina Cedeño but performed by Anthony J. Garcia the night I attended), who lure Caliban to their team in a parallel plot to kill Prospero, also make hay of their swashbuckling "A Fool Can Be a King." But its frivolously placed "l'chaim!"s feels more like a provocation for Broadway fans than a well-earned joke.
"Log Man," Prospero's lilting anthem of acceptance for her daughter's newfound love, is the most memorable song in Velez's score. And befitting her character's powers of weather control, Goldsberry's performance is like a bolt of lightning in an otherwise temperate production. On the whole, Laurie Woolery's direction is more cautious than ebullient, with her grand ensemble of New Yorkers predominantly moving en masse in oceanic ombre (costumes by Wilberth Gonzalez).
The community's featured moments are small and timid, and when we should be feeling engulfed by their presence, we instead feel the encroaching footprint of Alexis Distler's towering set — the topsy-turvy frame of a house that serves little functional purpose. It's not the euphoric note on which I expected to leave the Delacorte, but it's a comfort to know that the Public Works thesis has once again been proven correct: When given the space to shine, New Yorkers can make magic.