Review: Stew Is a Flavorful — If Sometimes Confounding — Family Comedy
In Stew, playwright Zora Howard taps into a style of comedy that recalls the laughter-infused family dramas of Neil Simon, but she does it from an African American perspective. Director Tyler Thomas and her talented cast, led by LisaGay Hamilton as the matriarch, create a lived-in, naturalistic environment at the Pasadena Playhouse that gives the audience a fly-on-the-wall look at an American family.
It's the turn of the 21st century, and Mama (Hamilton) is gathering the troops to make her famous stew for an important church event. Her 17-year-old daughter Nelly (Jasmine Ashanti) and granddaughter Lil' Mama (Samantha Miller) would rather be sleeping than snapping green beans, while Mama's eldest, Lillian (Roselyn Ruff) appears distracted — particularly every time the phone rings. The women argue, tease, and avoid bubbling tensions, till everything comes to a head.
Howard's style can confound even as it entertains: Scenes are repeated almost verbatim, family members wear similar clothes, and all the women seem to have gotten pregnant at the age of 17, while illnesses and deaths are discussed but not given concrete details. At times it feels as if Howard is presenting us with a vivid dream but left some of the details out. This is the kind of storytelling that will intrigue some but baffle others.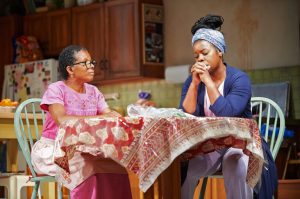 Her dialogue stews like the vegetables in Mama's pot. With overlapping conversations that might be heard in many morning kitchens, Howard gives her scenes a vibrant authenticity. Like Neil Simon, she finds humor in the banality of family dynamics without seeming like a sitcom. The kitchen becomes a microcosm of the family, a protection from outside traumas, with the making of the stew becoming both a Sisyphean task (it gets ruined twice) and a group activity needed to keep the family glued together.
The cast of four is exemplary. Hamilton plays Mama as proud, secretive, and invasive: In a late scene, when she recites a moment from Shakespeare's Richard III, she reveals an intense pain and a knack for performing outside the kitchen. Ruff relays Lillian's frustration with not being able to please her mother, control her daughter, or manage her own unraveling life. Every time the phone rings, Ruff gives a glance of pure terror that can be felt by the audience. Hamilton and Ruff's onstage chemistry works to great effect. In one scene when Mama and Lillian confront each other, both actors start laughing, and it's unclear whether the characters are meant to be giggling or if the Hamilton and Ruff have broken character. Either way, it works and should be kept in the scene.
That raw sense of uncontrolled laughter lifts the other characters up from the argument. Ashanti is bratty and rebellious as Lillian's much younger sister and has a great camaraderie with Miller. Despite being aunt and niece, because the two are around the same age, they interact like sisters. Miller whines, needles, and defiantly whips up trouble as the youngest member. When reciting her Shakespearean lines in the kitchen to prep for her audition, she captures the rote nature of children reading lines they can't comprehend or honestly feel.
Director Thomas gives the actors free rein to bond on the stage. The set by Tanya Orellana captures the stains and clutter found in a room occupied but not updated for several generations. Samantha C. Jones clothes the actors in head coverings, sleeping shirts, and shorts that reveals these women trapped in routines, barely rolling out of bed to accomplish the day's chores. Elton Bradman's sound design vividly portrays the world encroaching on these women's already precarious lives. Though the plot is familiar, Stew feels intimate — with recognizable quarrels and moments of love. All this makes for a play infused with a savory flavor that is as personal as it is universal.