Review: Once Upon a One More Time, Broadway's Awkwardly Arranged Marriage of Britney Spears and Feminism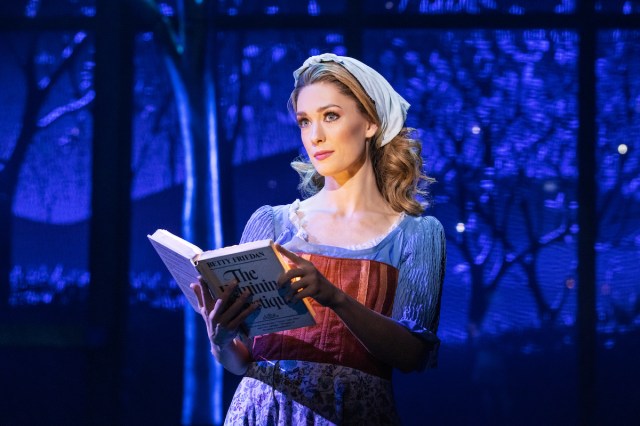 I'm fed-up with biomusicals: These self-serving stage memoirs present a dubious account of an artist's life while treating us to a parade of their hits. It's formulaic, cynical, and downright boring. Don't get me wrong: Popular music absolutely has a place on Broadway. But when it comes to jukebox musicals, I much prefer a totally preposterous made-up tale that doesn't take itself too seriously. That's why I had high hopes for Once Upon a One More Time, the new Britney Spears musical at the Marquis Theatre.
It takes place in a storybook realm in which characters like Cinderella (Briga Heelan), Snow White (Aisha Jackson), and the Little Mermaid (Lauren Zakrin) enact their tales for the edification of a young reader (Mila Weir at the performance I attended). Awkwardly, Prince Charming (Justin Guarini) seems to feature in all of them. The characters toil under the watchful eye of the Narrator (Adam Godley, casually misogynistic and imperious, like the director of a bus-and-truck tour). In their downtime, the princesses/sister wives get blitzed and discuss their own stories in "scroll club." But when the "original fairy godmother" or O.F.G. (a cheerfully sharp Brooke Dillman) smuggles in a new book (Betty Friedan's The Feminine Mystique), Cinderella starts asking some inconvenient questions.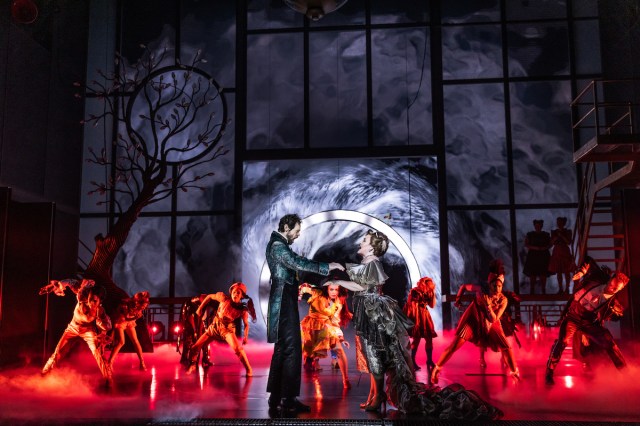 Jon Hartmere's book presents an interesting premise, and the setting of a benighted fairytale dystopia offers a rare opportunity for second-wave feminism to seem once again revolutionary (rather than problematic, the weary term with which it is so often dismissed). The real problem arises from the task of wedging Britney's greatest hits into the equation.
"Work Bitch" works out just fine when Cinderella's wicked stepsisters (Amy Hillner Larsen and Tess Soltau) boss her around with rewritten lyrics: "You want a posh carriage? / You want a hot marriage? / You wanna rock rich? / You better work bitch." But the revisions get a bit clunkier near the end of the first act, when the assembled princesses accuse Charming of being a "Princessizer," a lyric that rolls off the tongue as inelegantly as, "Charming-O you got the swagger of a champion / Too bad for you, you just can't find the right companion."
By the time we arrive at "Toxic" in the second act, no effort is made to retrofit the lyrics, and we're left wondering about the secret affair between the Stepmother (the always hilarious Jennifer Simard) and the narrator, of which we have hitherto seen no evidence. When exactly did she taste his lips, his "poison paradise"?
Director-choreographers Keone and Mari Madrid are unable to dispel this dramaturgical fog with their physically impressive yet mostly ornamental staging. Their athletic street dance is impressive to behold, and a welcome sight on Broadway, resulting in a bonanza of striking stage pictures — but to what end? The narrative regularly suspends for the musical numbers, like when the Prince arrives in the ballroom to perform "Circus." We get the point in the first stanza, and everything else is icing. It's all the more frustrating because it is clear from the Madrids' hit off-Broadway show, Beyond Babel, that they know how to use dance to propel a story. Unfortunately, there seems to be a disconnect here.
The same can be said for Matt Stine and James Olmstead's uninspired, tinny orchestrations, which somehow sound more overprocessed than the original recordings, almost like karaoke tracks. With the exception of the requisite glory note at the end of every song, Nadia DiGiallonardo's vocal arrangements don't actually show off all that I suspect this excellent cast can do, with voices pinched into unfriendly vowels (some of this has to do with careless lyric revisions) and struggling to be heard over relentless percussion (Ben Cohn is music director, and Andrew Keister is the sound designer).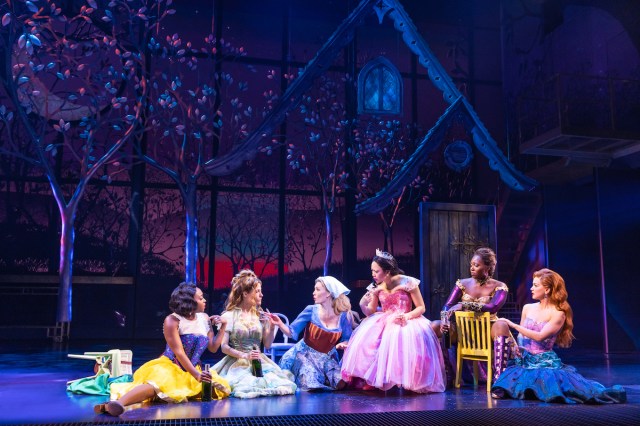 The visual design fares better: Anna Fleischle's glass and steel set conveys the artificiality of this world (I especially enjoyed the fairy light leaves on the trees) while leaving a big open floor for dance. Kenneth Posner lights the stage like a Britney concert in Neverland, while Sven Ortel's projections provide little bursts of magic. Loren Elstein's whimsical costumes are tailored to the personality of each character and hold up under the immense strain of Olympic-level movement from some of the best dancers in America.
The actors are blameless, and some even manage to deliver excellent performances: Gabrielle Beckford is formidable as Rapunzel, swinging her braid like a mace. As Princess Pea, Morgan Whitley hilariously embodies the kind of shit-stirring Real Housewife on which Andy Cohen's fortune was made. Ryan Steele and Nathan Levy are adorable as Prince Erudite and Clumsy the dwarf, the only genuine love story in this musical comedy.
Heelan exudes both vulnerability and curiosity as Cinderella, pressing forward into the unknown even as her voice quivers. It makes us root for her, especially considering her thoroughly uncharming alternative.
Armed with a toothy grin and a self-satisfied manner, Guarini is a divinely repulsive Prince Charming, literally swinging from the chandeliers in celebration of his fairytale harem. He's in excellent voice, and he's clearly having so much fun up there, bringing the audience along for the ride. It's uncomfortable to admit that in a story about the triumph of feminism, the male lead delivers the most memorable performance.
Once Upon a One More Time emerges as a worthwhile concept thwarted by poor execution. It is certainly preferable to a Britney Spears biomusical, which would have been a sad affair for a 41-year-old artist with more yet to offer. After seeing it, I realized just how hard it is to make an audience hear a well-known song in a new way, to make it do work it wasn't originally designed to do. So much thought must go into every lyric and dramatic beat (something far more in evidence over at & Juliet, a vastly superior musical of this variety).
Once Upon a One More Time may not have taught me anything new about western mythology, feminism, or Britney Spears, but it did leave me with one surprise: a newfound respect for the art of the jukebox musical.