Review: Jonathan Larson's Genius Comes to Life in New Production of Tick, Tick…BOOM!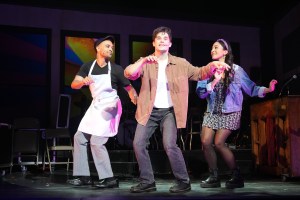 Twenty-seven years after his sudden death, Jonathan Larson remains musical theater's greatest case of what could have been. No one doubts the cultural impact or artistic value of his magnum opus, Rent, but in some ways, it only hints at the genius he possessed. Surely anyone who could retrofit Puccini's La Bohème to the Lower East Side of the 1990s while adapting the musical language to a grunge-rock idiom would have achieved many great successes if given a Sondheim life expectancy. But we Rentheads must content ourselves with the trunk of marginalia he left behind, much of which found its way into Tick, Tick…BOOM!, now onstage at Bucks County Playhouse in New Hope, Pennsylvania.
Larson initially devised the musical as a solo performance piece in which he wrestled with his 30th birthday at the dawn of the '90s.. After his death, playwright David Auburn (Summer, 1976) reimagined it as a three-character distillation of Larson's lean years as a struggling New York City composer. The sharp libretto and tuneful music capture a snapshot in time when a bohemian, artistic life was still within reach for the young and ambitious, when an aspiring composer could place himself at the heart of everything while supporting his dreams with a job as a diner waiter.
That's how we meet Jon (Andy Mientus), who tinkers, workshops, and kvetches between brunch shifts serving trendy food to entitled patrons. He lives with his partner, Susan (Krystina Alabado), a dancer who's ready to take her life and their relationship to the next level. What that entails is reflected in two separate paths: staying true to his art or going corporate like his childhood friend Michael (Noah J. Ricketts), who leaves behind a stalled acting career for the financial security of a Madison Avenue advertising firm.
Larson distilled these experiences into a handful of hummable but profound songs, which the musical puts to solid dramaturgical use. "Johnny Can't Decide" encapsulates the tug-of-war between remaining true to your ideals and recognizing the powerful lure of creature comforts. "See Her Smile" is an achingly simple portrait of a partnership in transition. The composer even parodies his idol, Sondheim, in "Sunday," where the petty indignities of a typical brunch shift build to an operatic crescendo. You can hear the budding brilliance of Rent in this early music, which Stephen Oremus orchestrated and is performed here by a compact band under Rodney Bush's musical direction.
Devotees of the television cult classic Smash will remember Mientus as the Larson-like Kyle Bishop. He excels as the genuine article, mixing arrogance and pathos to create a character you root for even when his behavior confounds you. His warm, pliable voice moves seamlessly from the soaring classic showtunes like "Louder Than Words" to the pop-tinged numbers like "Green Green Dress." Mientus turns the haunting "Why" into an introspective monologue for Larson as he stands on the precipice of his life's next chapter.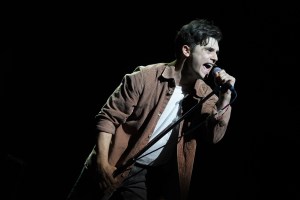 Alabado proves Mientus's equal, projecting Susan's conflicting love for Jon and desire for a simpler life outside of the city. The pair demonstrate hilarious chemistry in the comic "Therapy," but Alabado truly lets the floodgates open with "Come to Your Senses," a number inserted from an abandoned early Larson musical, Superbia. The lyrics mirror Jon's predicament and affirm his path as an artist, and Alabado renders them with empathy and hope. Ricketts brings a welcome dimensionality to the underdeveloped role of Michael, whose HIV diagnosis further convinces Jon of life's precariousness.
Director Eric Rosen balances the heartfelt core of the story with the flecks of humor at its edges. (Alabado and Ricketts play a host of ancillary characters, from Jon's chain-smoking agent to his loving but occasionally insensitive father.) Jack Magaw's rehearsal room set is utilitarian but used creatively, as when the "Sunday" sequence unfurls as a modern-day re-creation of La Grande Jatte with period-specific cardboard cutouts. Projections by Stivo Arnoczy revive the visual image of Larson's New York, and in a touching final tableau, they accomplish what this musical also achieves: They briefly bring Jonathan Larson back to life.