Review: Bedlam Stages a Revealing and Accessible Revival of Arcadia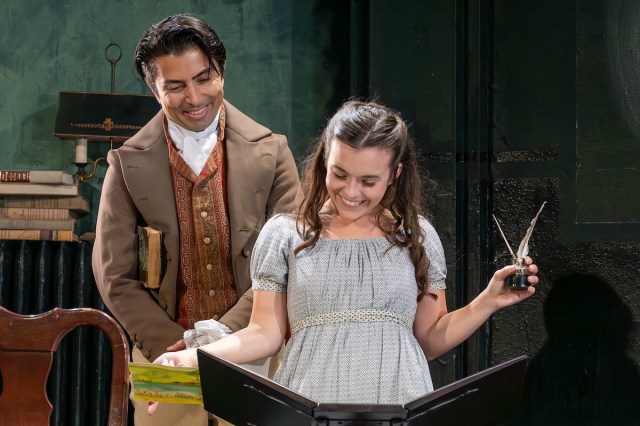 A tiny bit of the English countryside can be found in the back of a Methodist Church on the Upper West Side. This is the West End Theatre, where Bedlam is presenting an excellent off-Broadway revival of Tom Stoppard's Arcadia.
I was initially wary about seeing Stoppard's cerebral play about love, nature, and mathematics (which many have called his best) as interpreted by a company famous for its embrace of deconstruction. While director Eric Tucker's bold and unexpected choices have brilliantly illuminated some well-known plays, other experiments have resulted in a smoking heap onstage.
I'm happy to report that Arcadia belongs to the former camp, supported by shrewdly executed design and thoughtful performances. You need not worry if you've never read or seen Arcadia, because this is a perfect introduction.
The play is set at Sidley Park, the Derbyshire seat of Lord and Lady Croom (Lisa Birnbaum inhabits this role with formidable vigor). We meet her ladyship's precocious daughter, Thomasina (Caroline Grogan), and her tutor Septimus (Shaun Taylor-Corbett, sporting a persistently cheeky grin). We also meet Noakes (Jamie Smithson doing 19th-century slapstick), the architect tasked with transforming the garden at Sidley Park into a setting worthy of a Gothic novel.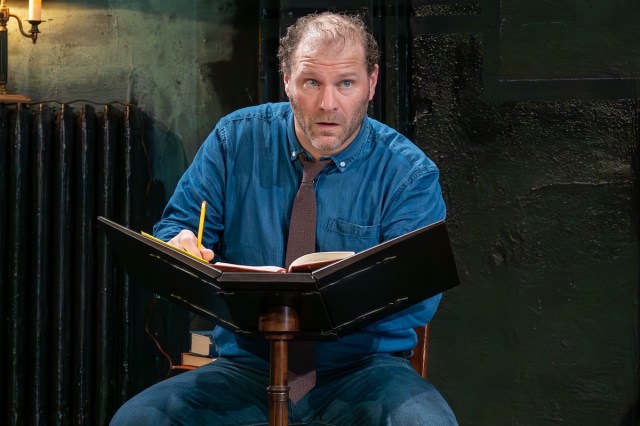 While half of the story takes place from 1809-1812, the other half concerns Lady Croom's modern-day descendants: Chloe (a delightfully amused Deychen Volino-Gyetsa), silent savant Gus (Devin Vega), and mathematician Valentine (Mike Labbadia). Valentine's fiancée, Hannah (Zuzanna Szadkowski), is a historian of landscaping who has very strong opinions about Romanticism (she thinks it was a disaster for science and shrubbery alike). But she gets sidetracked in her research by the arrival of Bernard (Elan Zafir), an academic who suspects Lord Byron spent time at Sidley Park and possibly fought a duel with an obscure poet named Ezra Chater (Randolph Curtis Rand), killing the man before fleeing to the continent. Sharp-elbowed academics jostle for position in the library as the mysteries of Sidley Park are rediscovered.
Arcadia can be a dizzying watch in even the most lucid productions, with complex mathematical ideas bumping up against literary trivia and white-hot sex. Luckily, Tucker offers a straightforward presentation of the first act, with Taylor writing the word "ENGLAND" on an upstage wall, as if to mock this hand-holding approach. But Bedlam holds our hands nevertheless, pulling us deeper into the play and its possibilities with each subsequent scene. By the second act, the audience is moved to new chairs onstage, with the actors performing from the first act audience seating. Past and present bleed together in a wonderfully theatrical canvas, which loses none of its clarity in Tucker's efficient and resourceful abstraction.
John McDermott's set instantly evokes an English country estate in transition through a beautifully painted backdrop that only covers half the upstage wall and has been partially pulled up in one panel. He and Tucker use the entirety of the West End Theatre in ways I've never seen before, creating an expansive world with the support of lighting designer Les Dickert (a second act segment illuminated with flashlights is particularly striking). Charlotte Palmer-Lane's handsome costumes clearly distinguish the two periods, with close attention paid to footwear and hair (a rare extravagance for a company this size). All of it undergirds specific and thoughtful performances.
Mike Labbadia pulls off an impressive hat trick as Valentine. Ornamented with an earring, a crown of bleached hair, and an "occupy Mars" T-shirt, he impatiently explains algorithms to Hannah, rolling his eyes and bouncing a tennis ball off the upstage wall the whole time. He exhibits all the charm of an Elon Musk fanboy condescending to discuss cryptocurrency with a normie, and we don't blame Hannah when she declines to kiss him later in the scene. But Labbadia slyly unveils the softer side of this socially awkward mathematician, and by the end of the play, we're fully Team Valentine.
Zafir helps him pull it off by delivering a Bernard who seems to fully embody the arrogant excesses of the humanities. He's nasty, demeaning, vain, and (frustratingly, inexplicably) sexy. We completely understand Hannah's temptation when it comes to this bedenimed Byron wannabe.
Szadkowski leaves us with the most indelible performance of the evening. Her Hannah radiates intelligence and comfortably inhabits both coquettishness and incandescent rage. Intellect and emotion perfectly coexist in this most human performance, and we never question why she is the object of desire for three different men. She's the beating heart of Arcadia, which maintains its reputation as Stoppard's most beautifully crafted drama. Bedlam's production shows that it's a gold mine of emotion and ideas, nowhere near tapped-out.