Review: Afghanistan and Iraq Veterans Have Their Say in War Words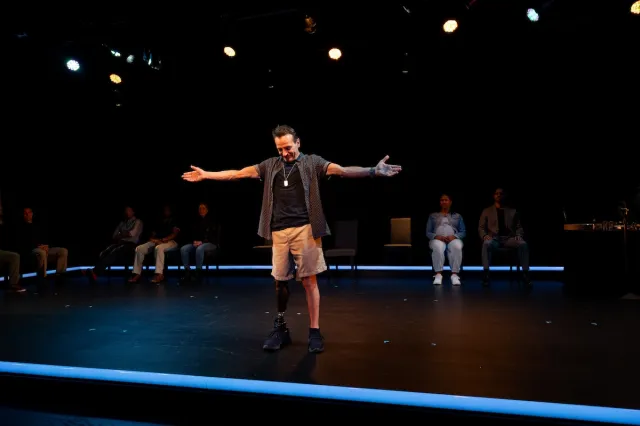 Fewer than 1 percent of American citizens currently serve in the military, while around 6 percent previously served, according to census data. These numbers, which are lower than at any time since World War II, tell a story about the divide between a small group of those who serve and the vast bulk of civilians who enjoy the protection of the most formidable military on earth. Michelle Kholos Brooks smartly uses the 1 percent statistic to frame her play War Words, which is now making its world premiere with NewYorkRep in association with New Light Theater Project at A.R.T./New York. The stories and insights revealed in this docudrama are vital and ought to be heard far and wide.
Brooks based her script on interviews with real veterans of the long wars in Iraq and Afghanistan, protracted military engagements that often feel like an afterthought in our Stateside consumer culture, which was only minorly inconvenienced by the post-9/11 "War on Terror." We hear the rage of Steve (a powerful Brandon Jones), whose buddy was one of the more than 300 US soldiers murdered by a member of the allied Afghan National Army in so-called "green-on-blue" violence. As a drone pilot, Dan F (Kevin Loreque) represents a group of veterans who are rarely recognized as such, and who are expected to reintegrate into civilian life during the evening commute.
Janis (Haythem Noor) is not even recognized as a veteran by the US government, despite his years of service as an Afghan translator and the fact that he saved the life of Matt (John J. Concado) by shooting two Taliban militants who were sneaking up on him. That story, and the subsequent story of how Matt got Janis and his family to the United States when they were being threatened with reprisal, makes for the most gripping story arc in the whole play.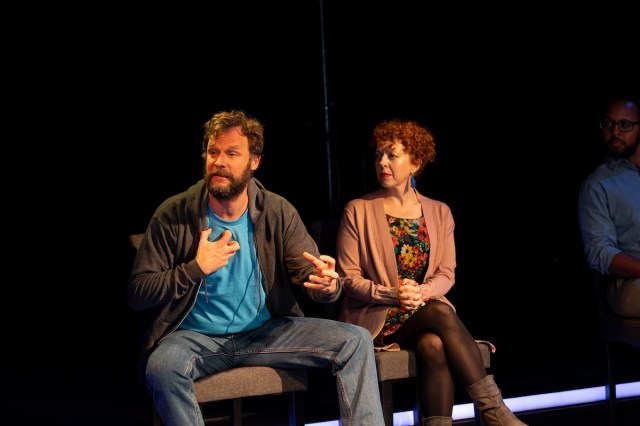 But the section that is likeliest to make off-Broadway audiences squirm involves Danny (Jakob von Eichel) and his wife, Kimberley (Bethany Geraghty). He returned from war with a traumatic brain injury that radically altered his personality, turning him into an abusive bully. At one point, he even threatened to kill Kimberley. Any advice columnist (that is to say, a college-educated upper-middle-class person with a media perch) would have counseled her to dump him immediately for her own self-preservation. But instead, she stuck with him until he could get the medical treatment he desperately needed. Geraghty and von Eichel navigate this difficult passage with sensitivity and genuine warmth, so we can clearly see the truth: There is no one-size-fits-all set of rules for human relationships.
Among serious and sobering anecdotes, there are moments of levity, like when Amy (Jennean Farmer, who is an actual veteran and the most natural comedian in the cast) talks about peeing her pants while standing guard outside an insurgent's house, a sensation she describes as, "Like I jumped in a Jacuzzi for a second."
Their words are foregrounded in director Sarah Norris's bare-bones production, which takes place on an empty stage surrounded by chairs (scenic design by Brian Dudkiewicz) and a rectangle of LED light (lighting by Elaine Wong). Minimal yet impactful staging illustrates the stories, with formations of bodies appearing and dissolving in an instant. Additional movement by Sarah Grace Houston evokes a chaotic firefight, or the aftermath of a roadside bomb.
Andrew Beall beautifully underscores the stories with live percussion music (orchestrations by Mariana Ramirez), making our hearts pound along with the beat. It's like watching a really well-produced documentary, but live.
No matter whether you're a die-hard neoconservative or a stalwart peace activist, it's important to remember that, until the killer robots arrive, actual human beings fight America's wars. Their perspectives need to be heard now more than ever, especially as the number of veterans in the decision-making class diminishes, and social media memes replace real experience in the room where it happens.