Original Film "Scout" and More Join Richard Thomas in To Kill A Mockingbird Tour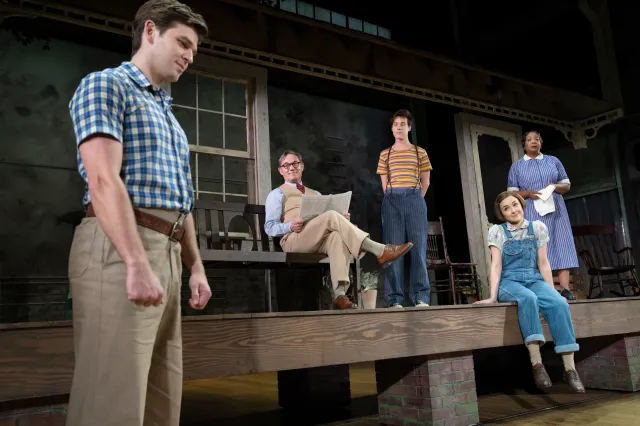 To Kill a Mockingbird, Aaron Sorkin's play based on the novel by Harper Lee, continues its multi-year national tour with 41 cities in the 2023-2024 season, starting with Bass Hall in Fort Worth, TX on September 26. Complete casting has been announced to join Emmy winner Richard Thomas, who has been playing the role of lawyer Atticus Finch since the tour began.
Mary Badham, who was Oscar nominated for playing Scout in the 1962 film, will return to the role of Mrs. Dubose. Joining Thomas and Badham are Maeve Moynihan as Scout Finch, Jacqueline Williams as Calpurnia, Justin Mark as Jem Finch, Yaegel T. Welch as Tom Robinson, and Steven Lee Johnson as Dill Harris. Rounding out the cast are Ted Koch as Bob Ewell, Jeff Still as Judge Taylor, Christopher R Ellis as Horace Gilmer, Mariah Lee as Mayella Ewell, Travis Johns as Sheriff Heck Tate, Greg Wood as Link Deas, Anne-Marie Cusson as Miss Stephanie, Ian Bedford as Boo Radley, and ensemble members Lance Baker, Stephen Cefalu, Jr., Denise Cormier, Rae Gray, Greg Jackson, Joey LaBrasca, David Andrew Morton, Andre Ozim, and Dorcas Sowunmi.
Since launching in March 2022, the first national tour of the Bartlett Sher-helmed To Kill a Mockingbird has played more than 500 performances in 44 cities, setting a record as the highest-grossing play ever to tour North America.
To Kill a Mockingbird is designed by Miriam Buether, with costumes by Ann Roth, lighting by Jennifer Tipton, sound by Scott Lehrer, an original score by Adam Guettel, musical direction by Kimberly Grigsby, and hair and wig design by Campbell Young Associates.