On a Clear Day Can't Be Fixed, but Wait Till Melissa Errico and John Cudia Sing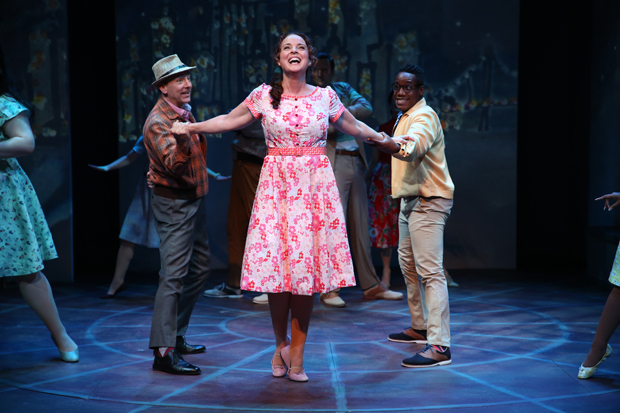 Revision is common in musical theater. Golden age shows like Annie Get Your Gun, Flower Drum Song, and Kiss Me, Kate all exist in different iterations, their books updated in the early 2000s to make the material more palatable to contemporary audiences.
Burton Lane and Alan Jay Lerner's 1965 musical On a Clear Day You Can See Forever also exists in multiple versions, though the reasoning is more simple: Everyone thinks they can make this 280-performance Broadway flop, about a woman with ESP and a past life, better. The 1970 movie starring Barbra Streisand rearranged the plot structure. The 2011 revival with Harry Connick Jr. and Jessie Mueller swapped the genders of the principal character and added swaths of material from other Lerner and Lane musicals. It played 223 fewer performances than the original.
Now, Irish Repertory Theatre is throwing its hat into the ring. Adapter and director Charlotte Moore has been marginally more successful. She's created her own version, cutting the fat, jettisoning several characters, and essentially turning On a Clear Day into a chamber musical, which is performed unamplified and features a five-player orchestra. It's worth it to hear Melissa Errico, John Cudia, and Stephen Bogardus sing, though the show is a slog no matter what you do.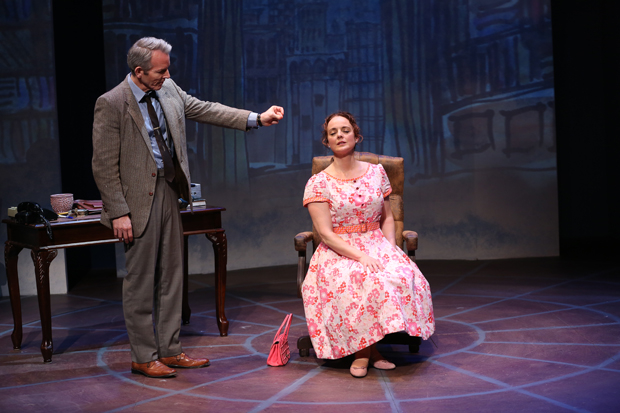 Meet Daisy Gamble (Errico), a longtime smoker who needs to quit in order to get a job. With her girlfriends, she attends a hypnosis therapy session presided over by Dr. Mark Bruckner (Bogardus). The hypnotherapy doesn't work on any of Daisy's pals, but it sends her into a trance. Not only does the fact that she has ESP come to light, but also that she had a past life as Melinda Wells, an 18th-century British aristocrat planning to marry Edward Moncrief (Cudia). Gradually, Dr. Bruckner finds himself falling for Melinda…even though she doesn't exist.
With discussions of new age ideas like extrasensory perception and reincarnation, it's obvious that On a Clear Day is very much a product of its time. Moore hasn't tried to update it — she retains the '60s setting, visible in James Morgan's projected set of watercolor New York City landscapes, as well as Whitney Locher's chic, floral print dresses. But the music is unapologetically golden age, and John Bell's orchestra, playing orchestrations by Josh Clayton, is filled with first-rate players.
Trouble is, despite a few gorgeous songs like the title number (which the ensemble performs in stirring fashion), "Melinda" (which Bogardus sings with gusto), and "She Wasn't You" (as shattering a vocal performance as we've ever heard out of Errico and Cudia), On a Clear Day You Can See Forever just isn't a very interesting show. Still, it's rare to hear voices like these, and unamplified, too. If only it could have just been a concert.