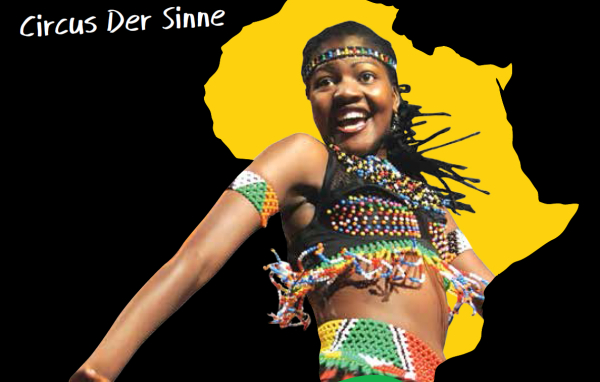 Mother Africa, now dazzling audiences of all ages at the New Victory Theater, boasts an impressive army of herculean performers. One by one, the members of Circus Der Sinne ("Circus of the Senses") take their moments in the spotlight, toting along unicycles, hula hoops, and a surprisingly wide array of furniture that feature their unique acrobatic talents. What this heap of props has to do with African culture is anyone's guess — but judging by the awe-stricken faces in the crowd, it seems the misleading title is forgiven with the first death-defying trick.
Director Winston Ruddle has efficiently groomed his balancing, bending, and brawling soldiers at an artists' college in Dar es Salaam, Tanzania that he founded in 2005 specifically to offer circus training to African natives. His students span across the continent, from Ethiopia to South Africa, to Zimbabwe — though it is apparent from his traditional oeuvre of circus tricks that Ruddle is bringing the circus to Africa rather than injecting a concentrated African spirit into the art of circus.
The performers' skills are certainly indisputable. Ersi Teame Gebregziabher from Ethiopia performs a mind-boggling contortion act that made a young voice in the crowd yell out with sympathy pains, "ow!" Another highlight comes from partners Omary Ramadhani Omary and Fadhili Ramadhani Rashidi from Tanzania in "Hand to Hand" — one of the performers eventually finding himself upside down, balancing his own head on the head of his upright partner. The remarkably talented (and adorable) 12-year-old Tomas Teka Alemu from Ethiopia even takes the stage for the "Icarian Games" act with Tamrat Yemane Ayalew (also from Ethiopia) flipping the boy's small body around on his feet as Alemu performs acrobatic maneuvers in the air (he took a small spill the night I attended, but shook it off like a seasoned pro).
While all of these performances are wildly impressive, few offer the taste of African culture that the title promises. There are moments of African song and dance, featuring music by the Inafricaband from Sansibar as well as a performance by mbira player Theresa Makaita Muteta, but these moments come across as afterthoughts in the lineup of conventional circus acts, scraping the surface of what African culture has to offer artistically. The sets (designed by Eddy Fruhwirth) and projections (by Hubert Schober) keep their designs at a similarly shallow level, with cutouts of African wildlife flanking the stage as the shape of Africa (filled with different animal prints typically associated with Africa) is projected on the back wall. The costumes (designed by Tsendbyamba Erdeneshoo and Tumaini Baraka Mrutu) lend a vibrancy of color to the stage, but still leave us with the sense that we are being fed a diluted version of something far more substantial in an effort to keep it digestible.
The one number that comes closest to giving us something to chew on (pun intended) is the "Combination Gumboot and Tap Dance." A tap sequence is paired with a traditional gumboot dance, which the Wellington-clad performers explain to have originated as a form of communication for South African miners. This unique sense of African history and tradition is what sets Circus Der Sinne apart from the other acrobatic troupes flying across New York City stages. Manhattan has overstimulating circus troupes aplenty — give us some Mother Africa.