Lineup Announced for 2015 Joe Iconis Christmas Spectacular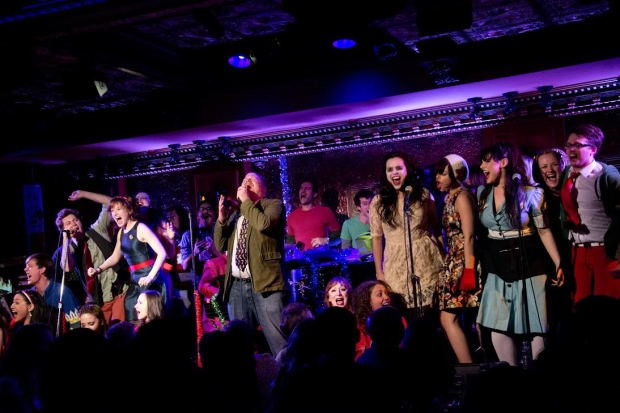 Joe Iconis and his merry band of musical theater punks will return to Feinstein's/54 Below for the eighth annual Joe Iconis Christmas Spectacular, to be held December 18 and 19. Both days will include performances at 8pm and 11pm. As always, the event will feature new holiday songs, old favorites, and "tiny elves, enormous reindeer, an inebriated Mr. and Mrs. Claus, and an ungodly number of candy canes."
In alphabetical order, the shows will feature Iconis regulars Nick Blaemire, Ally Bonino, Liz Lark Brown, Sarah Cetrulo, Harrison Chad, Bill Coyne, Ixchel Cuellar, Katrina Rose Dideriksen, Seth Eliser, Badia Farha, Alexandra Ferrara, Danielle Gimbal, Annie Golden, Molly Hager, Kate Johnson, Ian Kagey, Dennis Michael Keefe, Jessica Kent, Jane Kivnick, Rachel Lee (Friday at 11pm, Saturday at 7pm and 11pm), Johnny Link, Lorinda Lisitza, Lauren Marcus, Julia Mattison, Eric William Morris, Jeremy Morse, Ray Munoz, James Penca, Rob Rokicki, Will Roland, Charlie Rosen, Mike Rosengarten, Lance Rubin (Friday at 7pm and 11pm, Saturday at 7pm), Sammi Sadicario, George Salazar, Katie Schorr (7pm performances only), Richard Spitaletta, Jordan Stanley, Rachel Sussman, Brandon Uranowitz (Saturday at 11pm only), Jared Weiss, and Jason "SweetTooth" Williams (11pm performances only).
Additional special guests will be announced at a later date. John Simpkins directs the performances and Jennifer Ashley Tepper produces. Jennifer Werner choreographs and Michelle Eden Humphrey is the costume designer.
Joe Iconis is the author of Be More Chill, Bloodsong of Love, The Black Suits, and more. His songs were featured on Season 2 of NBC's Smash.