Justin Kirk and Usman Ally Cast in New York Premiere of Ayad Ahktar's The Invisible Hand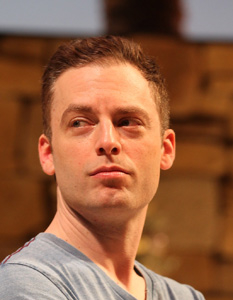 Full casting has been announced for the New York City premiere of Pulitzer Prize winner Ayad Ahktar's The Invisible Hand, which will begin previews at New York Theatre Workshop on November 19. The Ken Rus Schmoll-directed production will play for a limited engagement from December 8-January 4, 2015.
The cast will include Jameal Ali (Hunted), Usman Ally (The Elaborate Entrance of Chad Deity), Dariush Kashani (The Happiest Song Plays Last), and Emmy Award and Golden Globe nominee Justin Kirk (Other Desert Cities, Showtime's Weeds).
The Invisible Hand follows an American investment banker, kidnapped and held for ransom in Pakistan. This new play takes a look at the lengths people go to save themselves as well as the ramifications of their individual actions.
The production will feature scenic design by Riccardo Hernandez (The Gershwins' Porgy and Bess), costume design by ESosa (Father Comes Home From the Wars (Parts 1, 2 & 3)), lighting design by Tyler Micoleau (The Fortress of Solitude), and sound design by Leah Gelpe (Grand Concourse).
Ayad Ahktar's Pulitzer Prize-winning play Disgraced can currently be seen in its Broadway premiere at the Lyceum Theatre, where it opens on October 30. The production stars Gretchen Mol, Karen Pittman, Hari Dhillon, and Josh Radnor, with direction by Kimberly Senior.
For tickets to The Invisible Hand, click here.
For tickets to Disgraced, click here.