Interview: Ted Lasso's Hannah Waddingham Celebrates Christmas With a New TV Concert
We all know that Hannah Waddingham can sing — her West End and Broadway bonafides include A Little Night Music, Spamalot, and Into the Woods, among many other shows — but audiences who just know her as Rebecca on Ted Lasso might be surprised by the fact that her musical stylings on that show's holiday episode is more than a one-off. On November 22, Waddingham debuts her new Apple TV Plus special Hannah Waddingham: Home for Christmas, replete with big band, choir, and guests including Leslie Odom Jr. and Luke Evans.
At a recent press junket, Waddingham previewed the show and shared her Christmas cheer.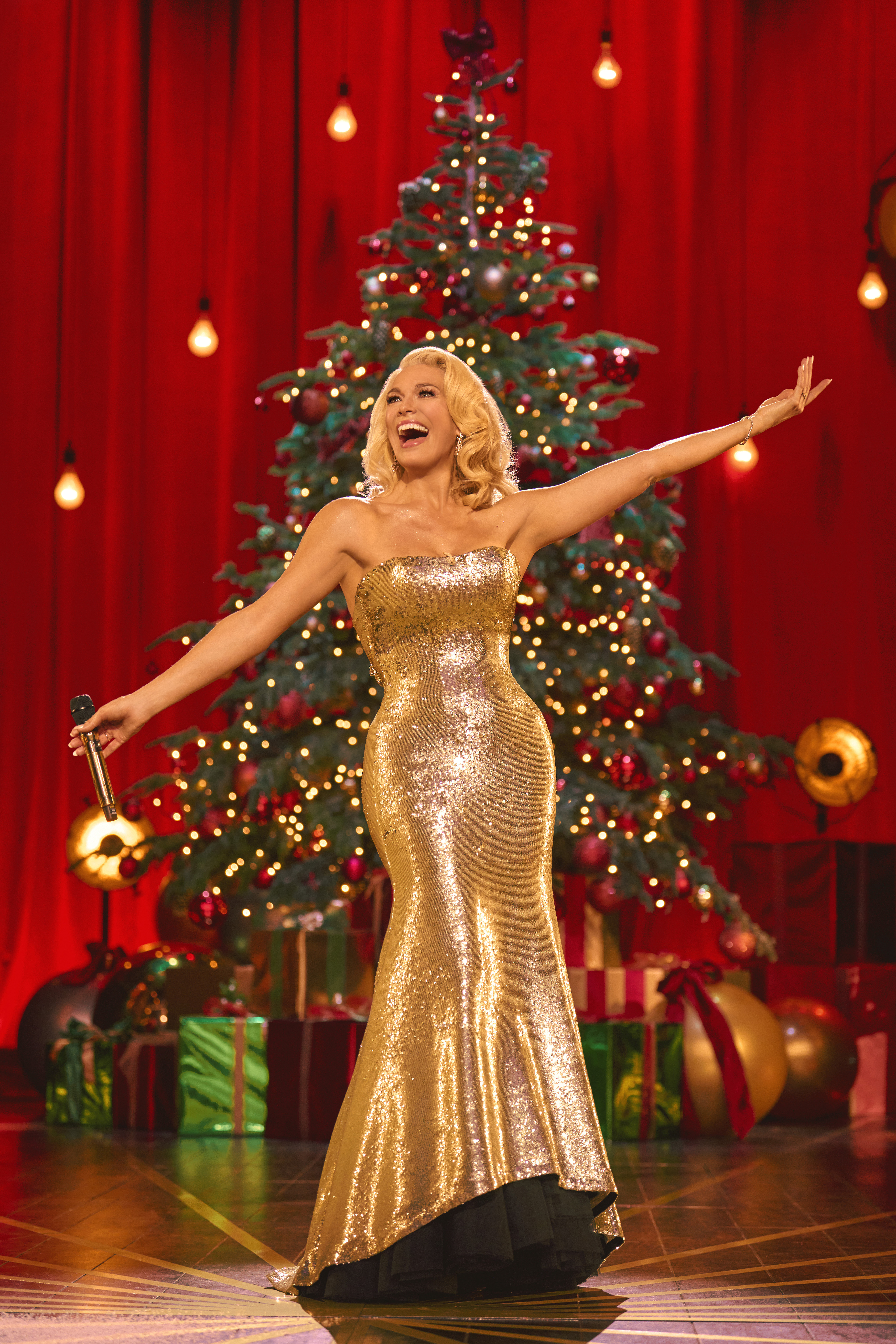 This conversation has been condensed and edited for clarity.
Was this a career goal of yours, to host a televised Christmas special?
I hadn't per se wanted a Christmas special. I'd always wanted to meld together my two worlds of musical-theater and TV, and my love of big band. When my manager said to me, "You've guested on Michael Bublé's Christmas special and you've done the Christmas episode of Ted Lasso, so why don't you do your own?," I was a bit nervous. I didn't think anyone would particularly want to see that, and he was just like, Are you kidding me!? So he convinced me, and we approached Apple TV Plus, because I have such a lovely relationship with them. They were the perfect bedfellows because they absolutely listened to everything that I wanted it to be, and I think what we've created is something that all communities can watch and enjoy, and just hunker down with the family.
It was incredible to do. You can see that everyone utterly brought their A-game and had great joy doing it. You can really feel the palpable love and excitement and happiness onstage, which is all I wanted. I wanted to create a time capsule of joy and Christmas, love and happiness, and the beautiful old school music that'll hopefully stay on the platform for many years to come.
Tell me about picking your lineup of guest artists and songs.
I was quite choosy, because I wanted it to be people I absolutely had to have. Certainly not the least of which was the company of Ted Lasso. I was so honored that many of them were just a big "Hell yeah!" Everyone was very carefully chosen because they are absolutely at the top of their game.
We were limited with a 45-minute show. I wanted to make sure that "O Holy Night" was the centerpiece. We've got it in the dead center and then everything else is on either side of that. We're taking you on a bit of a journey to that point, and then out the other side of it. We had boards and Post-its and everything, because I'm so interested in the psychology of an audience and making them feel relaxed, excited, and making them aware that I know what I'm doing and that my guests know what they're doing, and you're just here to have fun.
Who from your Ted Lasso cast, both the ones that perform in this and the ones who don't, would you most love to do a theater production with now?
Probably Nick Mohammed. He's an immensely talented man. We're looking at working together on screen, because as you'll have seen in the special, we really have something going on there, although we can't ever fully look at each other [laughs]. His brain is extraordinary. I went backstage to see him after his Mr. Swallow show and I was like, "I don't think I can even talk to you. You're far too intelligent for your own good. You make me feel like a right thicko."
Did this reinvigorate your theater bug?
Oh, I have missed theater for many years. But my little girl is more important to me and I need to be at home with her as much as I can. The chance to be onstage again and to be around a crew and everything that goes on, the kind of muscularity that you need to put a show together, is not to be sniffed at. It's why I'm so passionate about always telling people about the theater community and how great they are, because it's no small thing, putting together a theater show.