Interview: Renée Elise Goldsberry Talks About Playing Prospero in The Tempest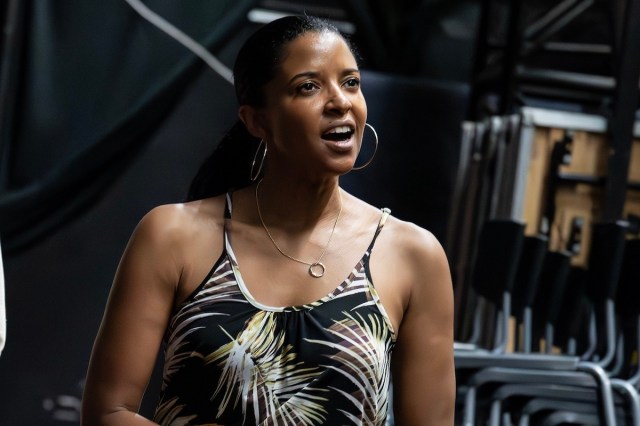 Renée Elise Goldsberry may be best known as the Tony-winning actor who played Angelica Schuyler in Hamilton, but that's only part of her story. Goldsberry has also appeared on Broadway in The Lion King, The Color Purple, and Good People, and gained enormous popularity from her TV roles on One Life to Live, The Good Fight, and Girls5eva.
Goldsberry is no stranger to Shakespeare either. She's been in the Public Theater's productions of Two Gentlemen of Verona, As You Like It, and Love's Labour's Lost. Now, she's taking on the role of the embittered magician Prospero in the Public's new production of The Tempest, running August 27-September 3 at the Delacorte Theater.
TheaterMania recently spoke to Goldsberry about the production — the last one at the Delacorte before extensive renovations begin — as well as working alongside her children and her own memory of being a child onstage professionally.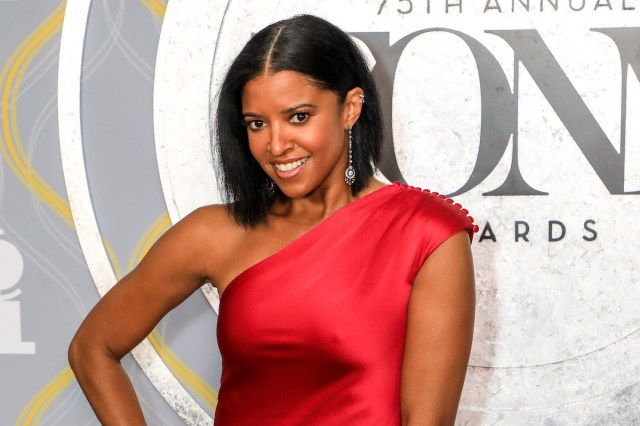 This interview has been edited for length and clarity and was conducted in accordance with current SAG-AFTRA guidelines.
You have been performing at the Delacorte for almost 20 years and now you're doing the final show there before a major renovation. How does that feel?
It's an honor! I am aware that a certain part of my career success is due to my first production here, Two Gentlemen of Verona [opposite Oscar Isaac, Rosario Dawson, and Norm Lewis], which ultimately changed the trajectory of my life in a very special way. I knew it was a great part, but I was too new to the NYC theater scene to really know how beautiful a gift Kathleen Marshall had given me. Also, I had never seen a production there before I was cast, so I didn't realize how magical being in the park would be! I received so much love during the run — and for a while, I wasn't sure why. Then, one day, I saw an illegal clip of the show and I realized so many things had been working in my favor. So now that I understand the power of the Delacorte, I really appreciate being part of the sendoff.
Was that the main reason you said yes to this project?
No. Benjamin Velez wrote this gorgeous music for this 90-minute show, and that is really why I said yes. When I looked at both the adaptation of the script and heard the demos of these songs, my first thought was if you're going to turn The Tempest into a musical, the songs must not only forward the plot, they have to be great. And they are! These songs are eclectic and powerful and funny; some are even really emotional in how they speak to Prospero's journey of letting her pain go. I think this team has struck the right chord.
Not many women get to play Prospero. How exciting is that?
It is! Here, Prospero is a mother and a woman, and that changes the arc of the character. I think it's wonderful to see roles we know and love from a different perspective. But she is still a Duke, still banished from her homeland, and still wants revenge. We're not changing lines and plot arcs; but seeing Prospero as a mother will definitely affect the audience's reaction.
How does race play into your characterization of Prospero?
I believe audiences will specifically see a black mother in this situation. I am mining my own experiences in every way to present a clear understanding of what it means to be a mother — especially one who has to protect one's child in a hostile environment. I think the greatest thing I can do for the generation behind me — both as Prospero and Renée — is to let go of any resentment and baggage, but that's harder to do anything in the world.
This is your first Public Works production, which means you are working with hundreds of non-professional actors. How does that feel?
It is a joy for me that the greatest focus of this production is not the play, but the community. We are honoring and respecting each other every day. Casting this community of people who are discovering theater, discovering Shakespeare, who don't do this for a living, and then seeing the joy in their eyes makes me feel reborn. Also, my two children are in the production with me, which is the best part! They both auditioned for the ensemble. I keep pinching myself that I get to go to work and not have to miss my children. As actors, we are always putting them in other people's hands. I am so grateful this happened!
So, you are OK with your children following in your footsteps?
Sure. When I was 8, my brother and I auditioned for the Houston Grand Opera production of Carmen, and we got the parts. We rehearsed during the summer and even got paid a little bit. All I can say is that there's no question after that experience why I still want to do this for a living.