Final Bow: Motown's Charl Brown on Playing Smokey Robinson and Delivering a "Yo' Mama" Joke on Broadway
Every show ends sometime (unless you're Phantom), so before the cast of Motown The Musical takes its final bow, there were a few things we wanted to know.
After taking on parts in Sister Act and Jersey Boys, Charl Brown hit it big when he scored the role of music icon Smokey Robinson in Broadway's Motown The Musical at the Lunt-Fontanne Theatre. Brown received a Tony nomination for his soulful work as the legendary singer, and he is one of the show's few original cast members to stick with it from first preview to last performance. In the weeks before the show concluded its run, TheaterMania caught up with Brown to hear his thoughts on the job that changed his life.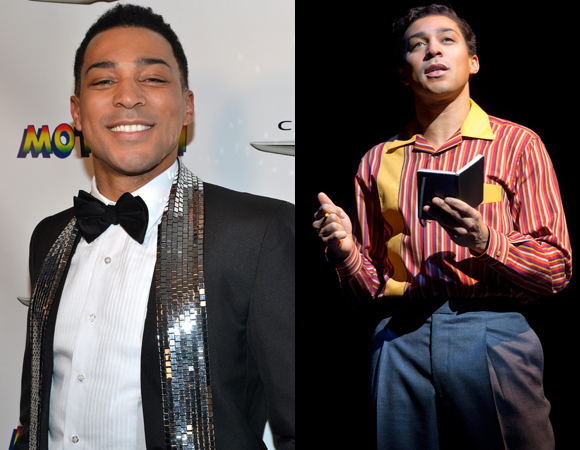 1. What is your favorite line that you delivered?
My favorite line in the show has got to be when one of the protestors is trying to antagonize Smokey about his famous green eyes, and he asks him, "What color are your eyes, Smokey?" To which I get to deliver the line, "Same color as yo' mama's!" I mean, how often do you get to deliver a "Yo' Mama" punch line on Broadway?
2. Everyone loves inside jokes. What is the best one from your show? What is the punch line of an unprintable inside joke?
I don't think any of our inside jokes are printable!
3. Every show experiences technical difficulties. What was the worst technical difficulty experienced during your show and how was it handled?
The best technical difficulty happened our second night of previews during the number "Shop Around." I begin the song solo, and then The Miracles are revealed by a curtain which opens on stage behind me. Well, the curtain never opened and so they were stuck behind it. I had to step touch around the curtain and direct them to follow me back out around the curtain in step with what I was doing but without any of us saying a word out loud to communicate the plan because our mics were still on and very hot. It was a great bonding moment for the five of us!
4. What was the most "interesting" present someone gave you at the stage door?
I would say the most interesting present I got at Motown was a program from the first show I ever did in New York which was an off-Broadway show called Walmartopia. I was a swing in that show and nobody even knew who I was back then. I was surprised someone still had that eight years later and knew I was in it.
5. Who is the coolest person who came to see your show? (You can't say family!)
We have had very many cool and famous people come see our show, too many to even name, but the coolest for me would have to be Tina Knowles, Beyoncé's mother. I mean, anyone who knows me knows I am Beyoncé's biggest fan, and although she hasn't been to the show herself YET (January 18, B), the fact that her mother, the person who gave birth to her, was here and the fact that I got to take a picture with her, was good enough for me.
6. If you could trade characters with any of the ones in the show, which would it be and why?
If I could trade with anyone it would have to be young Michael Jackson. The audience just goes crazy because, well, it's Michael Jackson! And it's young Michael and the Jackson 5, at that.
7. The opening-night of Motown was star-studded, with so many music icons joining the cast onstage. What's your favorite memory of that moment?
My favorite memory has all to do with Miss [Diana] Ross. When she came out onto our stage in that canary yellow feather shawl and lined straight to our leading lady Valisia LeKae to hug her and basically give her stamp of approval of Valisia's portrayal and our show…that was legendary for all of us. But then, once that curtain came down, we were all standing there on the stage behind the curtain in a private moment with Diana and Smokey and Gladys and Stevie. It was something that truly will never be forgotten or duplicated in any of our lives or careers.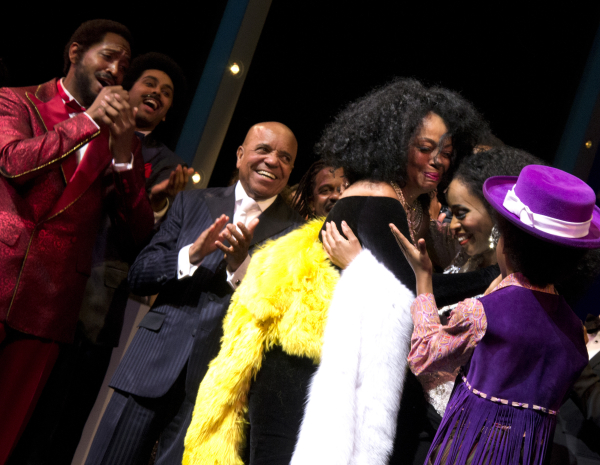 8. Did Smokey give you any advice about playing him? If so, did you listen?
Smokey himself has not given me really any advice per se, but he has been very gracious and whenever he sees me now, he says, "Hey, me." Mr. Gordy, however, is still best friends with Smokey and wrote the book to our show and had lots of advice to give about how to portray his best friend. Having him has been a wonderful resource.
9. What song — it doesn't have to be one you sing — regularly gets the loudest reaction from the audience?
Definitely "Reach Out and Touch." It requires audience participation, and it is a wonderful moment when our entire audience is holding hands and singing along together.
10. If you and some of your fellow Motown cast members were to form an all-male singing troupe like The Temptations, what would the name be?
Well, funny enough, me and two of my Motown cast members, Dominic Nolfi and Dwayne Cooper, are actually in a group called The Doowop Project. It also includes two other Broadway vets, Dominic Scaglione Jr., who plays Frankie Valli in Jersey Boys on Broadway, and John Michael Dias, who also played Frankie Valli on Broadway. Yep that was a plug!