Final Bow: Mamie Parris Approaches Her School of Rock Graduation Day
On December 6, 2015, Mamie Parris opened Broadway's
School of Rock
as nebbishy Ned's no-nonsense girlfriend Patty, and on January 20, 2019, she'll be closing the show as Horace Green Prep's no-nonsense principal, Rosalie.
Sandwiched between her runs in School of Rock — the latest addition to Andrew Lloyd Webber's musical theater canon — was a yearlong stint belting Webber's mythical ballad "Memory" as Grizabella in the 2016 revival of Cats. Needless to say, it's been a Webber-full three years, and Parris is not mad about it. So what better way to joyfully commemorate a Broadway graduation than by answering TheaterMania's favorite set of superlatives?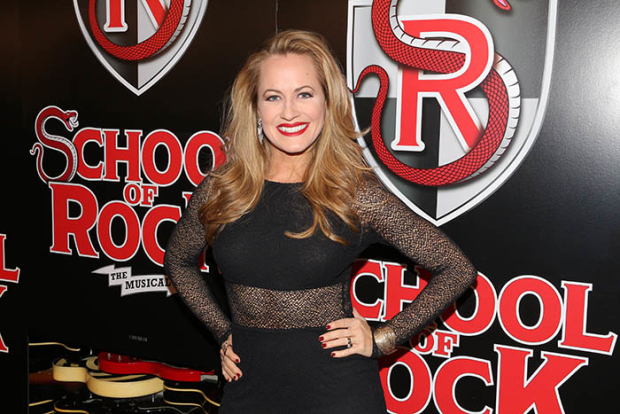 1) What is your favorite line that you get to say?
It's a lyric, actually: "While they're in our care we tenderly prepare them to compete with the elite, till they are dispersed to Harvard or — at worst — Cornell." I think it's so clever and funny, and as Rosalie I enjoy it more and more every show. Thanks, Glenn Slater. 🙂
2) What is your cast's best inside joke?
SOR has 17 kids backstage, so the adults do our best to keep it PG backstage. Sometimes this gets tricky, so self-censoring has become a thing. I think we all get into the habit of last-minute whispering of choice words or topics. It will take us years to get back to cursing at full volume. But now when the kids are all onstage, we've found multiple ways of "adultifying" the very innocent lines and lyrics they say. You get the idea. It's a fun game. Keeps us sane.
3) What was the worst technical difficulty you experienced during the run and how was it handled?
Not the worst, but definitely my favorite: I was onstage alone at the start of the "Horace Green Alma Mater" and turned around, expecting to see my usual choir of children and teachers, but the wall downstage of them had not yet flown, so I was just staring at a wall, hearing their glorious voices. Unbeknownst to me, there was a small snafu upstage they had to correct before taking out the wall, so the song just went on and on with me pacing downstage, trying to maintain a sense of normalcy and look in control while being very entertained (as Rosalie would) by the heavenly children's choir in my head. There was plenty of humming and head-bobbing and conducting on my part. Badia [Farha] as Ms. Sheinkopf tracked on from stage right with her piano, and we just gave each other knowing faculty looks, trying to keep it together until the wall finally rose. Also, when I played Patty, I got really good at kicking Dewey and Ned's messenger bags closer to the sofa — so they wouldn't get caught halfway in the lift and cause a major malfunction — while standing behind the sofa acting from the waist up. Broadway skills.
4) What is the most interesting present you received at the stage door?
I'll never forget seeing an ardent Broadway fan at the SOR stage door with my face as Grizabella tattooed on her arm. It was amazing.
5) Who is the coolest person to come see the show?
Jack Black, of course!! We've had some really cool people come, but having the Dewey that started it all (with his kids!) in the house was just rock and roll.
6) Between School of Rock and Cats, you've spent the past three years in the world of Andrew Lloyd Webber. What would your next ALW dream role be?
Grizabella is tough to beat. Honestly, the man's a legend and I can't wait to see what he does next.
7) Are you more of a Rosalie or a Patty in real life?
Ha! I'm definitely split right down the middle: confident and tough like Patty; orderly, romantic, and worried it's all about to fall apart like Rosalie. Is that too personal?
8) If you could sing like any rock star, who would it be?

Freddie Mercury, duh. This should be everyone's answer, to be honest.
9) As a kid, which artist(s) did you most aspire to be like?

— Whitney Houston. She was regal. She sang like an angel. She was beautiful. I still want to be like Whitney Houston.
— Joan Cusack. So weird and funny, and talk about bold choices. Still obsessed with her, too.
10) What teacher had the biggest impact on your life, creatively or otherwise?

Otto Kaifus. Summer school. Algebra and trigonometry. This guy got up there and taught. He prided himself on his perfect whiteboard concentric circles. We used pencils and paper for exams only. The rest of the time we talked math, we did equations together until everyone understood. We need more Otto Kaifuses. Also, it goes without saying, my high school theater teacher, Melody Conner, who gave me the tools and resources to start this crazy journey. Teachers are so important and so underpaid.