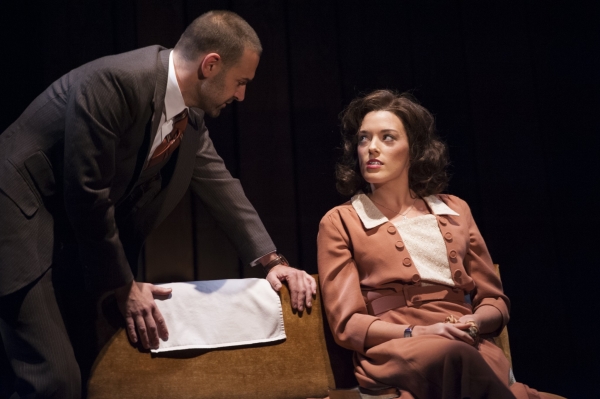 Signature Theatre's revival production of Elmer Gantry, based on Sinclair Lewis' 1926 novel and first performed at Ford's Theatre in 1988, incorporates new songs by Mel Marvin and Bob Satuloff and a reimagined script that original writer John Bishop worked on until his death in 2006. This updated and lively blues-, folk-, and gospel-infused score raises the rafters.
The story follows Elmer Gantry (Charlie Pollock), a down-on-his-luck door-to-door salesman who stumbles upon the charming Sister Sharon (Mary Kate Morrissey), a traveling evangelist, and her flock. Gantry employs his sales skills to help Sister Sharon out, using his own set of theatrics to transform her revival into the hottest show around. It's only after Gantry, with his newly reawakened spirit, falls victim to Sister Sharon's earnestness that things start to go awry.
Pollock shines in the title role of the Depression-era evangelist who has trouble balancing religion and sopranos. A sly look here, a smooth remark there, and Pollock paints Gantry as world-class narcissist — slick enough to make every guy around him think he is his best buddy and every woman think of him as the man of her dreams. With three strong solo numbers — "Between Trains," "Night Heat," and "My American Dream" — Pollock commands the audience's attention, just as any would-be preacher should.
A good con-man story needs a woman to pull at the swindler's heartstrings, and Morrissey is picture-perfect as the seemingly innocent evangelist Sister Sharon Falconer, whose combination of beauty and passion draws Gantry in. With a glistening smile and pious demeanor, Morrissey is simply lovely as the leader of her traveling troupe, and it's easy to see why Gantry is so hypnotized by all Sister Sharon has to say — and sing. Her work on "Shine" is enough to capture anyone's heart.
Jessica Lauren Ball is divine as the demure chorus member Paula, who falls for Gantry's cunning smile. Taking the lead in "On the Road," Ball shows a wondrous sparkle. Bayla Whitten and Maria Egler make the most of their roles as congregation members Shirley and Maude, respectively, getting a few laughs in smaller moments.
The harmonies by the supporting cast are exceptional, especially the trio of Nova Y. Payton, Ashley Buster, and Daphne Epps, playing three African-American women Gantry knew from his younger days. They practically bring down the house on "Carry That Ball" and "Should'a Known Betta Blues."
The second act, however, is not as lively as the first. The story could benefit from a more detailed side plot, but Pollock and Morrissey are divine and will have you clapping along and possibly even reaching into your wallets and giving into the divine spirit of inspiration.