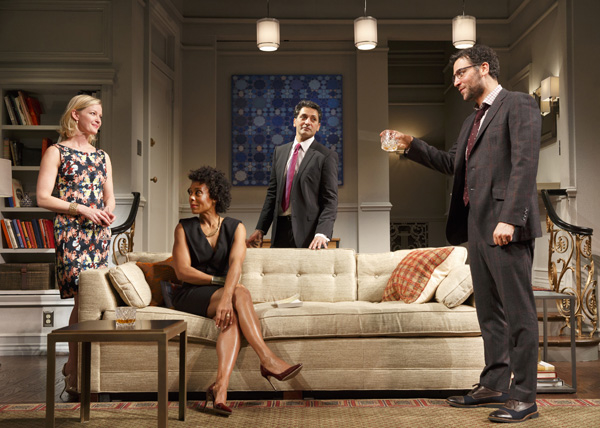 Sometimes a great play comes to Broadway to die. The pressures of commerce, expectation, and a large venue can leave an otherwise solid theatrical work feeling hollow, an expensive imitation of its former potency. Thankfully, this is not the case for Ayad Akhtar's brilliant Disgraced, which is now debuting on Broadway at the Lyceum Theatre. Still glowing with the radioactive vigor that clinched it the 2013 Pulitzer Prize for drama, Disgraced is far and away the smartest play currently on Broadway.
Granted, the design has been given a facelift since its initial New York run at Lincoln Center Theater's Claire Tow Theater. The Upper East Side apartment in which the play takes place seems to have moved up several floors: With a design by that master of opulent interiors, John Lee Beatty, the apartment sports gaudy Trump-esque banisters, coldly modern fixtures, and a terrace to die for. The floor-to-ceiling windows allow for ample natural light (stunningly implemented by Kenneth Posner) to wash across this sterile habitat of the well-to-do. The few items denoting any sort of personality (books, artwork) have the ability to disappear and change without the help of stagehands, as if by magic.
Pakistani-American lawyer Amir Kapoor (Hari Dhillon) occupies this Manhattan dream home with his Caucasian American wife, Emily (Gretchen Mol). A painter, Emily is enchanted by the Islamic world, particularly its art. Amir, on the other hand, is an apostate who has gone to great lengths to separate himself from the faith of his forefathers, even by changing his last name from "Abdullah." Judging by the giant statue of the Hindu god Shiva that rests on his mantle (a gift from one of his firm's partners), it seems to be working. "Technically, it was India when my dad was born," Amir asserts with lawyerly zeal when Emily asks why he didn't reveal to his employers that his parents were born in what is now considered Pakistan.
When Amir's nephew Abe (Danny Ashok) asks him to represent his imam (Muslim faith leader) who has been jailed under terrorism charges, Amir initially rebuffs him. At the urging of Emily, however, he shows up at court where his presence (and the name of his firm) is noted by The New York Times, threatening to unravel his carefully constructed identity. Things come to a head during a tense dinner with fellow lawyer Jory (Karen Pittman) and her husband, Isaac (Josh Radnor), who just happens to be curating an art show highlighting Emily's work in the Islamic tradition.
The four heatedly discuss one of the world's most popular religions over a dinner of pork tenderloin and Scotch. You may have to resist the urge to shout back at the stage during this live-wire debate where every line is efficiently calibrated for maximum provocation. It is practically impossible to walk away not having heard something with which you vehemently disagree.
"I'm sure it's not all that different than how you feel about Israel sometimes," Amir says to Isaac after confessing the twinge of tribal pride he still feels for jihadists, even though he's left Islam. A wave of discomfort ripples through the audience. Akhtar has a special talent for touching nerves. His words get under your skin and itch long after the play is over.
Under the surgically precise direction of Kimberly Senior, the cast unleashes these finely phrased irritants on an unsuspecting audience. Mol's bright-eyed naïveté makes Emily's every line worthy of a cringe. At the opposite end of the spectrum, Radnor is perfectly loathsome as know-it-all Isaac, a man constantly marinating in his own smug self-satisfaction. His wife is the only character who can cut him down to size, and Pittman (the only veteran of the LCT3 production) regularly does so with comic panache. Her hilarious interjections bring the evening balance, causing the discussion to alternate levity and gravity in a manner that feels authentic to a boozy discussion of global affairs and religion.
That is a good thing because Dhillon is not as natural a comedian as Aasif Mandvi (the actor who originated the role of Amir in New York). What he lacks in comic timing, however, he more than makes up for with a simmering rage barely masked by a genteel exterior. Everything in his life (his skill as a litigator, his $600 shirts, his secularism) is part of a massive defense system meant to separate him from a culture he finds simultaneously sympathetic and repellent.
This contradiction is at the heart of Akhtar's play. Enlightened people will invariably contend that culture is a choice rather than an immutable trait. But when you have to spend your entire life rebuking the culture of your ancestors, at what point do you become defined by that struggle? This play doesn't pretend to offer answers, but Akhtar is asking all the right questions. How refreshing to have an intelligent adult drama on Broadway.