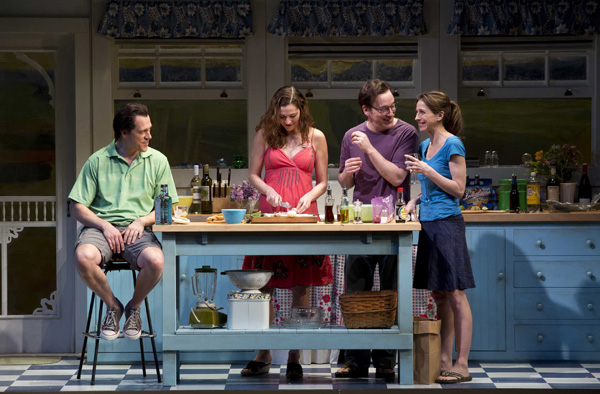 The mid-life crisis doesn't hit everyone the same way: While some folks take up piano lessons, others opt for divorce. Donald Margulies examines both routes in Dinner With Friends, now being revived by the Roundabout Theatre Company at the Laura Pels Theatre under the direction of Pam MacKinnon. This Pulitzer Prize winner from 14 years ago receives an updated production, but the underlying themes are ones that millions of unhappily wed couples will find painfully familiar.
Married couple Karen (Marin Hinkle) and Gabe (Jeremy Shamos) live an idyllic life in Connecticut. They regularly have their best friends, Beth (Heather Burns) and Tom (Darren Pettie), over for double-date dinner parties. (Karen and Gabe are real foodies.) One night, as Karen and Gabe are regaling Beth (who this night is oddly solo) with details of their recent trip to Italy, Beth breaks down into tears: Tom is leaving her for another woman. Everyone is distraught and Karen immediately takes Beth's side. Gabe is more open to Tom's version, which he gets when Tom rushes over to their house during a snowstorm to explain himself and salvage their friendship. The marriage, it seems, is beyond saving.
As mentioned earlier, the time and place have been updated to reflect the present day (this is not a decade-plus-old period piece): A second-act flashback to a happier time in Martha's Vineyard opens with the intro theme from NPR's All Things Considered and a report about George W. Bush and John Paul II. Ah, the early 2000s: a time of baggy cargo shorts, flip phones, and lingering national hysteria about marital infidelity. Beth enters Karen and Gabe's quaint summer cottage clutching a first-generation iPod. Karen grates a shallot.
A decade later, Karen and Gabe are the prototypical aging yuppies, now firmly ensconced with kids somewhere off the Metro-North: He's an insufferable milquetoast and she's a falsely sympathetic puritan. "You do something like this, I'm telling you right now, you are outta here," she tells Gabe as they debrief the Beth-Tom situation and imagine (almost with relish) a similar scenario for themselves. Beth and Tom fare no better: She's an unsuccessful artist/permavictim and he's a self-centered lawyer/manchild. "It turned out his marriage was falling apart, too," Beth gleefully tells Karen about how she came together with her post-Tom boyfriend. I don't think I'd want to go to dinner with any of them.
While the characters are all unlikable, Margulies uses them effectively to unfold a universal story of commitment, betrayal, routines, and ennui. Unfortunately, by the second act that unfolding begins to feel slightly tedious as it becomes clear that all four characters are falling into old habits despite the outward appearance of change: The character arcs are barely visible, making this an extremely long 120 minutes.
The tight ensemble does their best with the material, endowing their characters with specific traits and mannerisms. Still, they're only as good as the crudely one-dimensional characters Margulies has written.
Allen Moyer's sets elegantly glide in and out of the bland beige box that fills the proscenium of the theater, creating super-detailed realistic sets in under a minute while Josh Schmidt's wistful transition music plays in the background. Still, you can't help but notice the beige peeking out behind the kitchen sink and wonder if there's more to this experience than wooden cutting boards and bulbous red-wine glasses. Is there just a big void under all the material richness?
Margulies lets you answer this question for yourself, but the scenery clearly has an opinion.